Have you tried these turkey breakfast sausage patties?  I bought these a couple weeks ago and hubby and I have been enjoying this new addition to our breakfast. Precooked and ready to heat gently in the microwave or in the skillet if you are cooking eggs, makes it easy to have a hearty breakfast with out a big mess. We were impressed with how flavorful and moist the patties are.  You will find these in the refrigeration section at the grocery store. One sausage is just 60 calories, 3.5 g fat, 6.5 g protein, WWPs 1.
The Sandwich Thins are a nice low calorie, high fiber stand in for a hamburger bun, sandwich bread or English muffin. In CA they are marketed as an Oroweat product and in other parts of the country they are marketed as Arnold's. The nutritional stats are 100 calories, 1 g fat, 5 g fiber WWPs 1. I like them best toasted.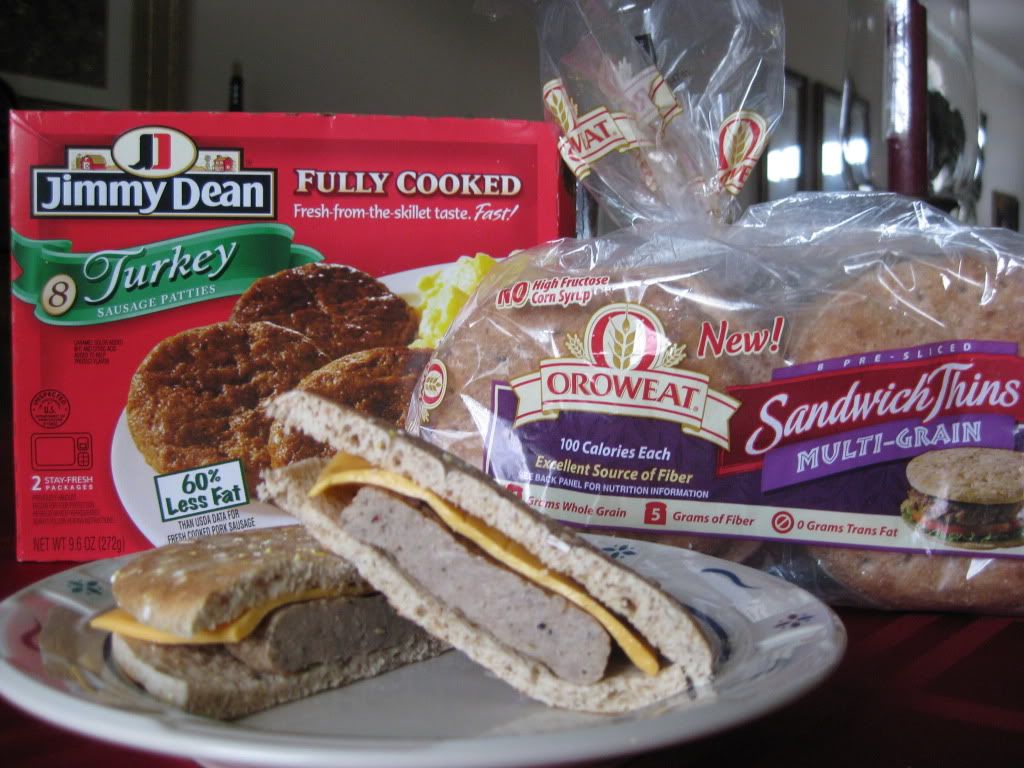 Lately I have been making a breakfast sandwich with one toasted sandwich thin, one sausage and one slice of 2% sharp cheddar cheese. It clocks in at 205 calories,  7.5 g fat,  5 g fiber,  15.5 g protein  WWPs 3 based on the fact that each individual ingredient is 1 point a piece.
Variety is the spice of life they say, I like to try new things and add variety to my breakfast choices. What do you eat for breakfast? Please leave me a comment and let me know what's cooking at your house in the morning!
---