Each jumbo pasta shell is stuffed with chicken and spinach combined with the smooth ricotta, mozzarella and parmigiano-reggiano cheese, smothered in tomato sauce with more  mozzarella cheese melted over the top.  The layering of three types of cheese creates a creamy texture with every bite.  With recipes like this you won't feel the least bit deprived.
I prefer to use marinara or spaghetti sauce which adds more flavor than plain tomato sauce. If you do use tomato sauce be sure to season it with some Italain seasoning. Buy some good parmigiano- reggiano cheese that you grate yourself, the flavor is stronger than the parmesan cheese that comes shredded in a plastic bag and since you are using a small amount it helps you get more bang for your buck. It is a higer price but so worth it. You'll find it with the better cheeses usually by the deli in your grocery store.
I keep cooked diced or shredded chicken in 4-8 ounce bags in my freezer to use for recipes like this. Once every couple weeks I poach 4-5 pounds boneless skinless chicken breast. Put the chicken in a large dutch oven or stock pot, cover with water, add some chicken bouillon, garlic powder, black pepper, dried onion and let it come to a boil, turn the heat down and simmer until the chicken is cooked. When the chicken is completely cooked I remove it from the dutch oven and either dice it or shred it. When completely cooled I weigh out my cooking size portions and put it in freezer bags. I note the date and the ounces on the bag too. It makes recipes like this much quicker to assemble.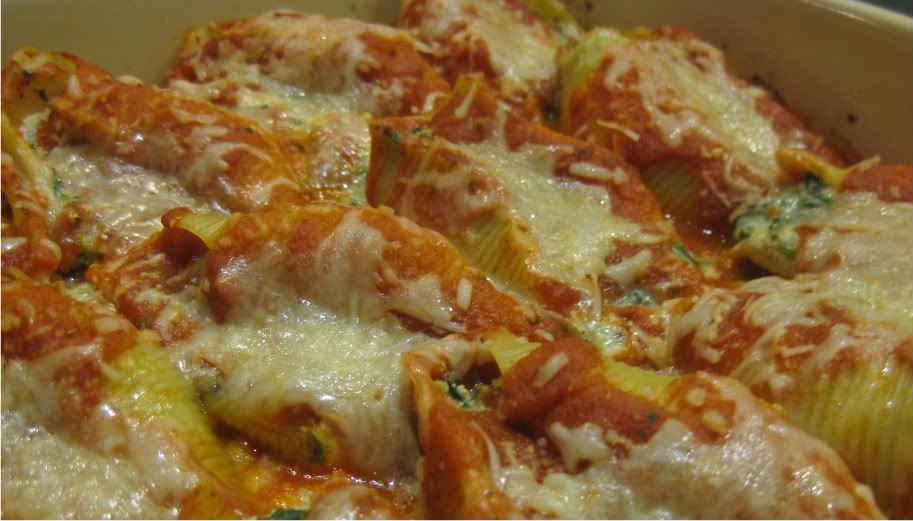 For me two shells with a salad if quite filling. The guys in my house can eat 4 or more. It must be nice to have a fast metabolism!  I have not been able to find whole wheat shells but since so many companies are expanding their whole wheat pasta lines I hope to see some in the near future.
Cheesy Chicken & Spinach Shells
4 oz uncooked jumbo pasta shells, about 12 shells
1 1/2 cup canned tomato sauce or fat free marinara or spaghetti sauce (approx 40 calories per ½ cup)
2 medium egg white(s), lightly beaten
1 3/4 cup part-skim ricotta cheese (15 ounce carton)
4 oz cooked, skinless chicken breast(s), diced
3/4 cup chopped frozen spinach, thawed and drained of excess water
1 tsp garlic powder
1 Tbsp ground Italian seasoning mix or to taste
3/4 cup part-skim mozzarella cheese, shredded
1/3 cup  grated Parmigiano – reggiano cheese
Instructions
Preheat oven to 350ºF.
Cook jumbo pasta shells in boiling water according to the package directions. Drain and rinse with cold water to prevent them from cooking further. Set aside.
Coat a 9 × 13-inch pan with cooking spray. Spread 1/2 cup of sauce evenly over bottom of pan and set aside.
For filling, in a large bowl, stir together egg whites, ricotta cheese, chicken, spinach, garlic powder and seasoning. Stir in 1/4 cup each of mozzarella cheese and Parmesan cheese.
To assemble, spoon cheese mixture into jumbo shells and place filled shells in a single layer in baking dish. Spread remaining sauce on top. Sprinkle with remaining cheeses and bake about 30 minutes. For those who like more sauce, warm up a little extra marinara sauce to top the shells.
Yields 6 Servings  Serving Size: 2 shells
Nutritional Information
Per Serving: 278 Calories; 11g Fat (36.2% calories from fat); 19g Protein; 25g Carbohydrate; 2g Dietary Fiber; 33mg Cholesterol; 539mg Sodium.
Old WWP 6 /  New WPP 7
.Adapted from a WW recipe