I usually think of scones as being sweet, studded with dried fruit and a wonderful accompaniment to a cup of hot tea. Never would I have imagined serving a "scone" with a bowl of soup. That all changed a couple years ago when I came across some recipes for savory scones. Of course I had to experiment and have my taste testers (husband and children) give me some feed back. To my delight everyone found them to be delicious! The cornmeal scones get made the most often as they can be paired with most soups or gently reheated in the microwave to enjoy the next day with breakfast. I am sure they would freeze well but I may never know – they disappear too quickly!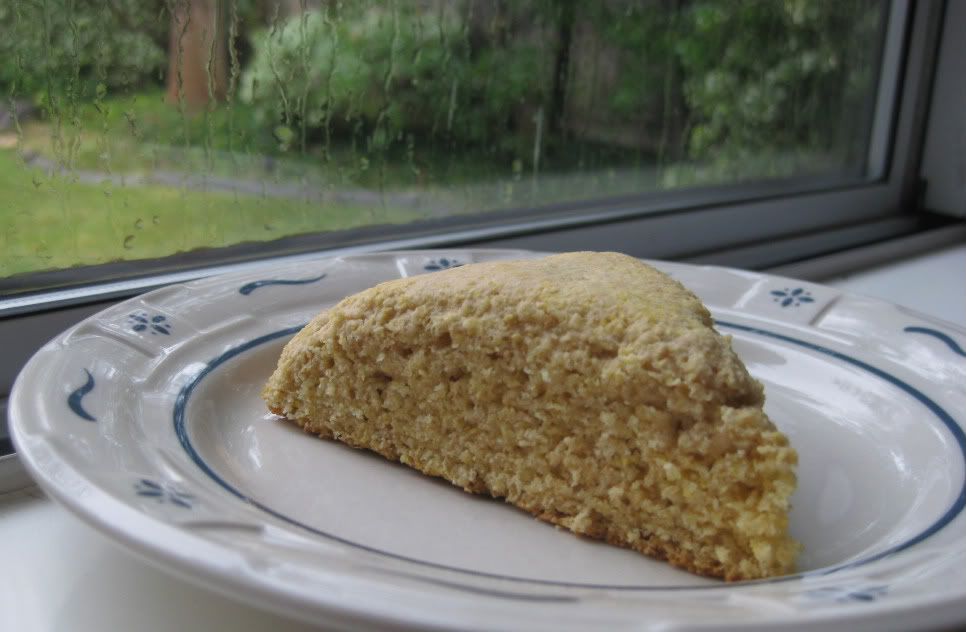 We are having an extremely wet and windy week here in Northern CA. You can see the rain out my window in the photo above. I have made soup twice this week already and I just might put another pot on today.
Subbing whole wheat pastry flour for the all-purpose flour is successful with this recipe, reduce the baking time slightly ( a few minutes) as they can be a little drier with the whole wheat pastry flour.
I like to use whole wheat pastry flour for baking quick breads, muffins, cakes or scones, as it is more finely ground from a softer low protein wheat and produces a lighter softer texture than regular whole wheat flour.
Whole grains keep their natural oils during milling and don't keep as long as refined flours and grains.  To extend the life of whole grain flours, rice and other grains, I store them in the freezer as it keeps them from becoming rancid. You can place the bag of flour or other grains, inside a freezer bag or transfer the contents to a plastic container. If you are freezing multiple types of similar looking grains, remember to lable it. Yes, I am speaking from experience here. I have found some  "mystery" bags of grains in the freezer which resulted in a game of  "what is it?"
Of course if you don't have the pastry flour in your pantry use all purpose flour and make a batch of cornmeal scones to enjoy with your next pot of soup.
Cornmeal Scones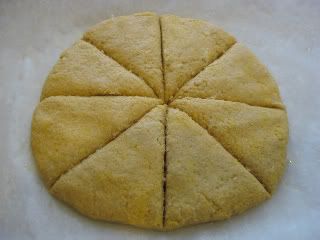 1 2/3 cups all-purpose flour or whole wheat pastry flour
1/3 cup yellow cornmeal
3 tablespoons sugar
2 1/2 teaspoons baking powder
1/4 teaspoon salt
3 1/2 tablespoons chilled butter, cut into small pieces
1/2 cup 1% low-fat milk
1 large egg, lightly beaten
Cooking spray
Preheat oven to 375°.
Step #2 Photo, score before baking.
Step # 1: Lightly spoon flour into dry measuring cups; level with a knife. Combine flour, cornmeal, sugar, baking powder, and salt in a large bowl; cut in butter with a pastry blender or 2 knives until mixture resembles coarse meal. Add milk and egg to cornmeal mixture; stir just until moist.
Step 2: Turn dough out onto a lightly floured surface, and knead lightly 4 times with floured hands. Cover a baking sheet with parchment paper; coat with cooking spray. Pat dough into a 7-inch circle on prepared baking sheet. Cut dough into 8 wedges, cutting into but not through dough. See photo above.
Bake at 375° for 22 minutes (check a few minutes early if using whole grain flour) or until golden brown and a wooden pick inserted in center comes out clean. Serve warm.
Yield:  8 servings (serving size: 1 scone)
Nutritional Information
CALORIES 187 (28% from fat); FAT 5.8g (sat 3.4g,mono 1.8g,poly 0.3g); IRON 1.5mg; CHOLESTEROL 41mg; CALCIUM 72mg; CARBOHYDRATE 30.1g; SODIUM 265mg; PROTEIN 4.3g; FIBER 0.8g
Old WWPs 4 / NewWWPP 5
Adapted from Cooking Light