This little Tastee Drive – Inn & Out has been around for many years in Lincoln, NE. When my parents were first married back in 1956- 57 they could afford to go once a month to get a tastee sandwich and onion chips with dip and it was a big treat for them. Mom says the tastee sandwiches were about 15 cents each and the onion chips with dip were about 25 cents. Other than the price not much has changed at the little drive – inn as you can tell by the way the menu board looks, bare bulb and all!
Mom suggested we have it for lunch yesterday and it sure hit the spot. She has a little bit of an appetite back so that is a good sign.
Note that the drive up window is on the passenger's side of the car! We have never understood why they made it this way. It is a challenge to go through the drive through by yourself.
The sandwiches are similar to the loose meat sandwiches that were popular in Iowa when hubby and I lived there. They are seasoned ground beef served on a steamed hamburger bun with a little mustard and a hamburger dill pickle slice.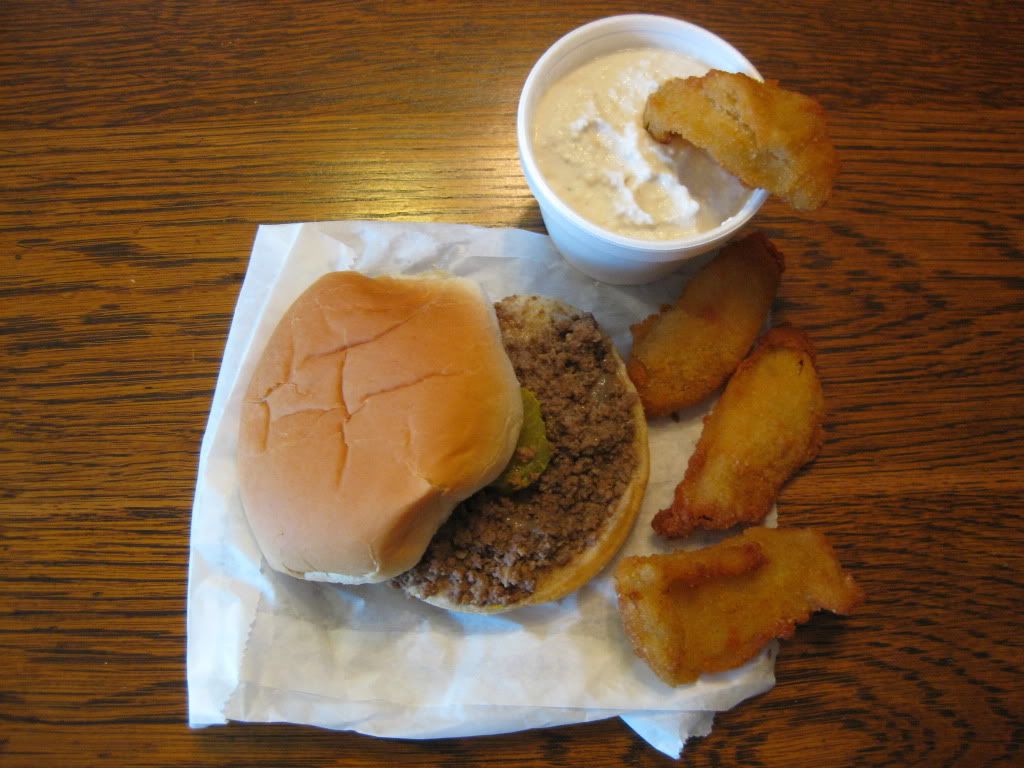 I have never seen onion chips or dip like this anywhere else. The onion chips are one of the few fried foods I allow myself to eat. I ended up having 7 of the onion chips and 1/4 cup of the dip. The dip is blended cottage cheese mixed with Lipton onion soup mix and horseradish. It sounds odd, but believe me it is outstanding!
I usually only have this meal once a year, but this is my third trip to visit my parents since last June and I have had all of my home town favorite foods on every visit! Since I had extra calories with fried foods at lunch I just had soup for dinner and a snack of popcorn.
Eating healthy, losing weight or maintaining your weight isn't about depriving yourself of some special eats once in a while. I would never eat this meal on any kind of regular basis but a few times a year isn't going to derail my usual healthy habits.
What are some of your favorite foods that are not too healthy that you allow yourself to have occassionally?
---