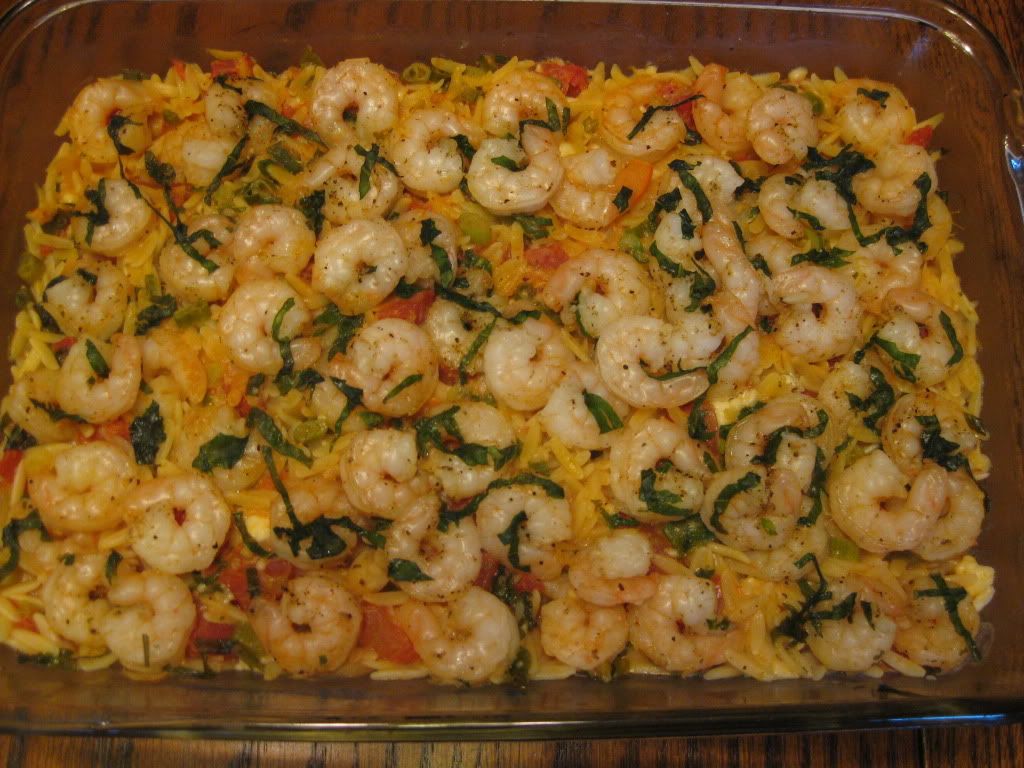 I love that this dish bakes in the oven freeing me up to make a salad. It comes out perfect every time. Be sure and get the tomatoes with the added roasted garlic and onion as it adds so much flavor to this dish.
Basil Shrimp with Feta and Orzo
1/2 cup uncooked orzo (rice-shaped pasta)
2 teaspoons olive oil, divided
1 cup diced canned tomatoes with roasted garlic and onion
3/4 cup sliced green onions
1/2 cup (2 ounces) crumbled feta cheese
1/2 teaspoon grated lemon rind
1 tablespoon fresh lemon juice
1/4 teaspoon salt
1/4 teaspoon black pepper
3/4 pound large shrimp, peeled and deveined
1/4 cup chopped fresh basil
Preheat oven to 450°. Spray an 11 x 7 baking dish with non stick cooking spray. Cook the pasta in boiling water 5 minutes, omitting salt and fat; drain. Place the pasta in a large bowl. Stir in 1 teaspoon oil and next 7 ingredients (1 teaspoon oil through pepper). Place the orzo mixture in prepared baking dish. Combine shrimp and basil. Arrange shrimp mixture on orzo mixture. Cover with foil and press edges to seal. Bake at 450° for 25 minutes or until the shrimp are done.  Drizzle with 1 teaspoon oil. You can double this recipe and bake it in a 9 x 13 pan.
Yield: 4 servings
Nutritional Information
Per Serving: CALORIES 249; FAT 7.2g ; PROTEIN 19.4g; FIBER 1.7; CARBS 26.3
Old WWPs 5 / New WWPP 6
Adapted from Cooking Light, MARCH 2000
---