I have so much to talk about today that it is hard to decide where to start! First I must report that my Mom and I decided I need to stay an extra week to help her and dad until she becomes more mobile. It has just been 8 days since her knee replacement surgery. She is doing fantastic but with the laundry in the basement and her not being very mobile yet they need the extra set of hands. It gives me the opportunity to spoil them a little longer with special meals!
Back in CA my hubby Tom and our college kids Katy and David are dissapointed that I will be gone longer but they want me  to be here and help Grandma and Grandpa through a tough time. This is the longest amount of time that Tom and I have been apart in our 30 years of marriage!  Katy made macaroni and cheese from scratch for Tom and David tonight and oven roasted broccoli. They sent me a picture, it looks like it turned out great. I think we have another cook in the family! You are awesome Katy, thank you for taking good care of your dad and David.
I started out this morning here in Nebraska by baking some scrumptious cranberry orange scones. Mom and I love scones and this recipe turns out a perfect scone dotted with dried cranberries, with just a hint of orange flavor and a little crunch from the Turbinado sugar sprinkled over the tops. We had ours with hot coffee and slices of blood oranges. Delightful!  You can mix the scones ahead of time, shape and score them, cover with plastic wrap and refrigerate over night and bake them off fresh the next morning. The recipe makes 12 scones so you have plenty to enjoy now and a few to freeze and enjoy later in the month.
Cranberry Orange Scones
1 cup unbleached all-purpose flour
1 cup whole wheat pastry flour
2/3 cup plus 2 teaspoons raw cane sugar (Turbinado sugar, it is a course granule)
2 teaspoon baking powder
½ teaspoon baking soda
¼ teaspoon salt
3 tablespoons chilled butter cut into pieces
½ cup chopped dried cranberries
2 teaspoons fresh grated orange zest
1 cup plain low fat yogurt
¼ cup fat free milk
Preheat oven to 400 degrees. Coat baking sheet with nonstick cooking spray or line with parchment paper and then spray with non stick spray.
In mixing bowl, combine flours, 2/3 cup sugar, baking powder, baking soda and salt. Using a pastry blender cut in butter until mix resembles coarse meal. Add cranberries, zest and toss well. In a small bowl, mix yogurt and milk, add to the flour mix, stir until the flour mixture is moist, it will be sticky. Turn dough out onto floured surface and knead 4-5 times. Pat dough into an 8 inch circle on prepared baking sheet. Score the dough into 12 wedges, (don't separate dough completely) Sprinkle with 2 teaspoons Turbinado sugar. Bake 12-15 minutes or until lightly golden.
Serves: 12
Per Scone: 120 Calories, 3g Fat, 3g Fiber,22g Carbs, 3g protien,
WWPs 2/ WWPP 3
These freeze well.
Adapted from Conscious Cuisine by Chef Cary Neff
Mom had physical therapy today so after I dropped her off I went to the grocery store to get the ingredients to make a special shrimp dish for dinner. This is a tried and true recipe that I have made numerous times for my family. What a wonderful combination of shrimp, orzo pasta mixed with tomatoes, fresh basil, green onions and feta  cheese all baked until hot and steamy. Mom and dad were oohing and aahing over this simple dish that is bursting with flavor. Tonight I made the regular size recipe for mom, dad and myself.  We had enough left over for one to two more servings.When making it for my family of four I double the recipe  bake it in an9 x 13 baking dish and we have 1-2 servings left over.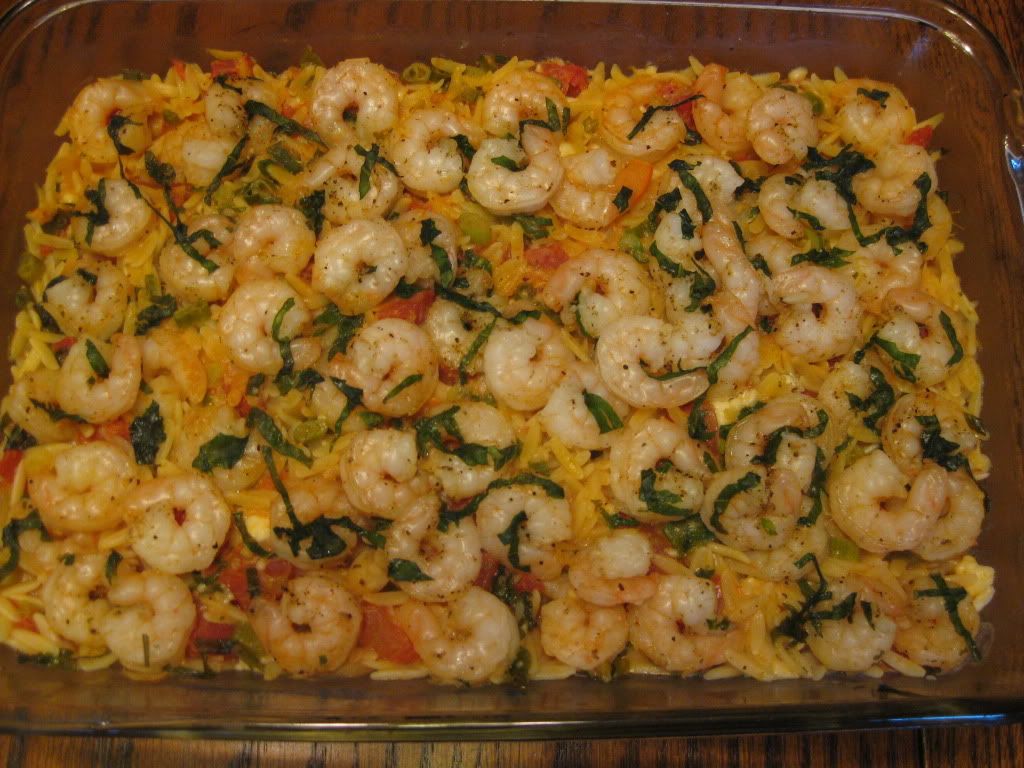 Basil Shrimp with Feta and Orzo
1/2 cup uncooked orzo (rice-shaped pasta)
2 teaspoons olive oil, divided
1 cup diced canned tomatoes with roasted garlic and onion
3/4 cup sliced green onions
1/2 cup (2 ounces) crumbled feta cheese
1/2 teaspoon grated lemon rind
1 tablespoon fresh lemon juice
1/4 teaspoon salt
1/4 teaspoon black pepper
3/4 pound large shrimp, peeled and deveined
1/4 cup chopped fresh basil
Preheat oven to 450°.
Spray an 11 x 7 baking dish with non stick cooking spray.
Cook the pasta in boiling water 5 minutes, omitting salt and fat; drain. Place the pasta in a large bowl. Stir in 1 teaspoon oil and next 7 ingredients (1 teaspoon oil through pepper). Place the orzo mixture in prepared baking dish. Combine shrimp and basil. Arrange shrimp mixture on orzo mixture. Cover with foil and press edges to seal. Bake at 450° for 25 minutes or until the shrimp are done.  Drizzle with 1 teaspoon oil.
Servings: 4
Per Serving: CALORIES 249; FAT 7.2g ; PROTEIN 19.4g; FIBER 1.7; CARBS 26.3
Old WWPs 5 / New WWPP 6
Adapted from Cooking Light, MARCH 2000
---