This Giada De Laurentiis recipe is simple but delicious! With just a few minutes of prep time, this dish came together quickly and the results were outstanding! This could be my new favorite salmon recipe. The fresh flavors of  lemon, basil, garlic, capers and olive oil combine to season whole wheat pasta perfectly. The heat of the pasta slightly wilts the bed of fresh spinach hiding on the bottom of the dish. I seasoned the salmon with a sprinkle of Old Bay seasoning before cooking it in a small amount of olive oil.  Even with cutting the oil down to 1 1/2 tablespoons for the pasta and 1 teaspoon for cooking the salmon there was plenty of healthy oil and flavor.  Eating healthy is easy and satisfying with recipes like this! Many thanks to Carol at Carol's Cozy Cafe for posting this recipe.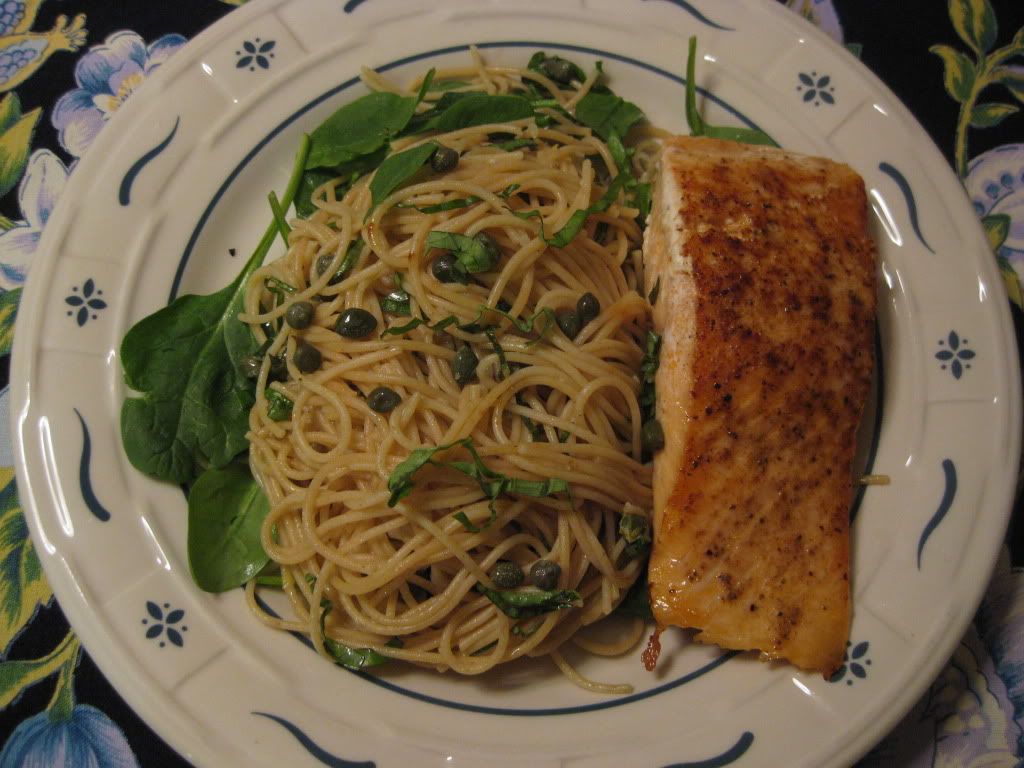 Whole Wheat Spaghetti with Lemon, Basil and Salmon
My changes are in parenthesis
1/2 pound whole wheat pasta — spaghetti
1 clove garlic — minced
2 tablespoons olive oil  (1 1/2 tablespoons)
1/2 teaspoon salt — plus more for seasoning
1/2 teaspoon freshly ground black pepper — plus more for seasoning
1 tablespoon olive oil  (1 teaspoon)
16 ounces salmon fillets — 4 oz. each
1/4 cup chopped fresh basil leaves
3 tablespoons capers
1 lemon — zested
2 tablespoons lemon juice
2 cups fresh baby spinach leaves
Bring a large pot of salted water to a boil over high heat. Add the pasta and cook until tender but still firm to the bite, stirring occasionally, about 8 to 10 minutes. Drain pasta and transfer to a large bowl. Add the garlic, extra-virgin olive oil (1 1/2 tabelspoons), salt, and pepper. Toss to combine. Cover to keep warm.
Meanwhile, warm olive oil (1 tsp) in a medium skillet over medium-high heat. Season the salmon with salt and pepper or ( Old Bay seasoning). Add the fish to the pan and cook until medium-rare, about 2 minutes per side, depending on the thickness of the fish. Remove the salmon from the pan.
Add the basil, capers, lemon zest, and lemon juice to the spaghetti mixture and toss to combine. Set out 4 serving plates or shallow bowls. Place 1/2 cup spinach in each bowl. Top with 1/4 of the pasta. Top each mound of pasta with a piece of salmon. Serve immediately.
Yields:  4 servings
Nutritional Information
426 Calories; 15g Fat, 31g Protein; 45g Carbohydrate; 5g Dietary Fiber;
Old WWPs 9 / New WWPP 11
Recipe adapted from Giada De Laurentiis, Food Network