Lisa at One Mom's Eating Recovery gave me this award. Lisa has an amazing story and she posts about her journey with honesty and a sprinkle of humor!  She tackles all subjects related to weight management and stirs up some good conversations.
This award sounds so "Southern Bell" like that it makes me want to put on a pretty dress and invite you all over to sit on the veranda to drink Mint Juleps or sweet tea. Oh wait, I have a healthy living blog, I don't have a veranda and I no longer drink unhealthy sweet drinks! Back to reality here, I will make a berry protein smoothie, sit on the back patio in my capri pants and give cheers to all of you!
So here are the Sweet rules of this award:
1. Thank the person who gave you the Sugar Doll award.
2. Write why you were given the award.
3.  Pass the award on to 5 bloggers who have made your life a little sweeter and write how they have done it.
4.  Notify them of the award.
Lisa gave me this award for being supportive and a tell it like it is kind of girl, plus having great recipes. Wow, I am blushing but smiling from ear to ear. Thanks Lisa, you made my day!
I am new to the blogging community both as a reader and a blogger. I just found the blog world last fall so I am a new follower and I am just now finding the bloggers that I can relate to and enjoy reading.
1. Tracey is sweet and she will inspire you with her amazing weight loss story and how she has transformed her life into one filled with healthy choices. I love her great recipes, food finds and her new water exercise routine. She has that I can do it attitude that makes you want to do it too! She won't let the numbers on the scale get her down, she looks at all of her non scale victories as part of her success and she has such a positive attitude.
2.Tosha is a new blogger. She is a new stay at home mom who blogs about doing Weight Watchers on her own. She is kind and sincere. Her blog is full of good eats, food finds, recipes and her adventures as a new mom. Watch out, as she is an amazing baker and has pictures of her culinary delights.
3. Kat has a peace about her. I always feel good after reading her blog. I like her informative posts about healthy topics like green smoothies, coconut oil and yoga just to name a few. Like me she is working to improve her mind, body and spirit knowing that they are all connected and must be in harmony.  Her before and after pictures are inspiring.
4. Marisa is one of the first blogs I started to read and follow. She blogs about her significant weight loss and how she is trying to find the right balance to get to her goal. She is honest and candid as she shares all of her trials and tribulations even her attempt to find new jeans so she can toss the "mom jeans" once and for all! I enjoy her recipes, healthy food finds and most especially her "dash board" breakfast pictures! She takes a light hearted approach and tries to find the humor in her situation.
5. Karen is the real deal. She writes the most informative posts about health and fitness. You will find that she covers a wide variety of topics from recipes, food finds, exercise routines to how to stop mindless munching and simple decorating projects. She tosses out questions to her readers that result in some fun reading of the comments of her followers. Karen will take the time to answer your questions and she leaves thoughtful, helpful comments on other blogs.
I have written this post twice today! I somehow lost my first draft. I don't know how I did that and even my son who is a computer science major couldn't find the original draft or offer me any advice as to what I did. Well not one to give up easily, I started over!
Oh remember that pink berry smoothie I mentioned? Here is the picture and the recipe.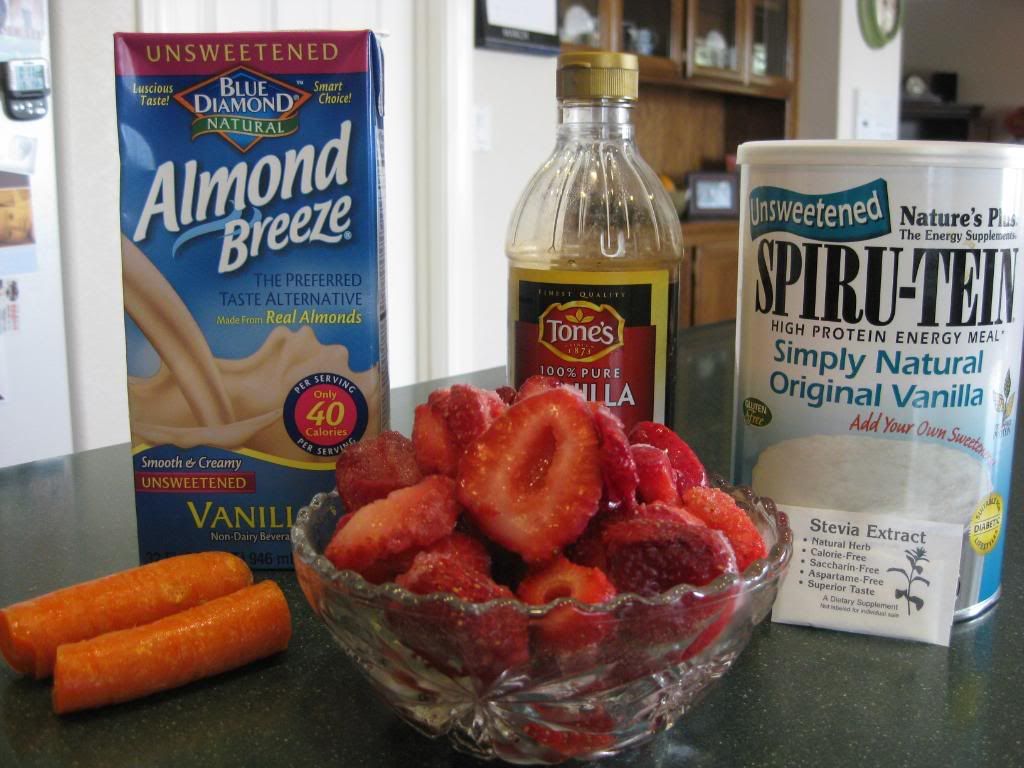 Berry Protein Smoothie
1 cup Almond Breeze unsweetened vanilla (40 calories, 3 g fat, 1 g fiber, 1g protein, 2g carbs)

1 scoop Spiru-Tein unsweetened vanilla protein powder (80 calories, 0 fat, 1g fiber, 14 g protein, 4g carbs)

1 carrot

2 servings frozen strawberries, about 280 grams (1oo calories, o fat, 3 g fiber, 1 g protein)

1/2 teaspoon vanilla extract

1/8 teaspoon Stevia extract or your sweetener of choice
Throw it all into the Blendtec and blend until smooth. If making in a regular blender add the frozen strawberries a few at a time, blending well after each addition.  I didn't have any fresh greens to add to this one today. If you want it sweeter and thicker you can add a frozen banana as well. Very refreshing!
Yield: 1 serving
Nutritional Information
Per Serving; 249 calories, 3.2g fat, 7g fiber, 16.7g protein, 32.9 carbs
---