This pasta dish is a family favorite. I double the recipe as the guys here will eat two servings each. Katy and I are satisfied with a single serving. It is a good company dish, add a salad and some sourdough bread to round out the meal. I often double recipes. I figure I am already making a mess, using pots and pans and it doesn't take any more time to make double the food! This is one of those dishes that tastes even better the second day.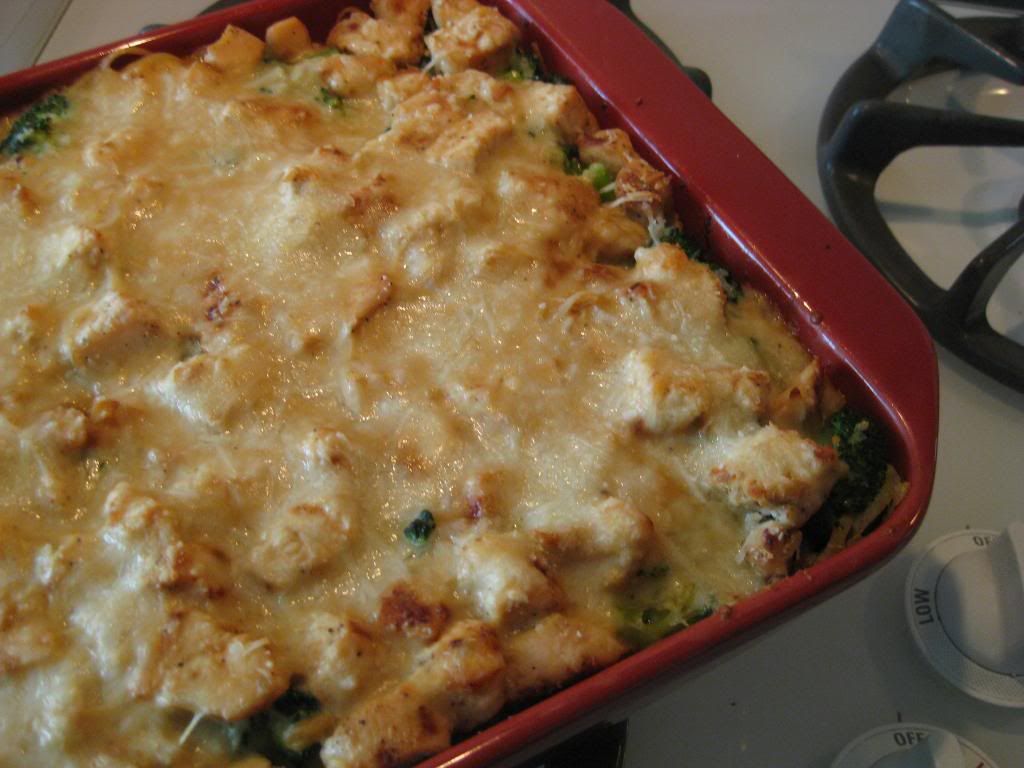 Fettuccine, chicken, broccoli, garlic, onion, parmesan cheese all combined in a creamy white sauce then baked until hot and bubbly. It is comfort food that soothes the soul and makes you feel content.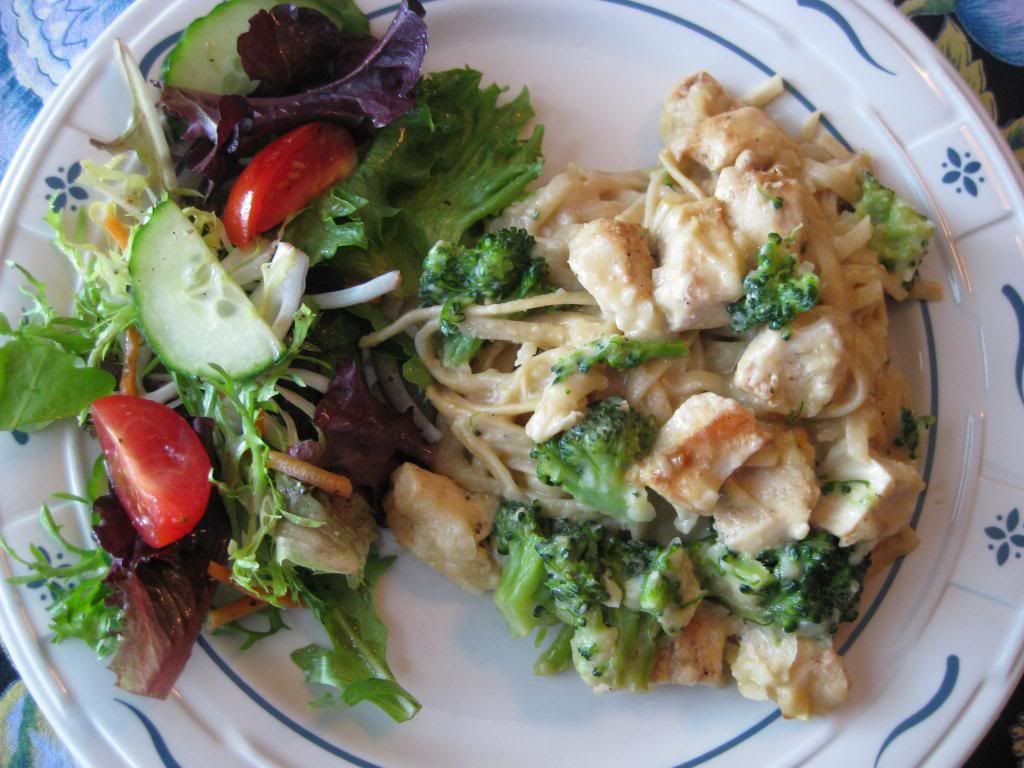 CHICKEN DIVAN
4 chicken breasts, boneless/skinless (1 lb)
1/2 tsp garlic powder
1/4 tsp black pepper
1/8 tsp cayenne pepper
8 oz fettuccine, cooked
4 cups broccoli, cut into florets and steamed till crisp/tender
3 garlic cloves, minced or more to taste
1/4 cup onion, minced
1/4 cup butter
1/4 cup all-purpose flour
2 cups chicken broth
3 TBS sherry
1/2 cup 2% Low Fat Evaporated Milk (This comes in a can)
1/4 tsp black pepper
1/8 tsp cayenne pepper
1/2 cup Parmesan cheese, divided  (Buy a good quality Parmesan cheese that you grate or shred yourself)
Preheat oven to 350.
Sprinkle chicken breasts with garlic powder, black pepper and cayenne pepper, cut chicken into 1 inch pieces and cook in a hot skillet sprayed with non stick spray, until chicken is browned and caramelized.
I boil the water for the fettuccine and I throw the broccoli in during the last two minutes of the cooking time for the pasta. I use a large wire strainer with a long handle to remove the broccoli, then drain the pasta in a colander.
Sauté  garlic and onion in cooking spray in large skillet till tender, move it to the edge of the pan, in same skillet, melt butter, stir in flour, mix in the onion and garlic and cook roux for 2 minutes until golden. Add chicken broth, sherry, Evaporated Milk, remaining 1/8 tsp cayenne and remaining 1/4 tsp black pepper, simmer until thick. Add 1/4 cup of Parmesan cheese and stir till melted, then remove from heat.
Spray 2 qt casserole dish with cooking spray, spread fettuccine noodles on bottom, then top with broccoli. Cover the fettuccine and broccoli with half of the cream sauce. Spread chicken in single layer on top of the broccoli.
Spoon the remaining half of the sauce on top of the chicken, sprinkle with remaining 1/4 cup of Parmesan, and bake for 20 minutes. If desired, turn oven to broil for 3 minutes till top is golden and serve!
Yield: 6 servings
Per Serving: 417 Calories; 15g Fat (32.1% calories from fat); 30g Protein; 39g Carbohydrate; 3g Dietary Fiber; 78mg Cholesterol; 535mg Sodium.
Old WWP 9 / New WWPP 11
My Notes: I have also used half the amount of butter with great results. I double the recipe and bake in a 9 x13 pan placed on a cookie sheet in case it bubbles over.
Recipe adapted from one found on the CL message board.
Recipe and nutritional information updated 3/23/11
I love reading your comments, thank you for posting them!
What are you having for Easter Dinner?
---