I managed to get a walk in this morning between storms! It was cold and windy as I walked but at least I stayed dry. Later today I have to get in my weight resistance work out. It is really helping to firm up my arms, gotta love that with sleeveless tops weather coming soon.
This pair of ducks were sitting underneath the sign as I approached this morning but of course when I got ready to take a photo they got up and moved!
Yesterday I took everything out of the refrigerator and gave it a good cleaning. Late in the afternoon Katy and I went to run some errands and grocery shop. It was 4:00 and we were still shopping so  I knew we needed something quick and easy for dinner. I decided to make French Dip Sandwiches since I knew the family would be eating in shifts and both kids had friends that would be eating dinner with us.
I have been making these sandwiches for many years and they are always a hit. You can make them up ahead of time and hold them in the refrigerator until you need to bake them. This works well for me since my college kids eat at different times. They are nice to have on hand over a busy weekend or when you have company over for a casual get together. I have served them with a variety of side dishes such as, oven fries, fruit salad, a cup of soup, coleslaw or broccoli salad. Since I was running late last night they got oven fries and grapes!
You can easily make these with shaved turkey and that is actually my preference. I couldn't eat the sandwich last night as my teeth were sore from my new set of aligners (Invisalign braces) and I couldn't bite anything. I opted for hummus with whole grain pita bread and some grapes.
At the deli counter at the grocery store I bought a roast beef called "Healthy Ones". For 2 ounces of deli roast beef, 60 calories and 1 g fat. Not bad, just 1 WWP for 2 ounces. It was priced right too at $5.99 per pound.
Here is what you need to make these satisfying hot French Dip Sandwiches. Any sandwich roll that is pretty firm will do. If the bread is too soft, it will fall apart when you try to dip it. I have not found any whole wheat sandwich rolls to use for this recipe. If you know of a brand let me know.
Any brand for Au Jus will do, I like this one because it makes a lot and tastes good.
I set up a little assembly line with the ingredients and make 8 sandwiches at a time.
Wrap it up tightly in the foil. At this point you can refrigerate them and bake later.
The cheese melts over the hot roast beef, the bread gets all crusty and the hot Au jus adds just the right flavor and a little moistness to this hearty sandwich.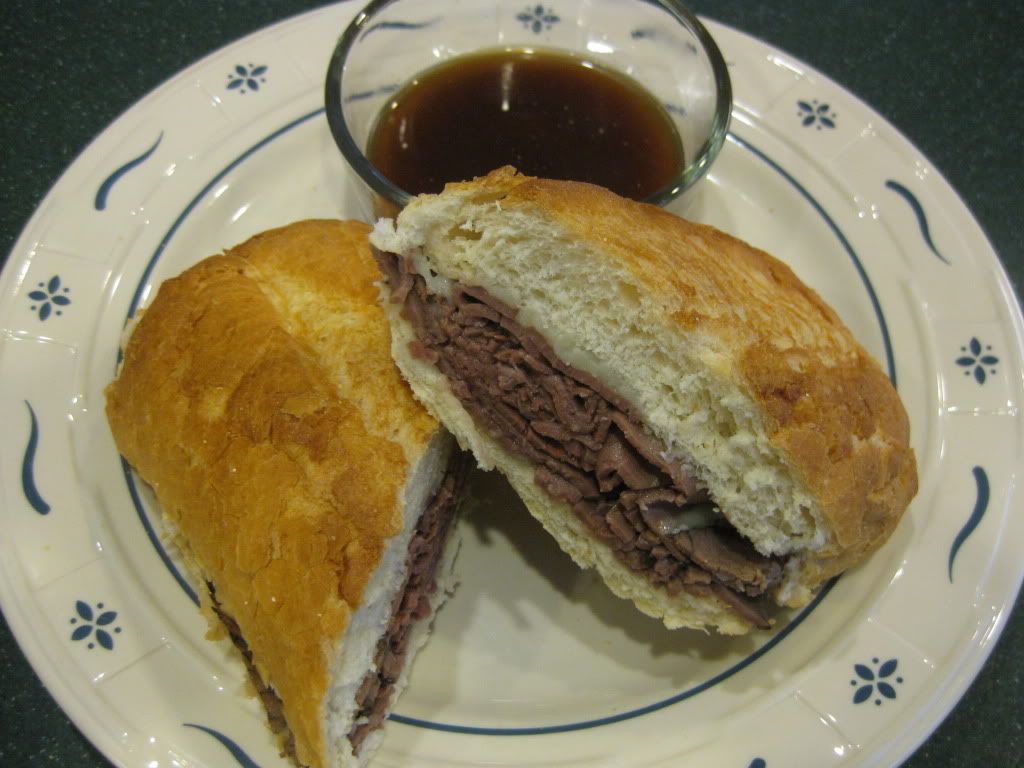 French Dip Sandwiches
2 pounds deli roast beef, thinly sliced or shaved ( or turkey)
8 French dip or sourdough style sandwich rolls
8 ounces shredded part skim mozzarella cheese
1 package Au jus gravy mix (you might need two packages if you like a lot of Au Jus)
Preheat oven to 400 degrees.
Tear off  8 sheets of aluminum foil large enough to wrap each sandwich in. Cut sandwich rolls in half length wise. Place 4 ounces of roast beef (or turkey) on each roll, top with 1 ounce of cheese. Roll up tightly in foil. At this point you can refrigerate the sandwiches and bake later or proceed. I place the wrapped sandwiches on a cookie sheet. Bake for 15 minutes.
While sandwiches are baking, mix up the Au jus gravy according to package directions. Remove sandwiches from oven and unwrap the foil. Slice each sandwich in half diagonally and serve with a dish of Au jus.
Calorie counts and WWP's are going to depend on the what brand of products you use. Katy and I like less meat on our sandwiches, I usually skip the cheese and Katy adds more cheese to hers!
I use Colombo Sourdough Sandwich rolls 190 calories, 2g fat, 38g carbs, 1g fiber, 6g protein
Very Lean deli style roast beef, 4 ounces, 140 calories, 4 g fat, 22 g protein, og fiber
Part skim mozzarella cheese 1 ounce, 80 calories, 6 g fat, 8g protein, og fiber
Yields: 8 Servings
Nutritional Information
With the Colombo sourdough rolls I buy and 4 ounces lean roast beef, 1 ounce light cheese, each sandwich is about; 410 Calories, 10 g fat, 1 g fiber, 36 g protein, 38g carbs
Old WWPs: 9  New WWPP: 10
with out cheese 330 calories, 4 g fat, 1 g fiber, 38g carbs, 30g protein,
Old  WWP 7  /  New WWPP 8
This recipe was inspired by a recipe from Quick & Healthy Recipes and Ideas by Brenda Ponichtera
Edited 2/4/11 to reflect new nutritional information and new WWPP
---