Happy Saturday! I think we have finally adjusted to the time change here. We actually went to bed on time last night and were able to wake up at 6:00 this morning. Hubby Tom went for a walk with me this morning. The time flies by when you have someone to talk with while you walk.  I did my weight resistance work out when we got back. I have had sore muscles this week with resuming walking and working out with weights. The old saying, "If you don't use it you lose it," is so true.
We are having dinner with friends this evening with our usual group and we divide up the menu with everyone bringing something to share. Tonight I have dessert. I do love to bake so this gave me an excuse to putter in the kitchen this afternoon. I decided to make the Lemon Buttermilk Cupcakes that I recently  blogged about. Even though I am a huge fan of chocolate these are my favorite cupcakes of all time!  You can find my archived recipes by clicking on the categories on the side bar and it will take you to a page that lists the recipe posts and you can click on the one you want to view. One of these days I will have a better system just be patient with me!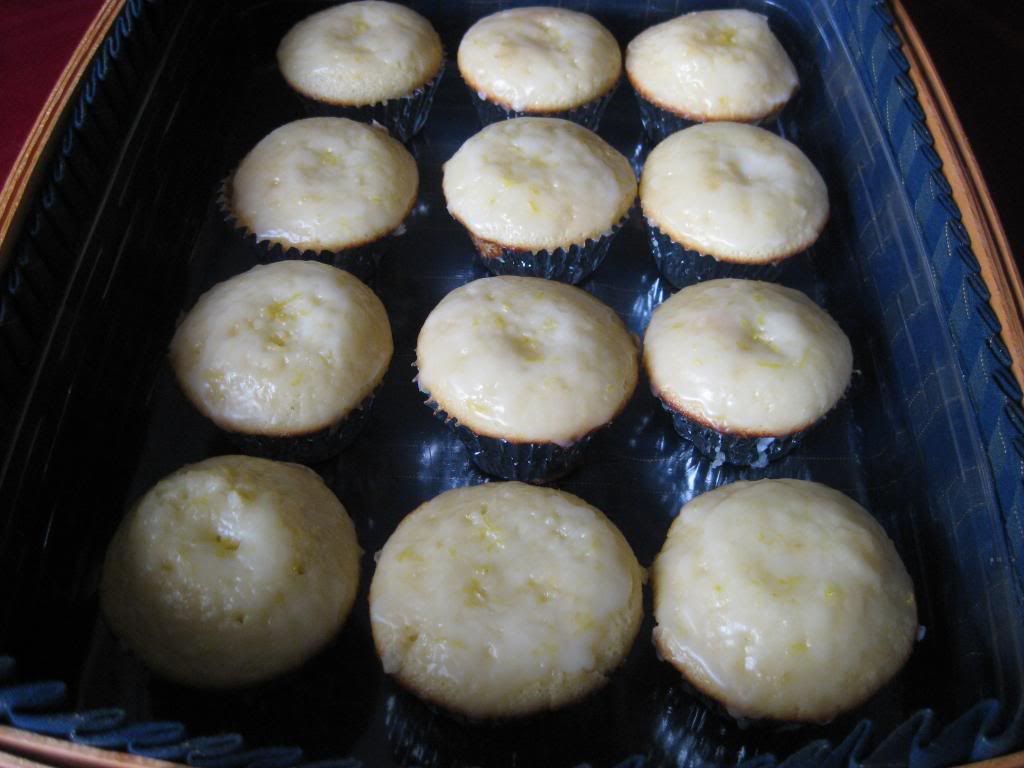 One of our friends is on a gluten free, dairy free diet so I also wanted to find something to make that she might be able to eat. I had seen some little treats made from nuts and dried fruits and decided that would fit the bill. I was over at  the blog called Enlightened Cooking and I used her recipe for Lara Bars to make little dessert balls. I have not tasted them but hubby Tom and Katy were my taste testers and they liked them. Katy was more excited about the cupcakes! How can you go wrong with chopped nuts and dried fruits? I made three different types. I used the food processor for the dried fruit and the Blendtec for the nuts. I wore plastic gloves when I rolled the balls so I wouldn't get all sticky. They were very easy to make but it did make a mess!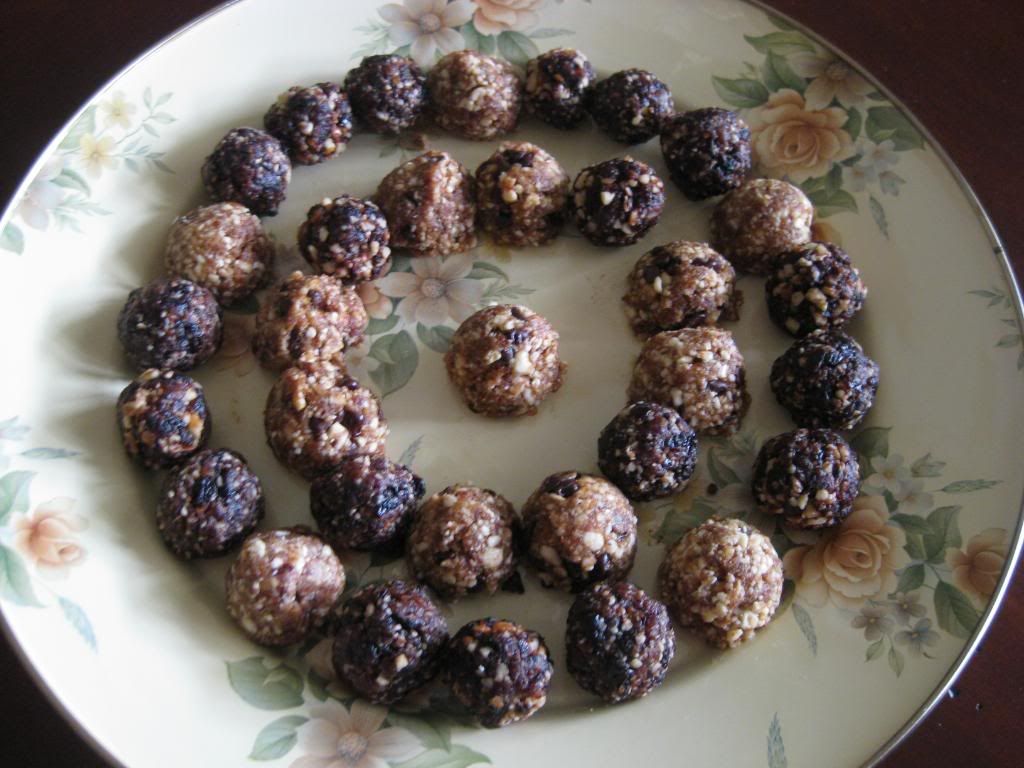 Very Cherry Bars
1/4 cup chopped dates

1/4 cup dried cherries

1/3 cup whole pecans

1/8 teaspoon cinnamon
Set out two pieces of plastic wrap for shaping and wrapping the bars. Do this first; you'll have sticky fingers when you need it.
Place the dates and cherries in a food processor. Pulse until processed to a paste . Transfer paste to a medium bowl (don't clean processor).
Add the nuts to the processor and pulse until finely chopped. Add the nuts, along with the cinnamon, to the bowl with the fruit paste . Use your fingers to knead the nuts into the paste.
.
Divide mixture in half. Place each half on each of one of the sheets of plastic wrap. Wrap the plastic around each bar and start squishing into a bar shape form, 3 and 1/2 inches long, 1 inch wide and 3/4-inch thick); press against counter top to flatten bottom side, flattening top side and ends with flat of hand (photo 5) Tightly wrap the plastic around each bar and store in the refrigerator. Makes 2 bars.
I rolled mine into little balls instead.

Yield: 2 Servings  Servings Size half the recipe
Nutritional Information
Per Serving: 242 Calories; 13g Fat (43.2% calories from fat); 2g Protein; 35g Carbohydrate; 4g Dietary Fiber; 0mg Cholesterol; 3mg Sodium.
Old WWP 5 / New WWPP 7
I also made these two variations.
Cashew Cookie Dough: Reverse the proportions of fruit to nuts–Use 1/3 cup dates for the fruit and 1/2 cup raw cashews for the nuts.
Chocolate Chip Cookie Dough: Same as cashew cookie dough, but add 1/2 teaspoon vanilla extract, pinch of cinnamon and 1/2 ounce very finely chopped semisweet or bittersweet chocolate to the mix.
Recipe Adapted from Enlightened Cooking
---