Good Monday morning to everyone. I love the fresh start feeling of a new week. It holds so many possibilities and with my healthy choices I can influence the outcome of the week. From what I buy at the grocery store, the meals I cook, how much I choose to eat at each meal and how much I exercise will help determine how I will feel emotionally as well as physically. Keeping a positive up beat "I can do it attitude," is essential. It is good to remind myself that if I desire to achieve my goals I must be intentional with the decisions I make on a daily basis.
Check out the blooming cactus I saw at Home Depot this weekend.
I am reminded this morning of the saying, "Bloom Where You Are Planted."
I have been getting some questions from some of my readers and I was going to answer them last week but with my out of town trip and being "unplugged" for a couple of days I didn't get it done. Today is the Q & A day!
What Kind of Camera Do You Use?
A lot of readers have posted complimentary comments about my photography and I am appreciative and flattered. I have always let hubby take the vacation photos and be in charge of the camera as I didn't think I was very good at taking photos. A couple years ago I asked for a simple to use digital camera for my birthday and after much research Tom bought me what has turned out to be one of the best gifts he has given me.
Thank you to Tosha  who asked me what kind of camera I use. It is a Cannon SD1100, IS Power Shot, 8.0 Mega Pixels. This is an easy to use, point and shoot camera! I try to take my food photos in natural light. I shut off the flash and set the camera to the micro setting. I have an old table top tripod that I use for some close up shots where you need the camera to be really stable. I have to take multiple shots and then I choose the best one. I try taking photos in different rooms depending on the time of day and how much light is coming in.  It is time consuming but I am just learning and I enjoy the process. I am finding that I have an eye for photography and enjoy the creative side of setting up photos.
Do You Photo Shop Your Pictures?
No, I don't even know how to use photo shop. Sometimes my photo files are too big to upload directly into Word Press so I have to upload them to photo bucket first and then to Word Press. The only thing I do to some of my photos is crop them. I take all of my own photos. The only stock photo I have used is the one of the Quail and the spices on the header of my home page. The vivid color and clarity of the photos is do to good lighting and the camera!
Have you always loved to cook or did it come with a desire for good health?
Thanks to Mary who posted this question. I have always loved to cook and I have been cooking since I was a young girl. My Mother and my Grandmother both wonderful cooks, influenced my love of cooking at an early age. I wrote a little bit about my love of cooking on an earlier post that can be read here.
At the young age of eighteen I made quite the impression on hubby Tom, (my then boy friend) with my cooking skills. I planned a special picnic lunch for us and made everything from scratch. We dined on fried chicken, home made bread, potato salad and chocolate chip cookies! He has been my food taster ever since that day. My cooking skills and the nutritional quality of our meals have continued to improve over the past thirty years of my marriage!
I am a collector of recipes and cookbooks. I read cookbooks like novels! The binders contain recipes from the internet.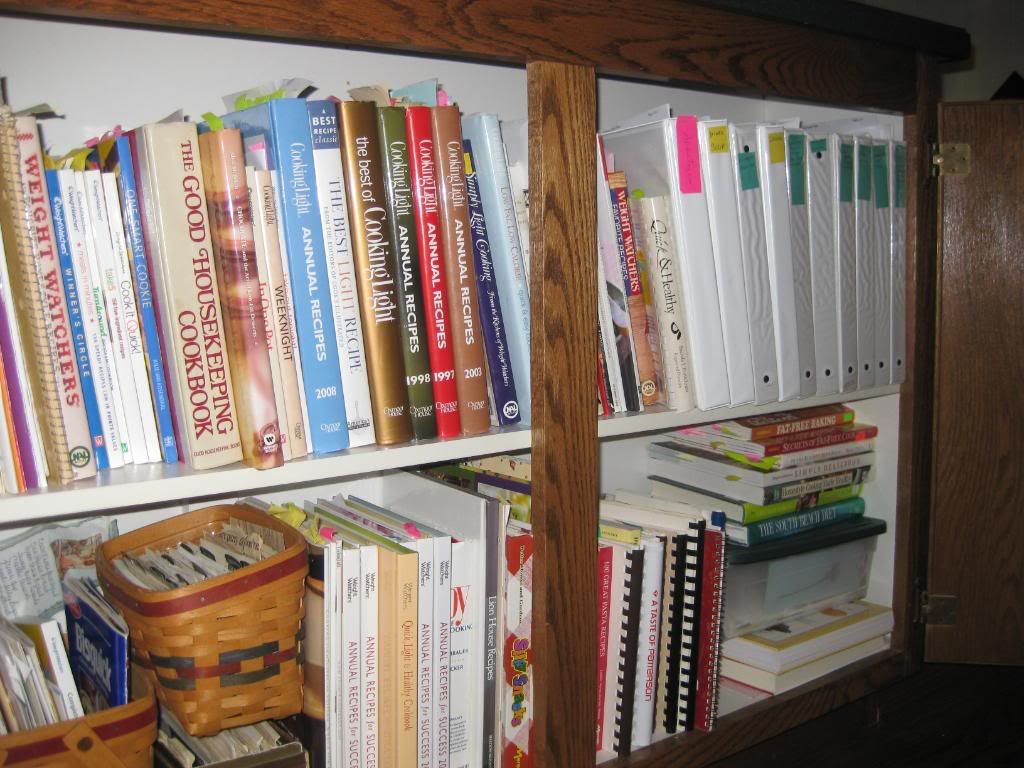 I have a collection of hand written recipes that are a part of my past and they represent my culinary history! When I look through my recipe box I remember when I cooked certain recipes for the first time, who gave me that recipe, where we lived and who I served it to.
Being in the kitchen is an adventure and learning how to prepare new and different foods is exciting. Knowing that I can still cook flavorful food that is also healthy for us gives me immense pleasure.
Something New
I have added a couple of new pages to my blog. Check out the tabs at the top of the page. I have one tab for a page containing questions and answers. The motivation page has links to past posts about how to stay motivated to keep the healthy choices and weight management going. I will continue to update and add to these pages in the future. I am also working on a page of before, after and present time photos! A what's in my pantry page is under construction. I hope to finish these pages this week.
I love your comments!   Do you have a question you would like to ask me?
---