If you have never tried a rutabaga you have been missing out on a delightful root vegetable. While I was at mom and dads I fixed us a rutabaga one night and took pictures of it. I ran out of time for blogging while there, but now I want to share this amazing vegetable with you. Don't judge this guy by how it looks on the outside, it's what's inside that counts! I usually look for smaller rutabagas but this was the only size they had at mom's grocery store.
Peel it and cut it into junks, the smaller the size the quicker it will cook. My prefered cooking method is to steam or boil it as you would potatoes. It takes about 25-30 minutes, you want the rutabaga to be fork tender, meaning that when you insert a fork into a cooked piece the fork releases easily. Drain the rutabagas serve as is with just a little dab of butter and salt and pepper to taste.  This entire bowl full of cooked rutabaga came from that one giant rutabaga!
You can mash rutabagas with your usual method for mashed potatoes. Sometimes I make a puree of steamed rutabagas, turnips, an ounce or two of  light cream cheese, a dab of butter, salt and pepper, process in the food processor until smooth. Another method is to combine them with other root veggies like carrots, turnips, parsnips, onions and some butternut squash and oven roast them at 400 degrees for 40 – 60 minutes drizzled with a little olive oil, seasoned with salt and pepper. They get all caramelized and sweet. Delicious! Add one to your stew or along side a roast in the oven.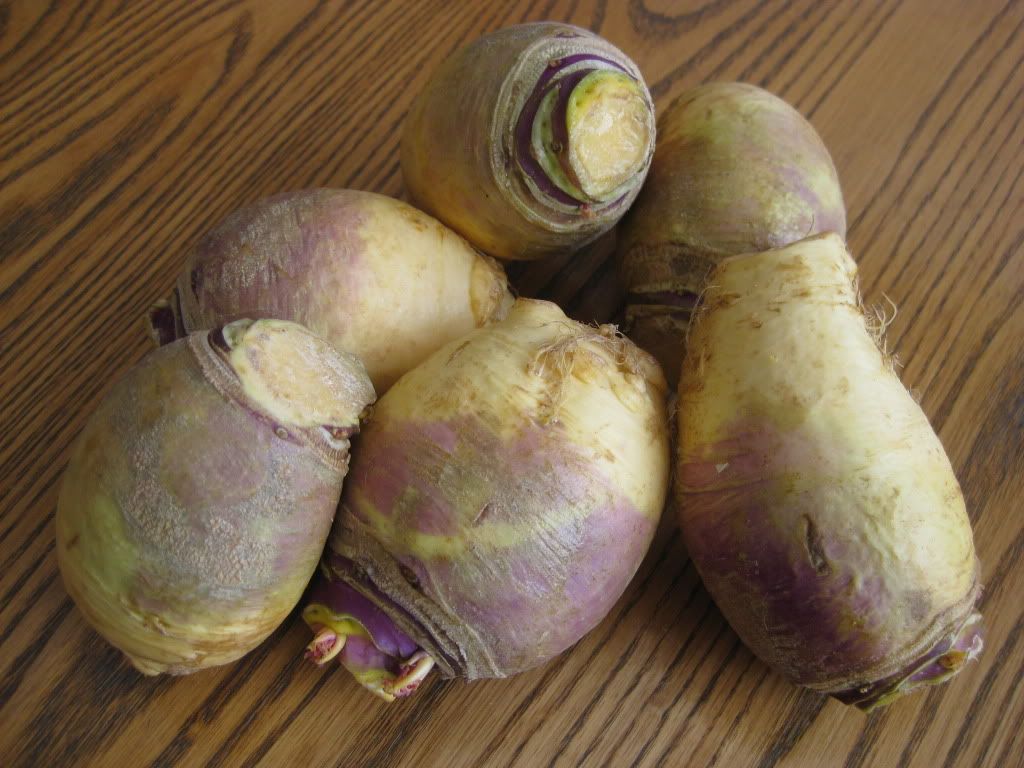 This is the size I can find in my grocery store here in CA. They are yellow and purple on the outside. They look a lot different than the one I bought in NE but they all taste the same.
What do rutabagas taste like? Well, they taste a little bit like a potato only sweet with a slightly peppery undertone. It is a cruciferous vegetable often called a yellow turnip and it is high in vitamin C. I love the golden color as it looks buttery to begin with.
Nutritional Information:
Serving Size: 1 cup cooked rutabaga,  66 calories, 0.4g fat, 3.1g fiber, 1.68g protein, 11.38g carbs  WWPs 1
---