My daughter Katy and I decided to go Whole Foods yesterday afternoon to get a few things. It was a beautiful day here so we decided to wear our new sandals. We love to shop together and we have similar taste in shoes and clothes. We found these "granola girl" Teva sandals that we  decided to get as our comfort shoes for the summer. They are not our typical style but they were way to comfortable to pass up! She got brown and I got black. They will be great for shopping and vacation sandals!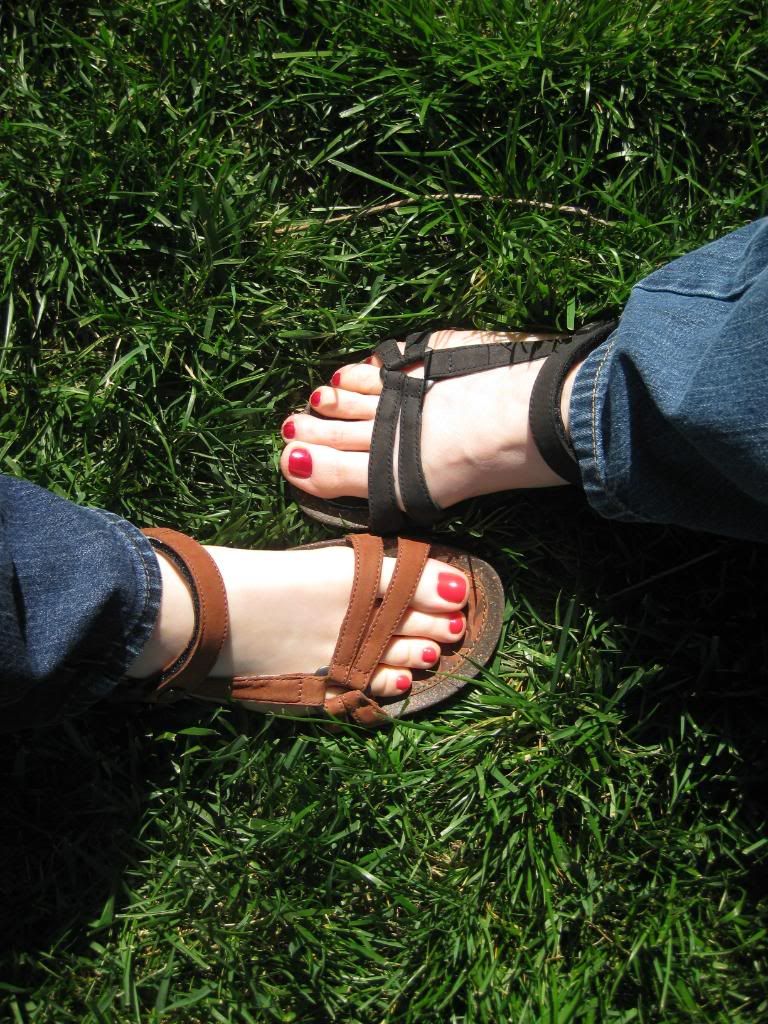 We like to walk up and down all the aisles at Whole Foods and check out all the wonderful different products they carry. I go there to buy organic spinach, kale and beets for smoothies. Yes, that is right I do make a smoothie with some fresh beet in it! I will post that one soon. Sometimes Whole Foods have good sales on products we like so we look for those as well. I could never afford to do all my shopping there! Yesterday they also had the most beautiful strawberries so I had to buy some to make my favorite Spring spinach salad. I always cut way back on the sugar in the dressing so the sweetness of the strawberries can come through, you get a delightful crunch from the poppy seeds, toasted sesame seeds and almonds. I make this salad a lot so to save time later, I go ahead and toast up a larger quantity of sesame seeds and almonds and store them in the freezer.
Strawberry Spinach Salad
1 tablespoon sugar (original recipe called for ¼ cup!)
2 tablespoons sherry or white wine vinegar
1 ½ teaspoons sesame seeds, toasted
1 ½ teaspoons olive oil
1 teaspoon minced red onion or shallot
¾ teaspoon poppy seeds
¼ teaspoon Hungarian Sweet Paprika
1/8 teaspoon salt
6 cups baby spinach (about 1 pound)
2 cups sliced strawberries
2 tablespoons sliced almonds, toasted
Combine first 8 ingredients in a jar, cover tightly and shake vigorously, or put it in a small dish and whisk until well blended.
Combine the spinach and strawberries in a salad bowl; pour the dressing over the top, tossing gently to coat. Sprinkle with toasted almonds and serve at once.
This salad does not keep well so pour the dressing on right before you plan on serving it.
Yield: 6 servings
Nutritional Information
Per Serving: 66 Calories; 4g Fat (43.8% calories from fat); 2g Protein; 8g Carbohydrate; 2g Dietary Fiber; 0mg Cholesterol; 69mg Sodium.
We like salmon and I have several recipes that I rotate. This happens to be one of my favorites. Hubby Tom and daughter Katy like it but they like the Honey Glazed Salmon that I posted about last week even more! You can find that recipe here.  Our son David does not like fish so I also made spaghetti with meat sauce and garlic bread for him. Do you think my family is spoiled?
I like the Asian flavors of this sauce with the salmon, the tangy sweetness from the pineapple juice mixed with the salty soy sauce with just a hint hint of orange from the zest. YUM! It goes together quickly and easily too so it is perfect for  a week night meal.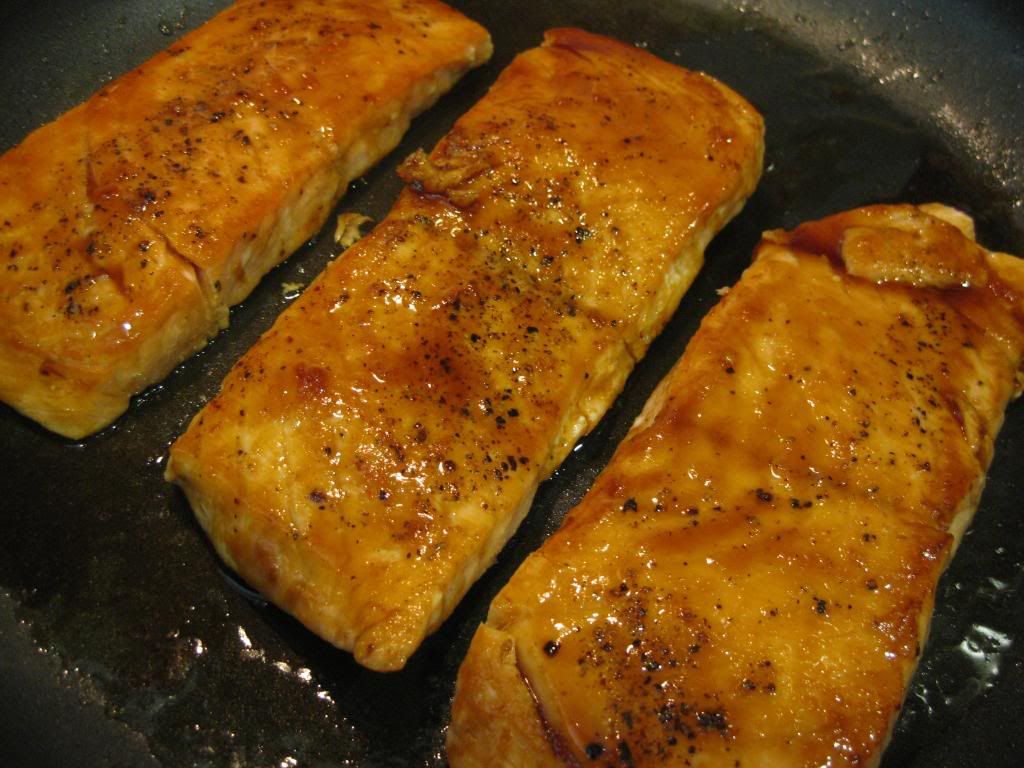 Make sure your skillet is oven proof up to 400 degrees.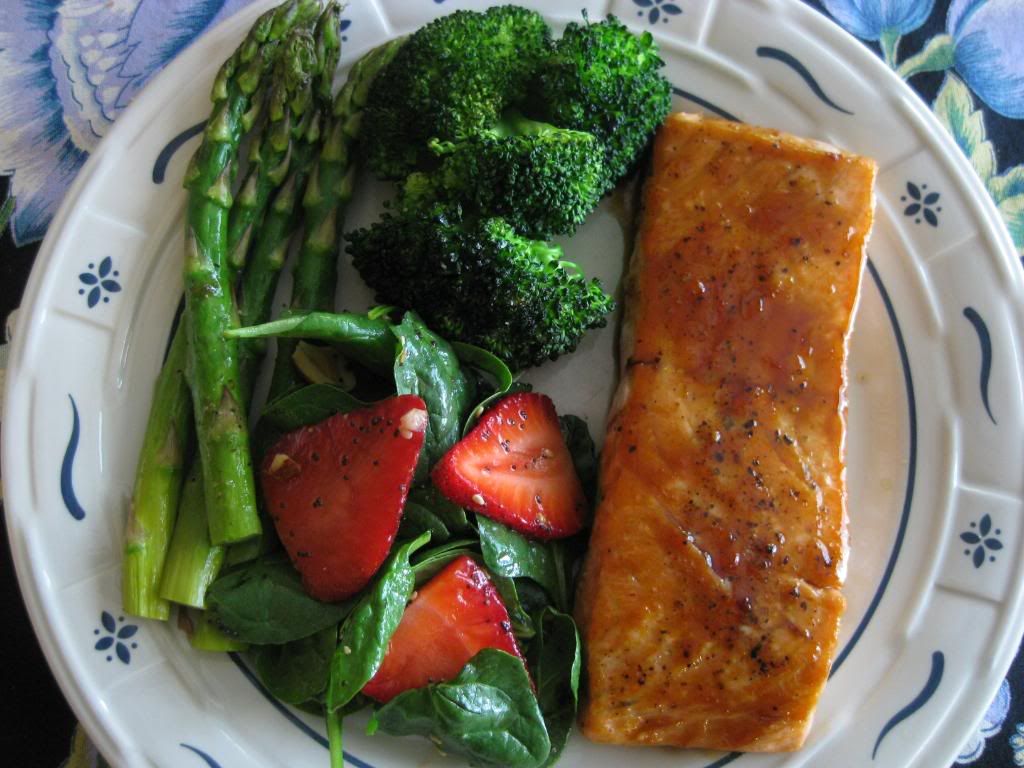 This was a huge piece of salmon so I ate half and saved half for today's lunch!
I served it with oven roasted asparagus and broccoli and of course the awesome salad.
Pineapple Teriyaki Salmon
2 tablespoons brown sugar
2 tablespoons low-sodium soy sauce
1 teaspoon finely grated orange zest
1 (6-ounce) can pineapple juice
1/2 teaspoon salt, divided
2 teaspoons canola oil
4 (6-ounce) salmon fillets (about 1 inch thick)
1/4 teaspoon freshly ground black pepper
Grated orange rind (optional)
Combine first 4 ingredients and 1/4 teaspoon salt in a small saucepan over high heat, and bring to a boil. Reduce heat, and simmer until reduced to 1/4 cup (the recipe says 15 minutes but it takes mine about 20 -25 minutes). Set aside.
Preheat oven to 400°.
Heat oil in a large nonstick skillet over medium-high heat. Sprinkle both sides of salmon with remaining 1/4 teaspoon salt and black pepper. Add fish to pan; cook 3 minutes. Turn fish over and place in oven; bake at 400° for 3 minutes. Remove from oven; brush 1 tablespoon sauce over each fillet. Return to oven, and cook 1 minute or until fish flakes easily when tested with a fork. Sprinkle with orange rind, if desired.
Yield:  4 servings (serving size: 1 salmon fillet)
CALORIES 339 (41% from fat); FAT 15.4g (sat 3.3g,mono 7g,poly 3.9g); IRON 1mg; CHOLESTEROL 87mg; CALCIUM 34mg; CARBOHYDRATE 11.2g; SODIUM 644mg; PROTEIN 36.8g; FIBER 0.2g
WWPs 8
Adapted from Cooking Light, MAY 2006
Edited to say;  Leave me a comment and let me know what your favorite Spring salad is.
---