The weather is warming up and after I get back from my morning walk I don't want anything warm to eat so I have been making smoothies again. Speaking of walks, yesterday on my walk for just a minute I thought I was Dorothy from the Wizard Of Oz following the yellow brick road. On one part of the nature trail someone had sprinkled little gold stars down the center of the yellow line on the path for about 1/4 mile! Luckily I have been taking my camera with me on my walks lately.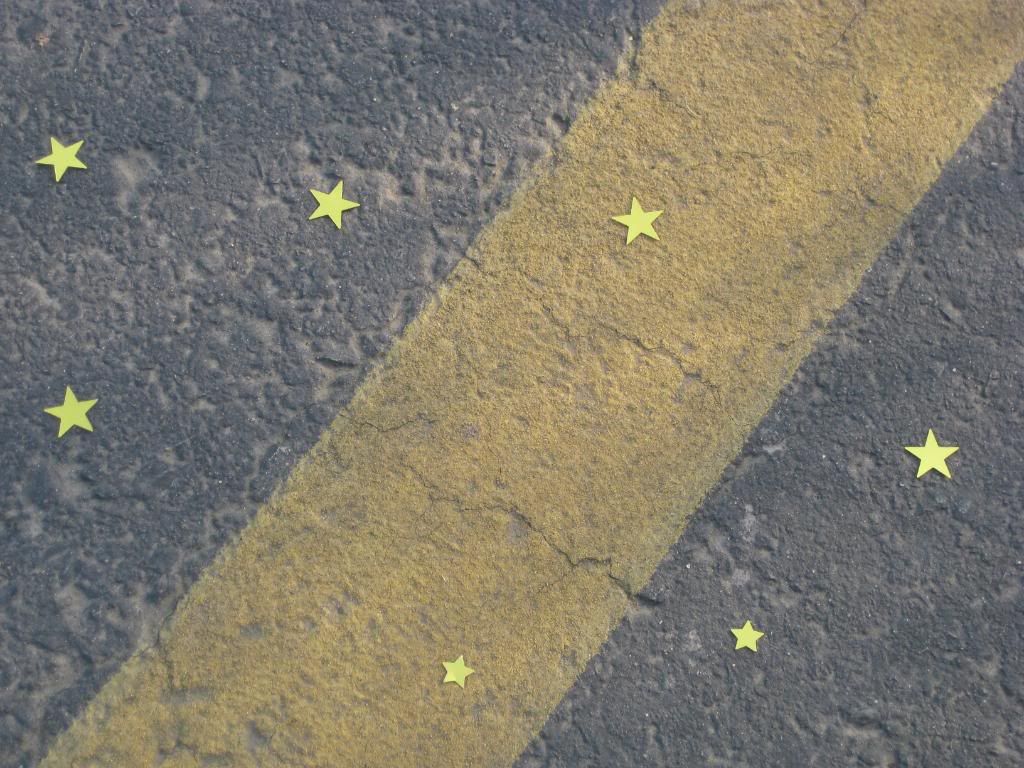 This tree makes me happy every day when I walk past it, isn't it cute?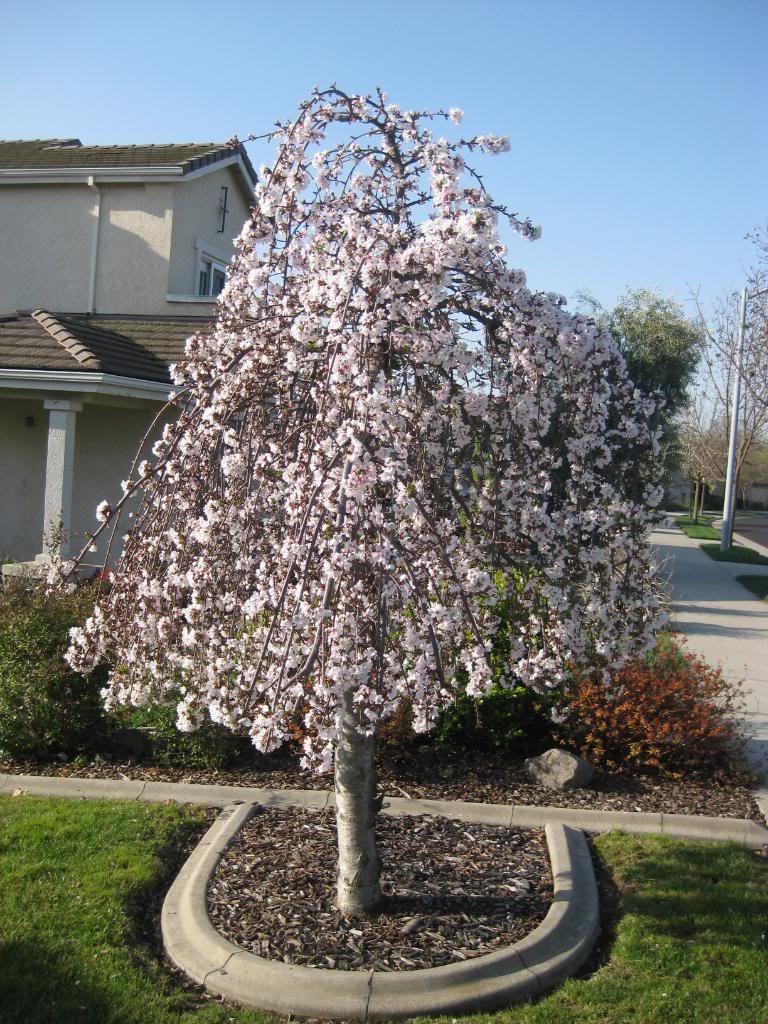 Okay I got distracted, now back on track, I like healthy fruit smoothies, protein fruit smoothies and green smoothies made with kale – don't cringe they are delicious and nutritious. I didn't have any kale so yesterday I made a fruit and veggie smoothie. The wonderful thing about them is that the fruit over powers the veggies and you can get a couple of veggie servings in with out even tasting them. Now I don't have a problem eating my veggies and I get plenty of them everyday but if I can add some dark leafy greens, some extra carrots and garner even more health benefits then why not? The variations are endless and you have to play with the ingredients to find a balance that pleases your pallet. What I do can just be a starting place for you.  Let's cover the basics about smoothie making.
First you need a BLENDER. I have three different blenders and they all can make a smoothie. I own a  Blendtec, Cusinart and a Back to Basics. They vary from $400 for the Blendtec , $80 for the Cuisinart and down to $20 for the Back to Basics. The Blendtec of course does the best job. Believe it or not the inexpensive Back to Basics would be my second choice for smoothies. All can be bought on the Internet or Google them to find a local store.
With the Blendtec I can load everything into the blender at the start and it makes a silky smooth concoction.  I can't say enough good things about it. More about that at another time. With the Cuisinart or the Back To Basics it is best to add the liquid and the softer fruits and veggies at the beginning and then slowly add the frozen or harder ingredients a little at a time and process well after each addition. I will add more smoothie recipes over the next few weeks as I make a wide variety of them. These are great for kids, you can get dark leafy greens into them and they won't mind at all, trust me when I say you can't taste the veggies in there!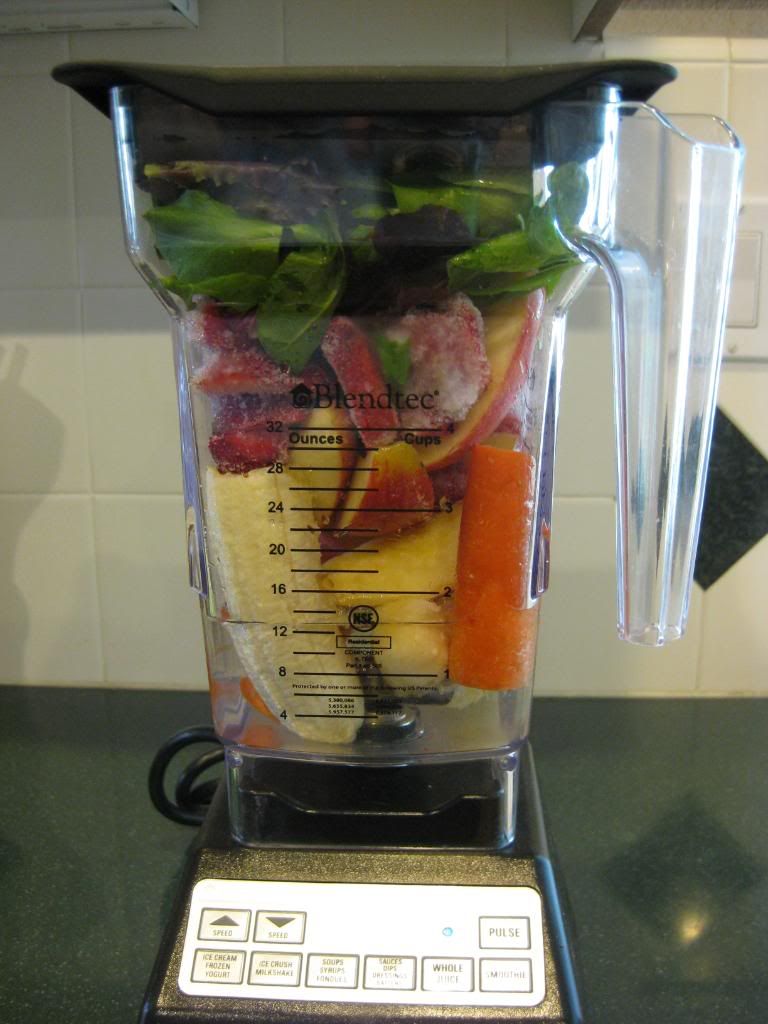 Look at all that goodness in there.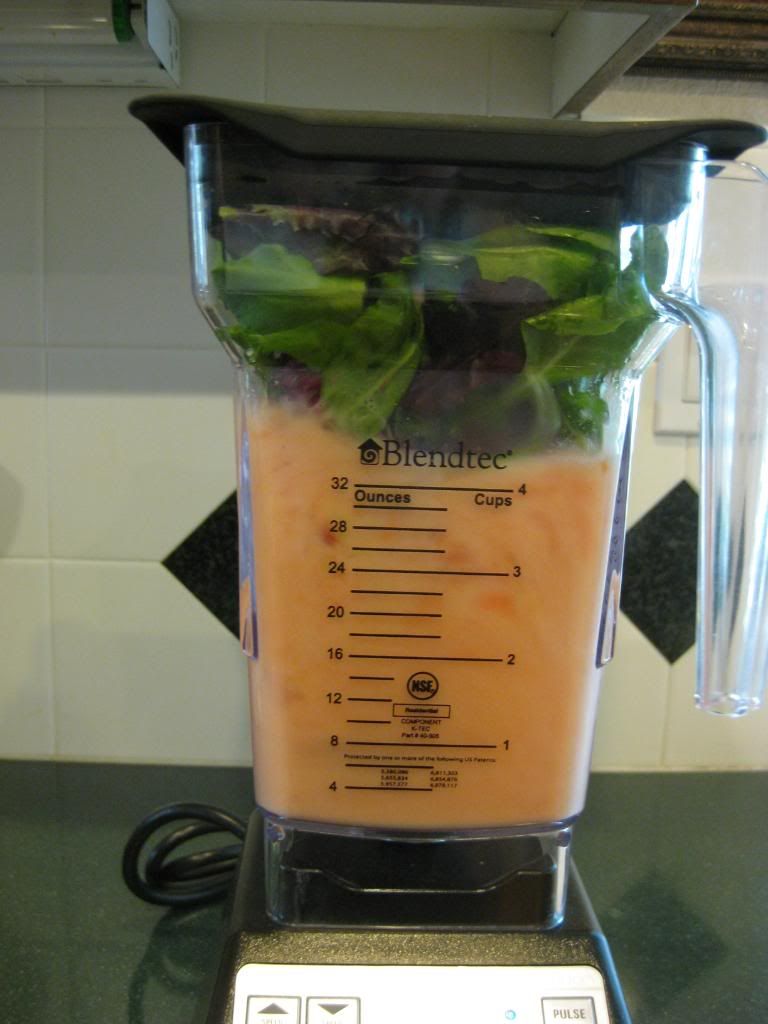 This is only about 2/3 of the finished product as I shared it with hubby Tom.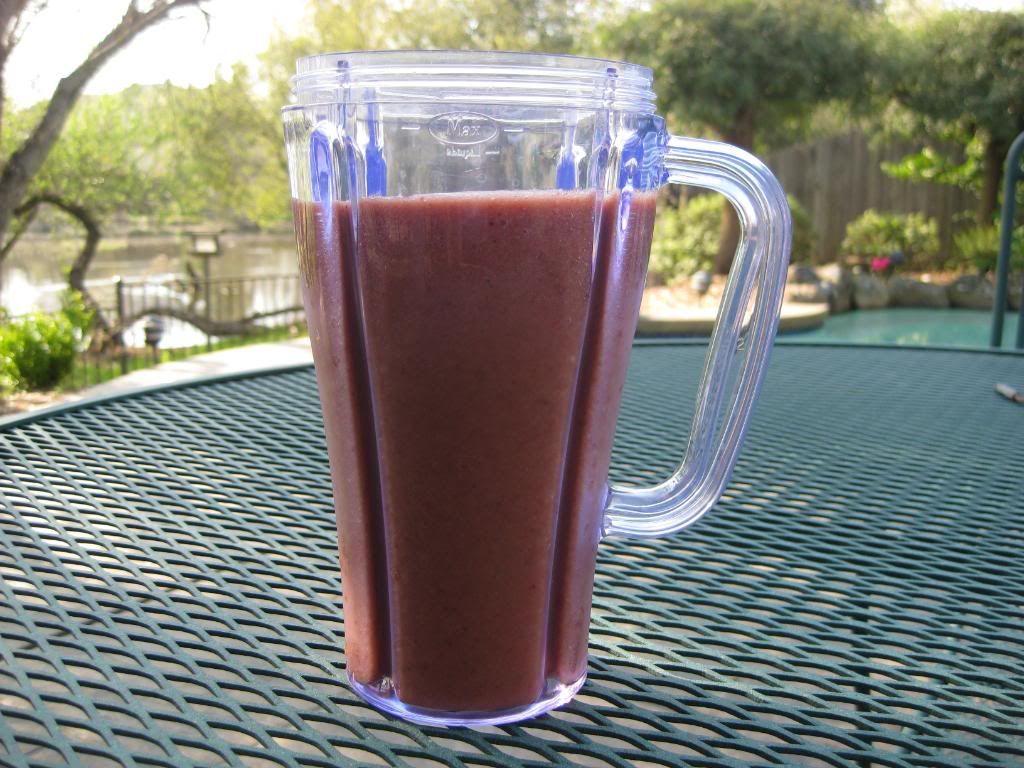 He was cleaning the pool before work so I had to reward him for being good!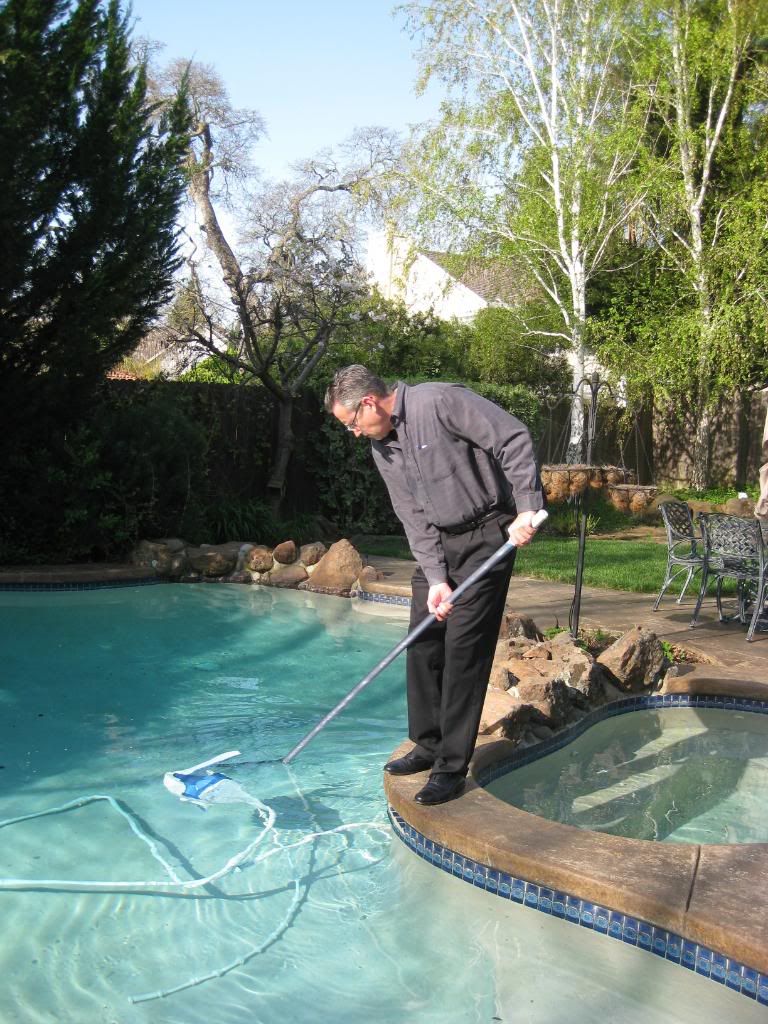 Tami's Fruit & Veggie Smoothie
1 cup cold water
1 ripe banana
1  medium size carrot broke into thirds
1 apple cored and quartered
10 ounces frozen strawberries sliced
2 handfuls of baby greens salad mix
1/2 teaspoon vanilla
1/8 teaspoon Stevia sweetener or your sweetener of choice.
If using the Blendtec you just load in the ingredients in the order given and press the smoothie button. It turns out sweet and very berry flavored, you would never know there were greens or a carrot in there.
If using the other blenders cut everything up into smaller pieces, start with the water, vanilla, Stevia, banana and blend, then add the other fruits and veggies a little bit at a time, process after each addition, ending with the frozen strawberries adding them slowly a few slices at a time. I buy frozen sliced strawberries and they work better in the smaller blenders. If you drink this entire smoothie yourself it is only 3 WWPs!
Substitute what ever fruits and veggies you have on hand. Use soy milk, almond milk, skim milk or juice in place of the water. If you want more protein, add cottage cheese, yogurt, nuts or protein powder. You can freeze bananas to use in place of frozen berries. Use crushed ice if you don't have any frozen fruit.
Do You Make Smoothies? Leave Me A Comment and Share Your Favorite Combination
---