Good morning!I had a wonderful walk this morning. I heard a pheasant call at several different locations along the nature trail. It may have been several different pheasants calling. Secretly I was hoping that one was covertly following me along the trail trying to get up enough courage to pose for my camera! My dad has a keen eye for spotting wildlife and if he had been with me this morning I am sure the pheasant would have been spotted.
It felt good to work my muscles and stretch things out on my walk. Today is also a weight training day for me and I will do that later in the day. As it has in the past weight training resulted in a temporary gain on the scale of 2 pounds. I was expecting that so it didn't phase me and as of this morning I lost that two pounds and I am down another .4 for a total of 5.6 pounds down. That makes me 4.4 pounds from my goal weight! Slow and steady wins the race.
Talking about slow and steady, check out this little guy that was crossing the nature trail this morning. He is lucky I looked down when I did! I looked around to see if anyone was coming behind me on the trail before I got down low to take a photo of him.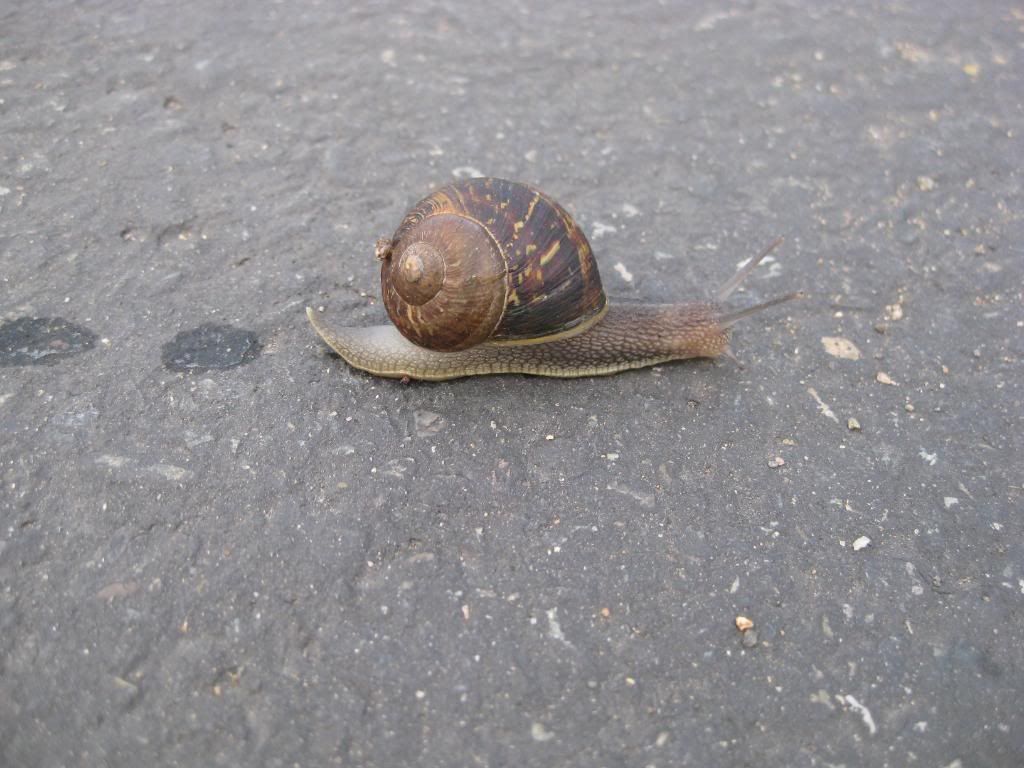 This is Wisteria in bloom on our back yard fence. I love how it cascades down and looks so delicate.
Check out the Cherry blossoms on our non fruit bearing cherry tree. They get more and more pink every day.
I was hungry for Mexican food yesterday but didn't feel like going to all the work of making enchiladas so I opted for a Taco salad and some home made salsa. My niece Jessica shared her fiance Adan's, Grandmother's recipe for salsa and it is easy and so flavorful. You have to try it. You can adjust the heat by how many Jalapeno peppers you use. I use my Blendtec to make it but you can use any blender you don't need anything fancy.
After blanching the tomatoes and peppers, put all the ingredients in the blender and process until smooth.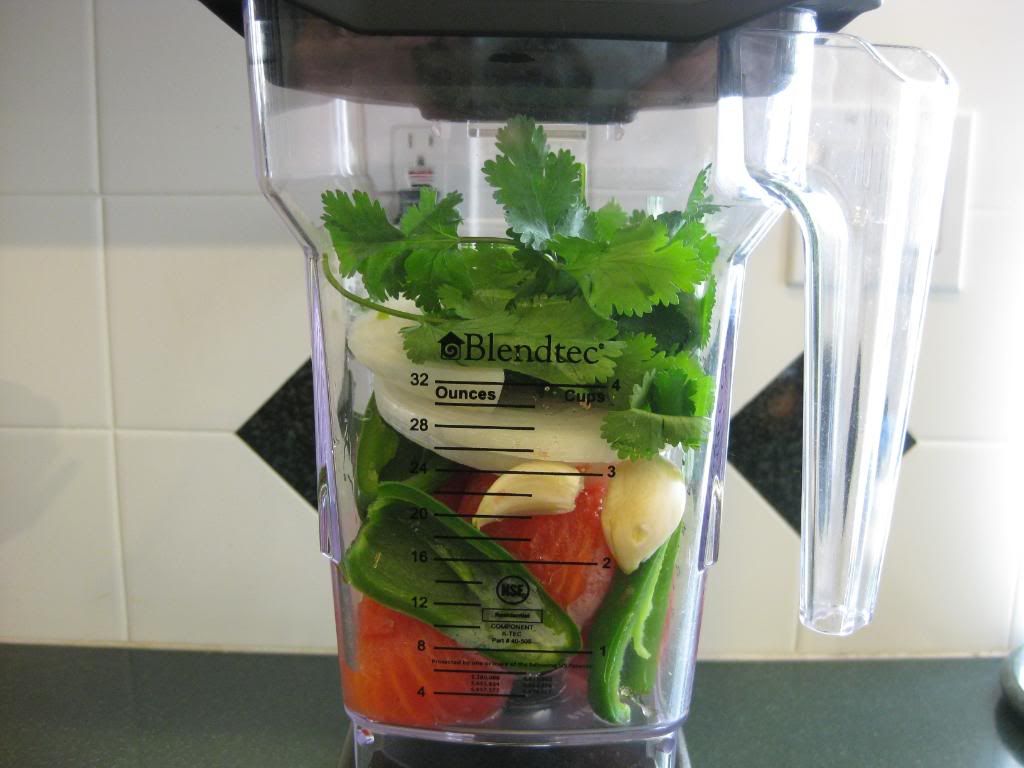 Quick, easy and fresh!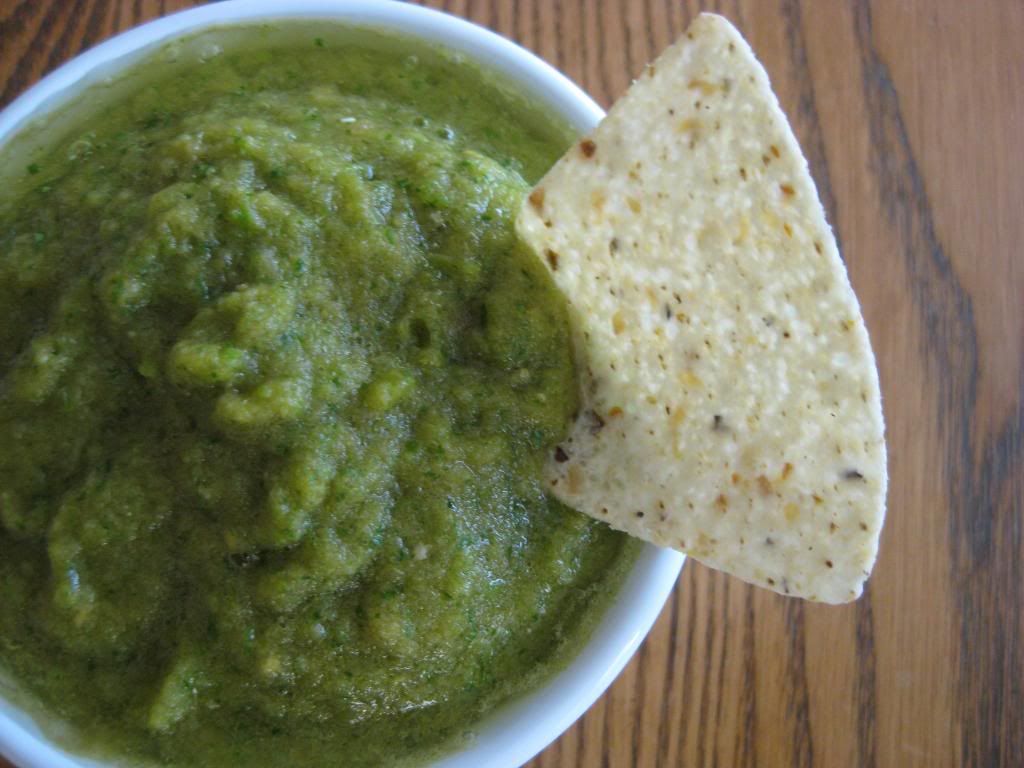 Adan's Grandma's Salsa
2 large or 4 small tomatoes
3 Jalapeno peppers
1/2 medium white onion
3 garlic cloves
1/2 bunch cilantro
salt to taste
Blanch the tomatoes and the peppers in boiling water long enough that the skins will peel off the tomatoes. I take the seeds out of the peppers but you can decide what is right for you. Put all ingredients in the blender and process until smooth. Use more or less cilantro and peppers depending on your taste.
I also made this easy red salsa and the nice thing about it is that it uses canned tomatoes. I was inspired by a Tyler Florence recipe but adjusted it to what I had on hand.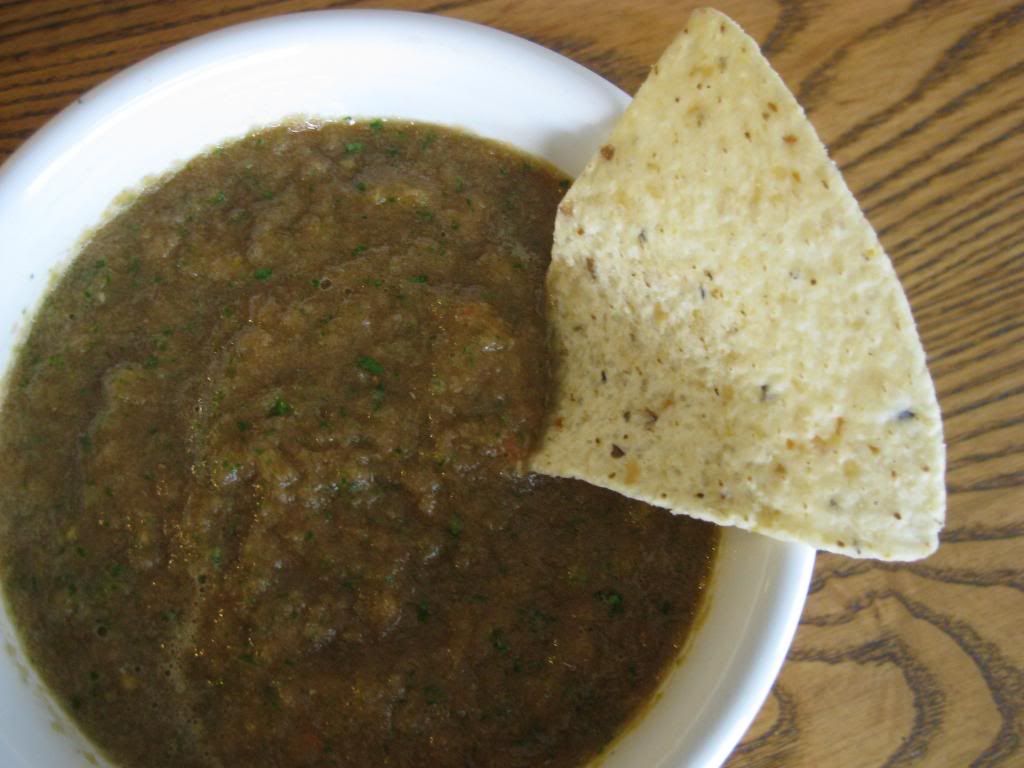 Tami's Easy Red Salsa
1 – 14 ounce can diced tomatoes, reserve the juice
1/2 medium onion
1 Jalapeno pepper seeded
2-3 garlic cloves
1 lime, juiced
1/2 cup cilantro
salt & black pepper to taste
Toss all the ingredeints in the blender and process until smooth. If too thick add some of the reserved juice to thin it.
TACO RICE SALAD
This taco salad makes a huge quantity. I made half the recipe last night and we got 4 servings out of it. It goes together quickly, has tons of flavor and is very colorful. Cumin, chili powder, garlic, black beans and corn, lean ground beef, picante sauce, sour cream and yellow rice all combined with crunchy romaine lettuce makes for a deliciously filling salad. I have to admit that the men in my house also needed a quesadilla to eat with this so they felt like they were having a meal and not just a salad! I had mine with 6 tortilla chips and some green and red salsa.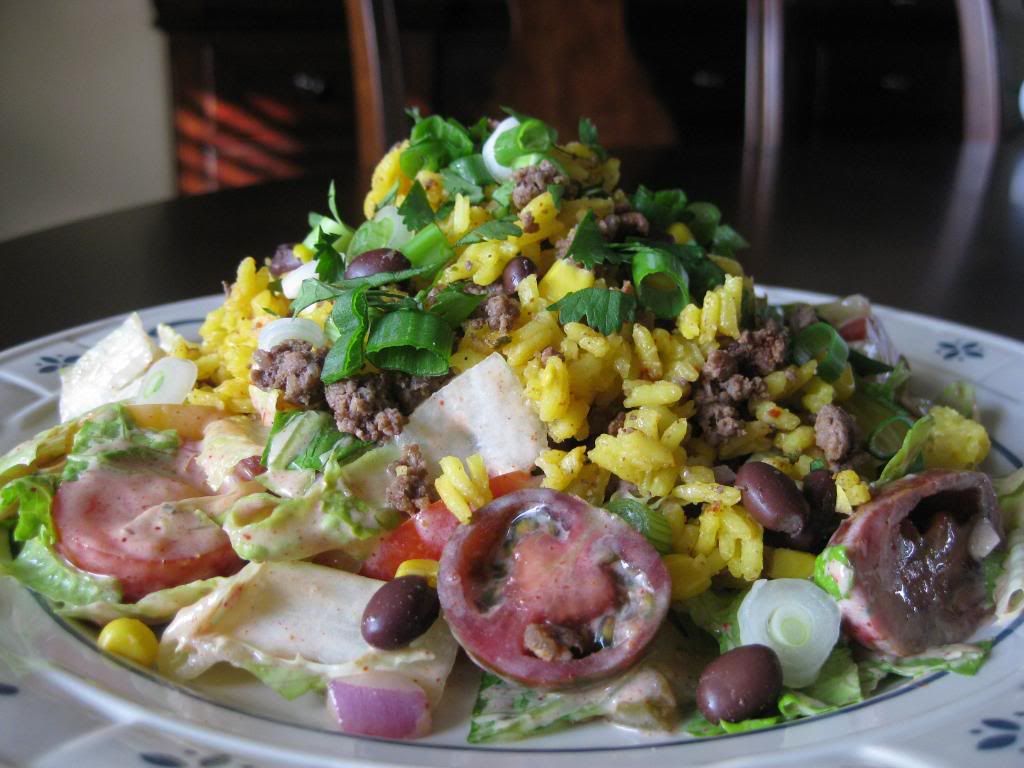 This recipe calls for "yellow rice" and I find it in the Mexican food section of  my grocery store. I have seen a couple different brands and here is the one I most recently purchased. I cook it according to the package directions but with out the addition of oil. If you make the whole recipe you might need two packages of yellow rice.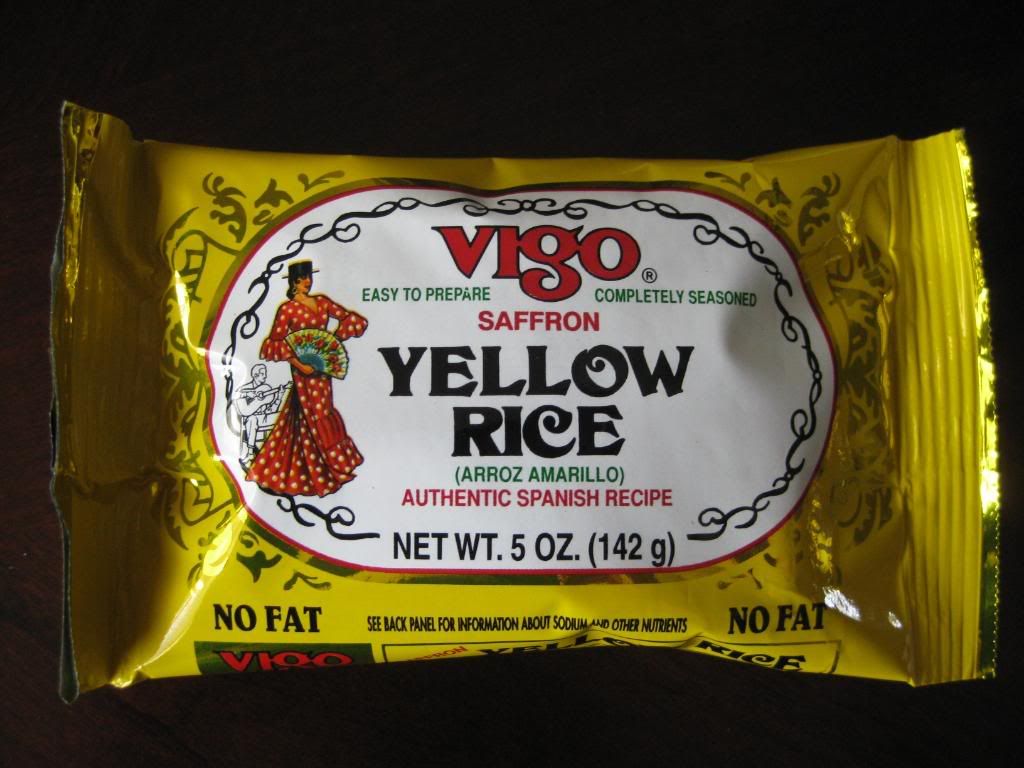 Taco Rice Salad
Salad:
Cooking spray

1 pound ground round

1 garlic clove, minced

3 cups cooked yellow rice

1 teaspoon ground cumin

1 teaspoon chili powder

1/4 teaspoon salt

1/4 teaspoon black pepper

6 cups torn romaine lettuce (about 10 ounces)

3 cups chopped tomato (about 1 1/4 pounds)

1 cup frozen whole-kernel corn, thawed

1/2 cup chopped red onion

1 (15-ounce) can black beans, rinsed and drained
Dressing:
2/3 cup fat-free sour cream

2/3 cup picante sauce

1 teaspoon chili powder

1/2 teaspoon ground cumin
1/2 cup (2 ounces) shredded reduced-fat sharp cheddar cheese

Optional garnish; sliced green onions, fresh cilantro
To prepare salad, heat a large nonstick skillet over medium-high heat. Coat pan with cooking spray. Add beef and garlic, and cook 9 minutes or until browned, stirring to crumble. Drain; return beef mixture to pan. Stir in rice and next 4 ingredients (rice through pepper). Cool slightly.
Combine lettuce and next 4 ingredients (lettuce through beans) in a large bowl; toss to combine.
To prepare dressing, combine sour cream, picante sauce, 1 teaspoon chili powder, and 1/2 teaspoon cumin, stirring with a whisk. Spoon dressing over lettuce mixture; toss to coat. Place 1 1/3 cups lettuce mixture on each of 6 plates. Top with 3/4 cup rice mixture and about 1 1/2 tablespoons cheese.
Tami's Notes: I skip the cheese there is so much flavor going on I don't need it. I mix the ground beef, rice, beans and corn together. Then I mix the romaine with the tomatoes and onions and toss with the dressing. To plate it, I put the lettuce mixture on the plate and place the ground beef mixture on top of it and sprinkle some sliced green onions and fresh cilantro over the top as well as some fresh salsa.
Yield:  6 servings
CALORIES 360 (30% from fat); FAT 11.9g (sat 5g,mono 4.5g,poly 0.8g); IRON 4.2mg; CHOLESTEROL 48mg; CALCIUM 177mg; CARBOHYDRATE 46.7g; SODIUM 994mg; PROTEIN 21.1g; FIBER 6.7g
Old WWP 7 / New WWPP 10
Adapted from Cooking Light, JUNE 2004
---