It is a challenge to eat Mexican food away from home as it is usually swimming in tons of melted high fat cheese. I was hungry for Mexican food again and I decided to make enchiladas. They are a little time consuming but they taste so good and are worth the effort. The flavor of a little onion, chicken, cumin and creamy low fat melted cheese all wrapped up inside a corn tortilla and surrounded by enchilada sauce. YUM! I used all red enchilada sauce this time but, sometimes I divide the recipe in half into two, 8 inch pans, one with green enchilada sauce and the other half with red sauce. We prefer chicken but you can substitute ground beef or shredded beef if you desire. I have made my own enchilada sauce but it is so much easier to buy it.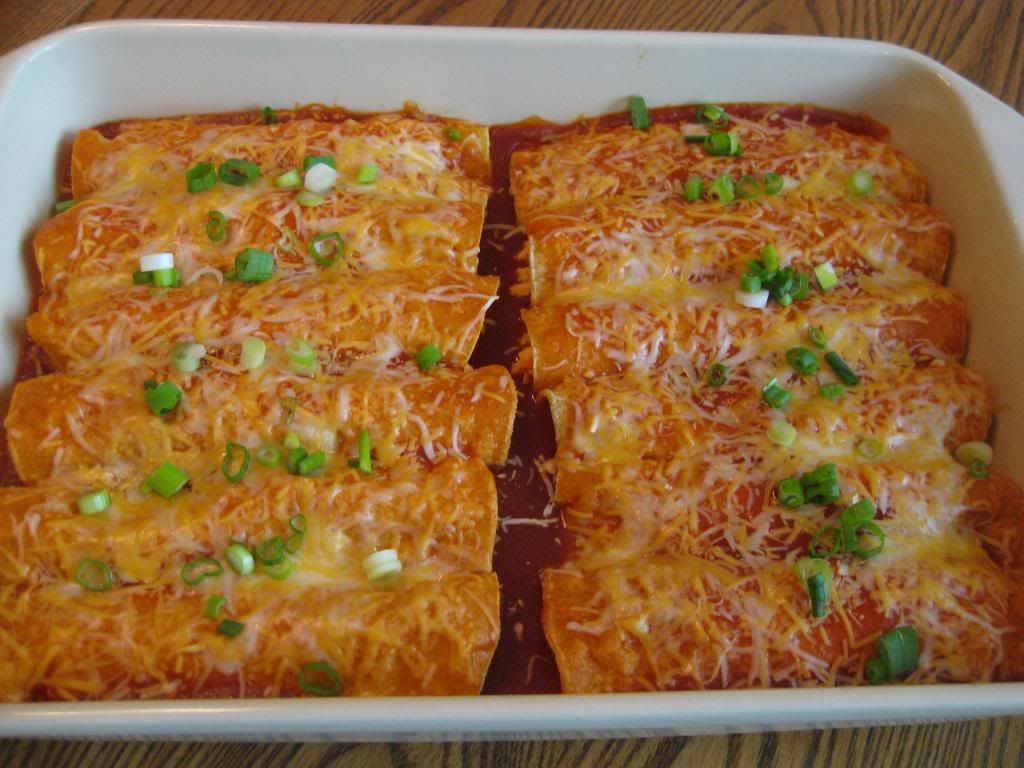 You can assemble ahead of time and refrigerate up to 12 hours until ready to bake. Add a little more time for baking if going from the refrigerator to the oven.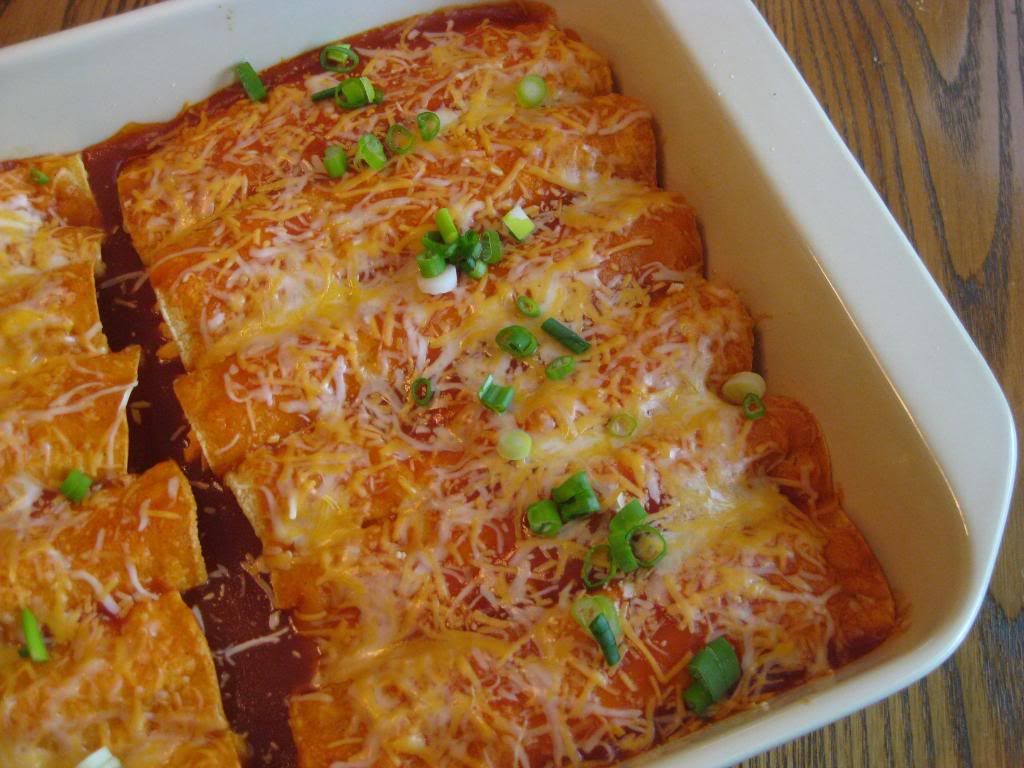 Serve with some refried beans and avocado slices.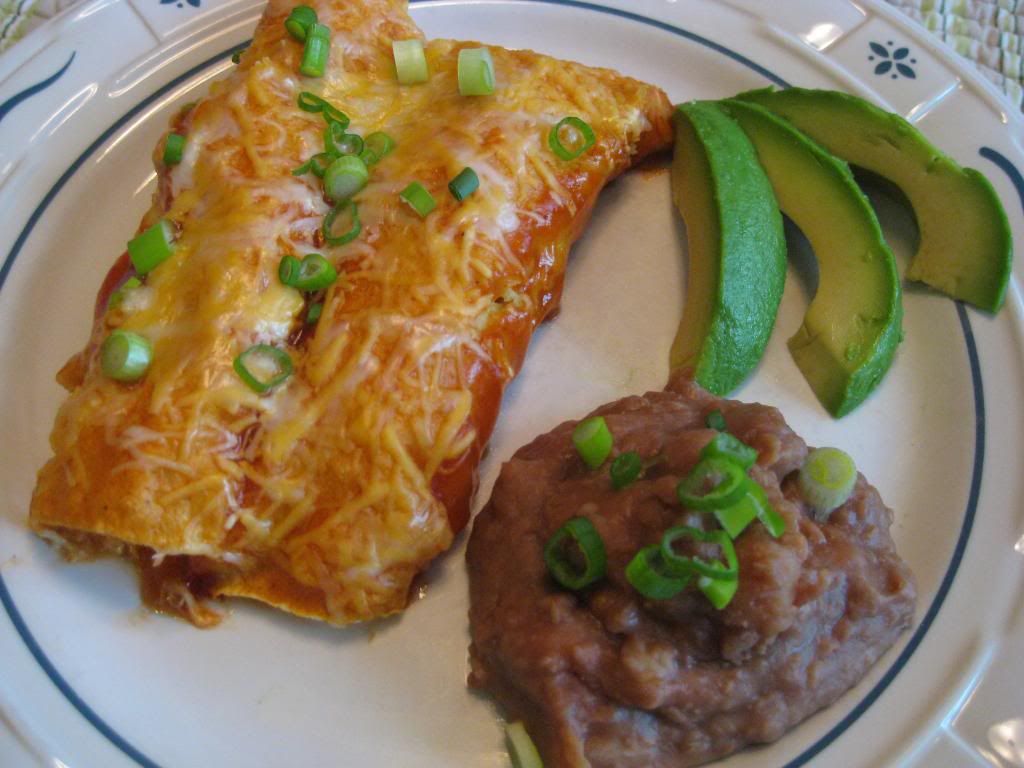 Chicken Cheese Enchiladas
4 oz. Light cream cheese, softened
2 – 10 ounce cans prepared enchilada sauce, mild or hot, red or green (Las Palmas brand)
1 1/2  cups grated Light Cheddar, Monterey Jack cheese or Mexican blend
12 ounces cooked chicken breast, shredded
1 teaspoon cumin or to taste
1/4 teaspoon dried oregano
Salt and pepper to taste
4 scallions, thinly sliced
12 – 6 to 8-inch flour or corn tortillas (Mission brand, extra thin)
Preheat oven to 350 degrees. In a medium skillet sprayed with cooking spray saute the chopped onion until soft, add the cream cheese and stir until melted, add the chicken, cumin and oregano, salt & pepper to taste. Stir in 1/2 cup of the enchilada sauce and mix well. Take off the burner and let it cool slightly.
In a 9 x 13 baking dish spread a 1/2 cup of enchilada sauce over the bottom.
Heat the tortillas up in the microwave- I do 3 at a time wrapped in damp paper towels, for 20 seconds, just to get them soft enough to roll with out tearing.
Place about a 1/4 cup of the filling on a corn tortilla, sprinkle with about 1/2 tablespoon or less of cheese, roll up and transfer to the baking dish with the seam side down.
Repeat process for remaining tortillas.
Pour remaining enchilada sauce over enchiladas, spreading to coat all of them.
Sprinkle remaining grated cheese over the top.
Enchiladas may be prepared up to this point 12 hours in advance.
(Cover and refrigerate if not baking right away. Remove from frig 30 minutes before baking and let them come to room temp.)
Transfer to preheated 325 oven and bake for 20 to 25 minutes until hot and bubbly. Sprinkle with the remaining scallions and serve warm.
I also like to sprinkle the top with some freshly chopped cilantro if I have it on hand and let everyone top their enchiladas with light sour cream, sliced black olives, avocado, salsa and shredded romaine lettuce. Serve with some refried beans or Mexican rice and some tortilla chips.
Yield:  6 servings  Serving Size: 2 enchiladas
Nutritional Information
Using Las Palmas Red Enchilada Sauce Mild and Mission Extra Thin Corn Tortillas, 2% cheddar cheese
Per Serving: 316 Calories; 15g Fat (41.3% calories from fat); 23g Protein; 24g Carbohydrate; 4g Dietary Fiber; 58mg Cholesterol; 817mg Sodium.
Old WWP 7 / New WWPP 8
This recipe came from the cooking light message boards and I have tweaked it a few times to come up with this final version. I think the original recipe was a Sara Moulton recipe.  It is a very forgiving and can be tweaked to your families taste.
Recip
e and nutritional information updated 3/24/11
---