I have been cooking up a storm this week. So much so I can't keep up with blogging about it. Just think a week or so ago I couldn't think of anything to make that sounded appealing. Thank goodness the inspiration to cook comes and goes. Sometimes the cook just needs a break!
I have no problem making an involved entrée with a couple side dishes but I also enjoy some simple one dish meals. This recipe was inspired by a serving suggestion on the back of the bag of frozen pierogies. These are little circles of dough that are filled with mashed potatoes and cheese then folded in half to create a half moon shape little dumpling of sorts. Locally the Mrs. T's is the brand in the freezer section of my grocery store. Shown is the family pack size but they do come in a small box as well. You need 12 pierogies for this recipe. I just use the Hunt's Garlic & Herb for this recipe with a little extra Italian seasoning. You can use your favorite brand of spaghetti sauce.
Pierogies can be prepared a number of ways boiled, baked, fried and grilled. They come with different fillings too. I usually buy the ones with onion and potato and they are 1 WWPs a piece. That flavor was out of stock so I got the cheese and potato pierogies and they figure out to 4 WWPs for 3.
This recipe combines the little pierogies with spaghetti sauce, cooked chicken and mozzarella cheese, a little Italian seasoning to spice it up, and then baked until it is all hot and the cheese is melty! I serve it with a simple green salad and some crusty bread. To pull this recipe off quickly I keep cooked diced and shredded chicken in the freezer. I will cook up 3-5 pounds at a time either poach it or have hubby Tom grill it. Dice or shred the chicken, weigh it out and put it in freezer bags to use for all kinds of recipes. It is a huge time saver.
I make this into 4 servings so each person gets 3 pierogies ! With a side salad and some bread it is just right. Katy and I would be happy with the casserole less the chicken but the guys want meat with dinner!
If you are feeding a big family or teenage boys, I would make two pans of this. It reheats well too.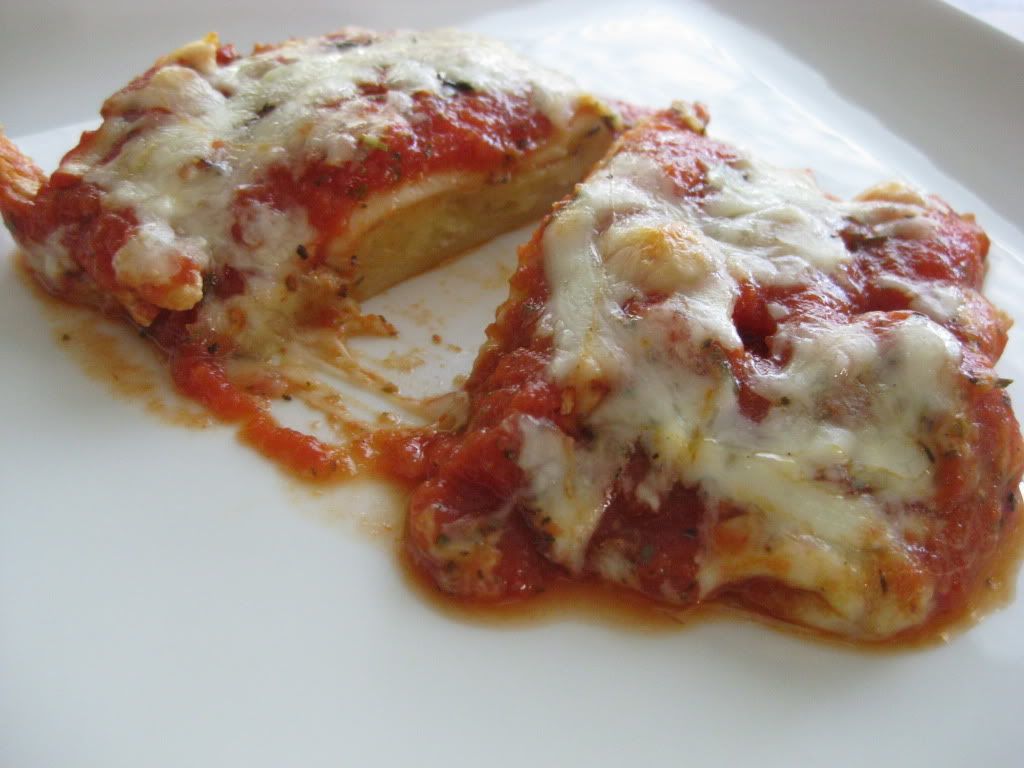 Here is what a pierogie looks like inside. Check out the potato and cheese filling.
Quick & Easy Pierogie Casserole
12 frozen pierogies your choice of fillings (I used Mrs. T's Potato & Cheese)
8 ounces cooked cubed or shredded chicken breast
24 ounces spaghetti sauce (I used Classico Tomato & Basil)
4 ounces mozzarella cheese, part skim, shredded
Italian seasoning blend
Preheat oven to 350 degrees
In a 9 x 13 baking dish sprayed with nonstick spray pour about ½ cup of spaghetti sauce, layer the pierogies, then the chicken, pour the rest of the sauce over the top, sprinkle on some Italian seasoning to taste, and top with the shredded cheese.
Bake for 30 – 40 minutes or until bubbly and cheese is melted.
Yield: 4 servings
Per Serving for 4 Servings (excluding unknown items): 432 Calories; 15g Fat (30.7% calories from fat); 29g Protein; 47g Carbohydrate; 3g Dietary Fiber; 63mg Cholesterol; 1132mg Sodium.  Old WWP 9 / WWPP 11
Yield: 6 Servings
Per Serving for 6 Servings: 288 Calories; 10g Fat (30.7% calories from fat); 19g Protein; 31g Carbohydrate; 2g Dietary Fiber; 42mg Cholesterol; 755mg Sodium.  Old WWP 6 / WWPP 8
Post updated 3/24/11
---