We just spent two fabulous days in San Francisco with three of our favorite couples to spend time with.  We headed over Sunday after church and got checked in at the Argonaut Hotel. Check out the nautical theme!
Here is one of the great things about going to San Francisco once we get to our hotel we park our car and we walk everywhere! We had about a mile and a half walk to dinner at Alegrias a Spanish tapas Restaurant. I had never had Spanish tapas before so that was a lot of fun. Sorry no pictures, when dining out I don't want to take away from the event by worrying about taking pictures of the food. I just want to enjoy the moment and be fully present. After walking up and down those San Francisco hills burning tons of calories, I get to eat a little extra with out guilt! Everyone picked some things to order and the tapas which are small appetizer size plates of all kinds of meat, cheese, seafood, egg and veggie dishes are brought out to the table as the chef prepares them, maybe a couple at a time. The plates are passed so everyone can try a small taste. If you find something you like you order another plate of it. What a fun way to dine! You can check out the Alegrias menu here.
After dinner we had another 3/4 mile walk to the next venue. A concert by Transatlantic at the Palace of Fine Art Theatre. They put on quite the performance. This genre of music is very loud with a lot of amazing guitar riffs and songs that go on for a long time.  When we left we chose to walk back to the hotel. The first thing we saw when we got outside of the theatre was this surviving piece of architecture from the Panama Pacific Exposition of 1915 all lit up.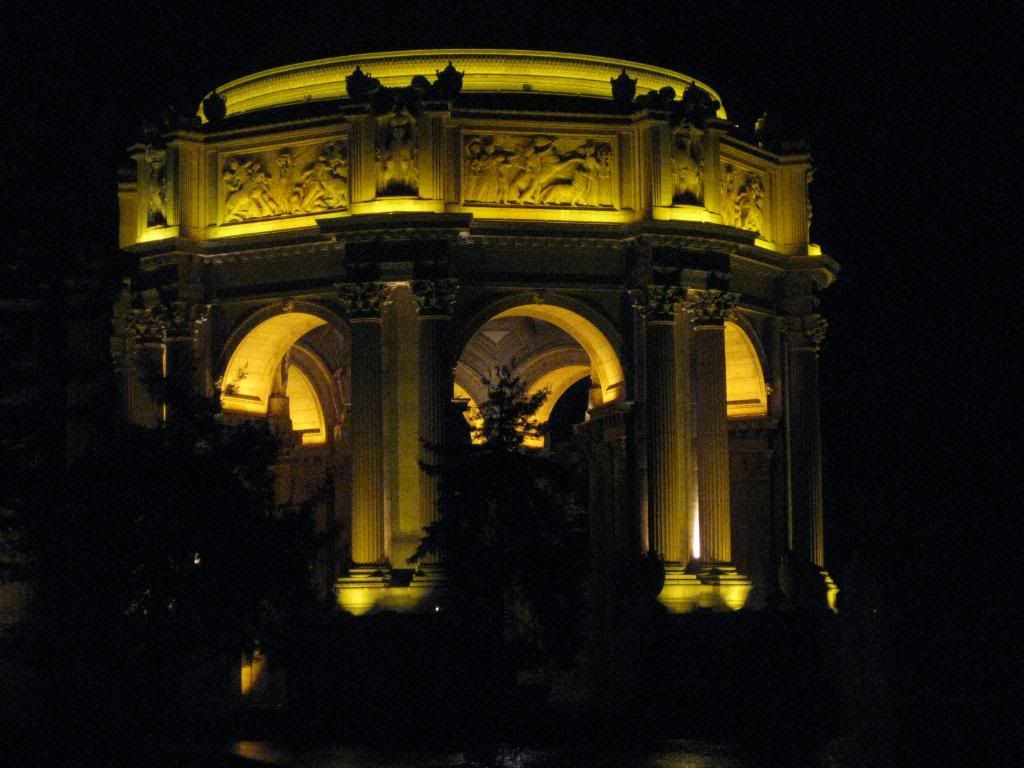 It was a warm lovely evening for a stroll. The fun part was walking through the neighborhoods of all the old Victorian row houses and seeing them all lit up at night. Gorgeous!
Monday morning we got up early and got some breakfast. I had a huge bowl of fresh fruit and a scrambled egg with some delicious hot coffee. Hubby had one of his favorites, eggs benedict, with hash browns. After we ate one of the other couples surfaced, they had gone to the nearby Starbucks and had strolled down by Fisherman's Warf. Pretty soon we were all gathered in the lobby and decided to stroll down to Boudin's Bakery so the rest of the couples could get something to eat.
Before leaving San Francisco we decided to stop at the Lands End trail and go for a stroll.  My friend Lori told me about this trail and hubby and I had been wanting to find it. The views from this trail were incredible. It was one of the best parts of the day for me!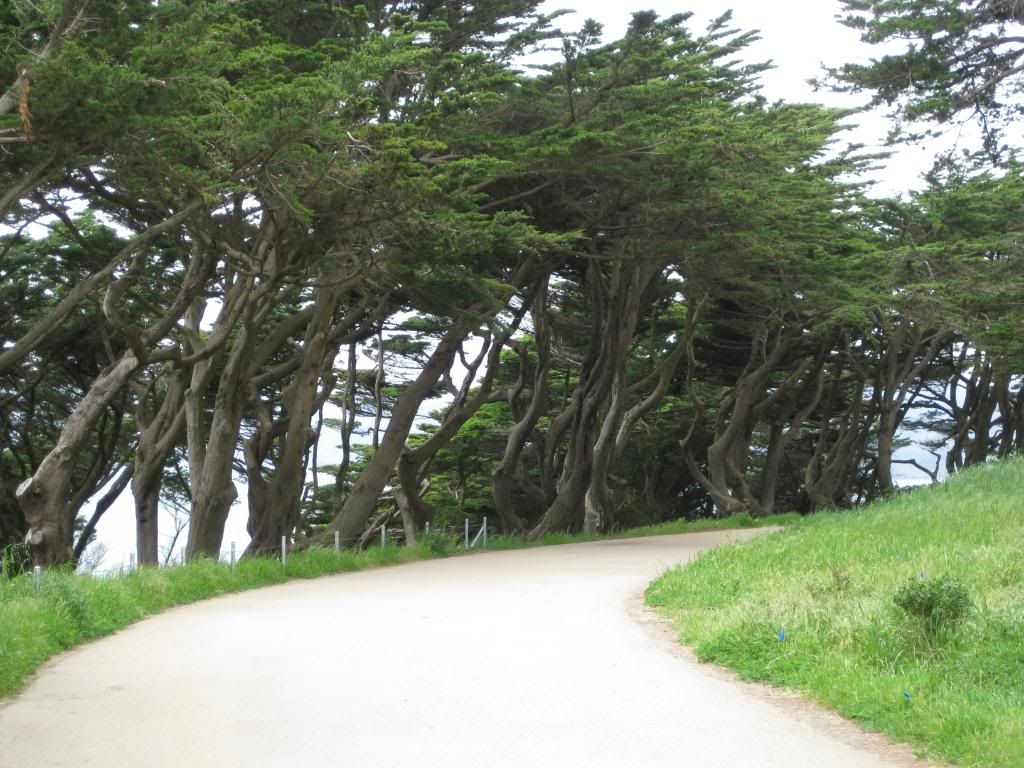 Amazing views were at every turn.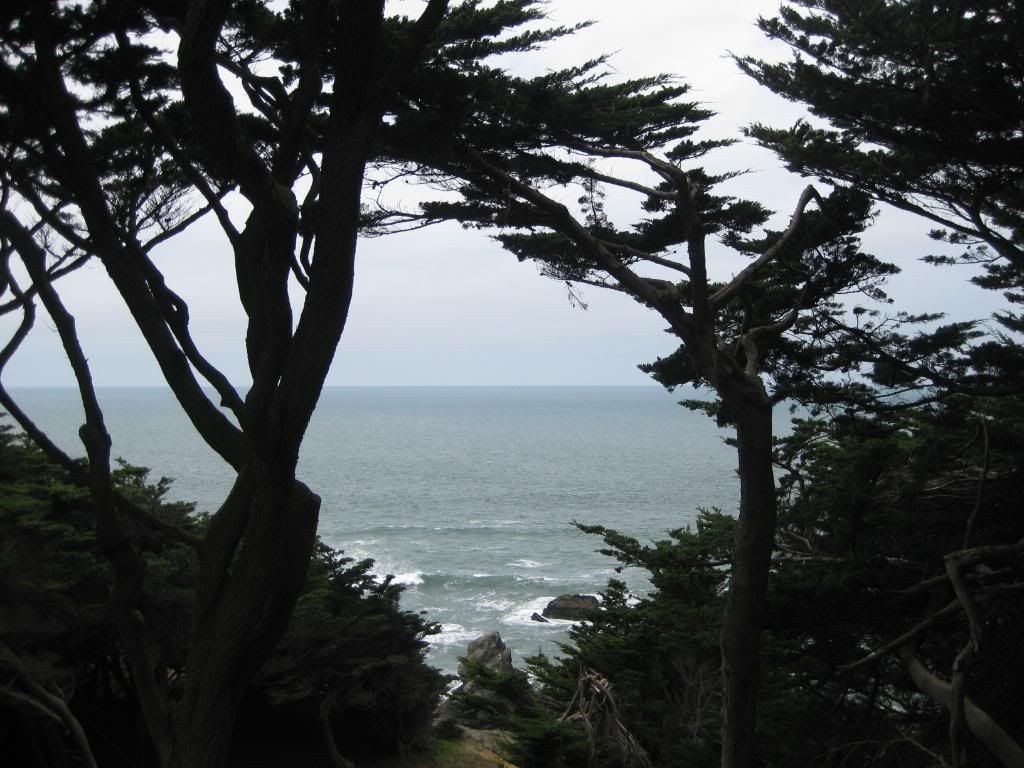 As you can see it was an overcast day but even so we could see the Golden Gate bridge.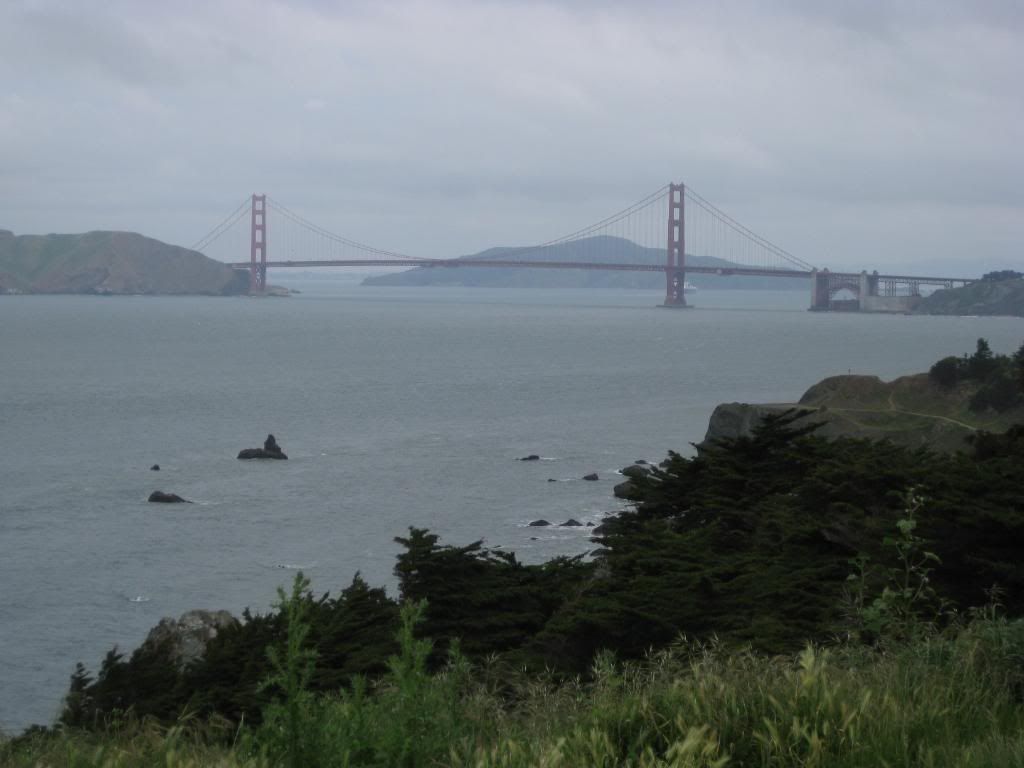 Nature does not disappoint.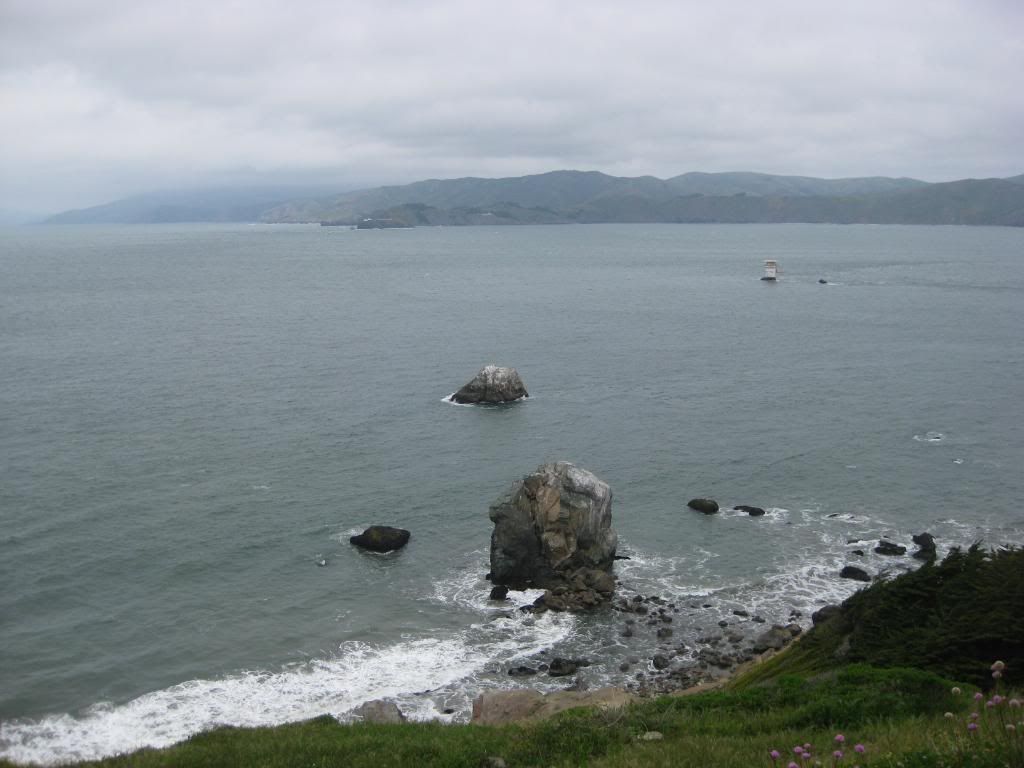 Wild flowers were everywhere.
Even these Calla lillies were growing wild all over the hillside.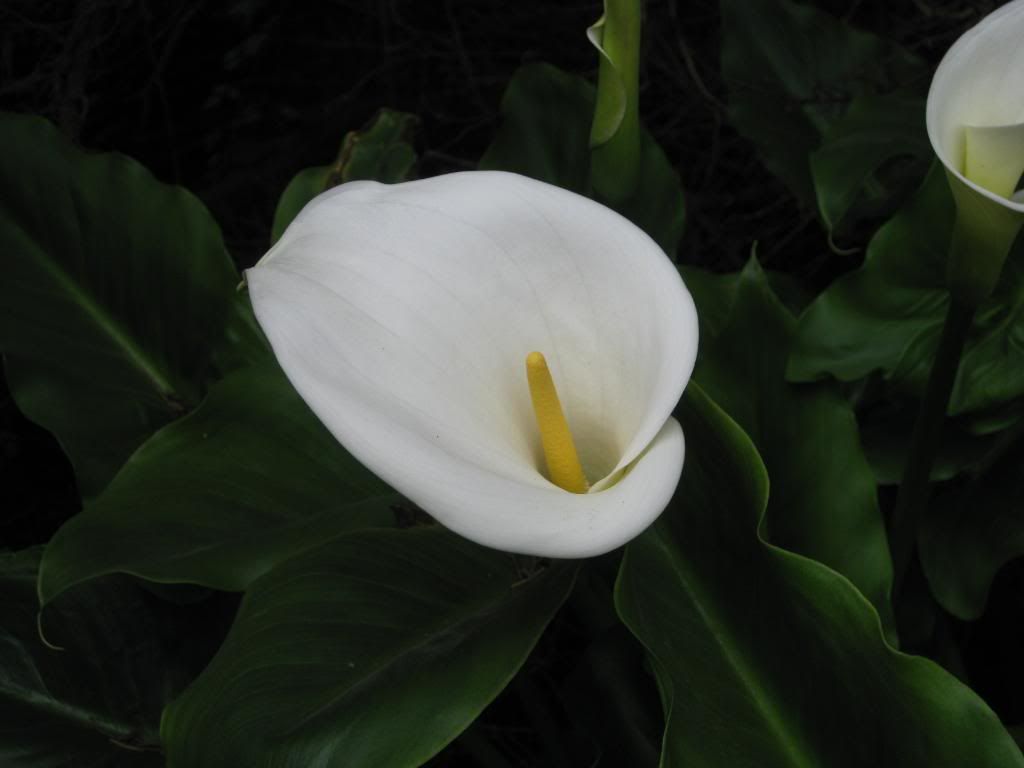 One more glimpse of the Golden Gate before we had to turn around and head back.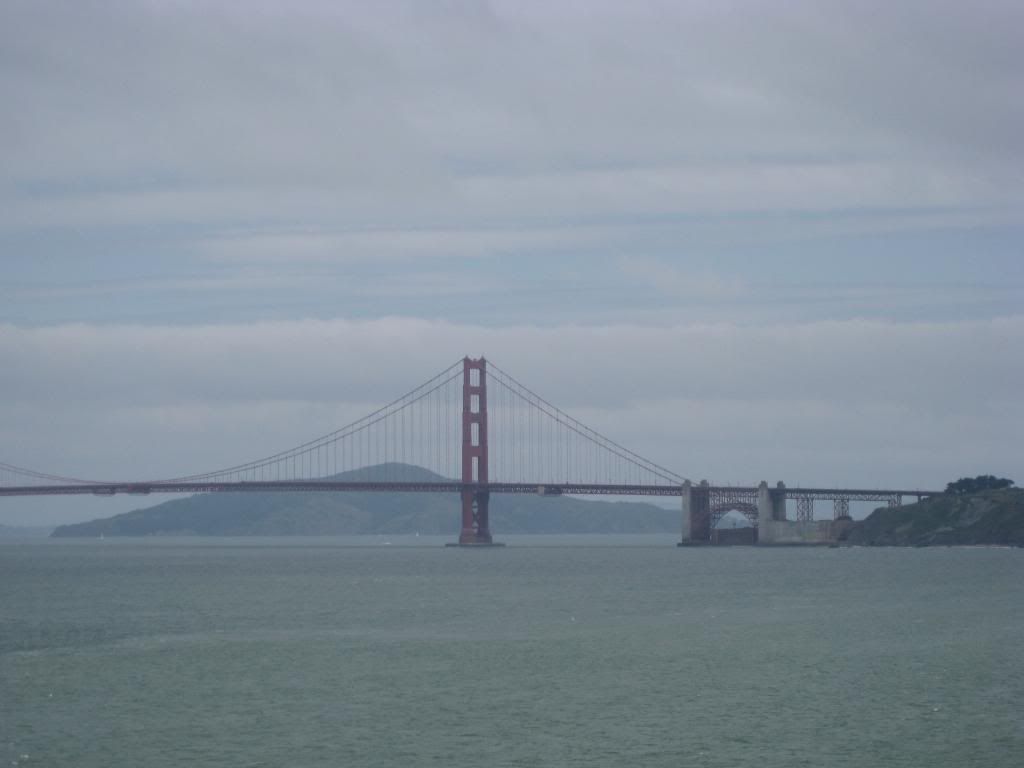 We didn't make it to the end of the trail as our time was running out. We do plan on walking this trail again the next time we are in the city. On the way back to the car we spotted the Cliff House restaurant and decided to walk down to it and eat some lunch before embarking on the ninety minute drive home. I had a tasty grilled chicken sandwich and subbed a salad for the fries.
It was a quick trip but fun was had by all. Memories were made and we have a list of things that we want to do and see on our next adventure to San Francisco.
---