It has been a long winter and everyone I know is anxious to have warm weather again. We are ready to shed the dark, heavy clothes for light airy tops, Capri pants and sandals. We want to paint our toe nails, cut our hair, get new make up and fire up the bar -b-que ! We feel a little uneasy but can't quite figure out why. I thought, well it must be Spring Fever! But I wasn't sure exactly what Spring Fever was so I googled it. Turns out the medical community does recognize it's existence. Spring Fever is a physiological and psychological shift in the body's response to changing seasons.
Mary Desaulniers had this to say in an article on general medicine 101. Statistically, at least half of the people who live in the northern latitudes of USA and Canada experience more intensely the symptoms of Spring fever. Longer sunny days seem to have a direct impact on people's psychological and physiological responses to the passage of the seasons. Spring fever is not just in the head. It is caused by an adjustment in body chemistry and seasonal biology.
Spring Fever and Body Chemistry
Doctors have attributed the phenomenon of spring fever to human reaction to seasonal changes. One reason is the realignment of the body's chemistry with sunlight. Changes during spring can readjust body chemistry, specifically the internal body clock that responds to sunlight.
The circadian rhythm of the internal body clock is affected by light. The body's secretion of melatonin, a hormone that influences sleep and energy levels, is also affected by light. During the winter, the body's secretion of melatonin is relatively high; during spring, however, the level of melatonin decreases, which results in greater wakefulness. Serotonin levels also increase during spring which accounts for the breakaway sense of elation!
Not feeling the burst of energy
?  Here is what I found on Wikipedia
Spring Fever is a term applied to several sets of physical and psychological symptoms associated with the arrival of spring. In general it refers to an increase in energy, vitality and particularly sexual appetite, often particularly strong in those suffering from Seasonal affective disorder (SAD) and thus experiencing lows during the winter months. It is this sense that inspires the use of the term as a title for several works of literature and entertainment. In some uses however it refers to the opposite, an unexpected loss of energy with the onset of spring.
In the northern hemisphere the symptoms usually arise from mid-March to mid-April, and depending on the person may be more or less pronounced. Weariness (despite an adequate amount of sleep), sensitivity to changes in the weather, dizziness, irritability, headaches, and sometimes aching joints and a lack of drive are the most common.
When the days become longer in springtime, the body readjusts its hormone levels, and more endorphin, testosterone and estrogen are released. This changeover puts a heavy strain on the body, which responds with a feeling of tiredness.
Now I know that both reactions can happen depending on the individual. Some of us are feeling a burst of energy and others are feeling tired and irritable with a lack of drive. It is good to be aware of how we are reacting to the seasonal changes and why it is happening.
Thank goodness I am having that sense of elation and a burst of energy! Besides wanting to have a fresh Spring look for myself I also react to the seasonal change by wanting to clean the house and get rid of clutter in the closets and cupboards. Yesterday was the beginning of Spring cleaning at my house. Twelve years ago when we moved into this house I made out index cards for each room of the house, listing all the chores that need to be done for Spring and Fall cleaning. I always like to start with the kitchen. It is the biggest job on my Spring cleaning list so when it is done I feel like I have accomplished something. Katy and David helped and we worked in the kitchen for a little over 5 hours! It is sparkling clean from ceiling to floor! I have the "junk" drawer to organize and I want to sort through my cookbook shelves and reorganize them. I will take it a room at a time until it is all done. So far so good.
I want to share a nice little dessert I have been enjoying lately. Fresh strawberries sliced with a half cup of nonfat plain yogurt with just a dash of Stevia sweetener and a sprinkle of Cacao Nibs pronounced Ka-cow. Have you tried Cacao Nibs? They are crunchy little unsweetened chocolate pieces. I just use 3 grams on top of my yogurt and it is just enough to add some crunch and chocolate flavor. Chocolate and strawberries are such a nice combination.YUM!
Cacao nibs are the edible part of the cocoa bean after it has been harvested, dried, fermented and hulled.
Note that the nutritional information is for 1 ounce or 28 g, I only use 3 grams on my fruit and yogurt bowl.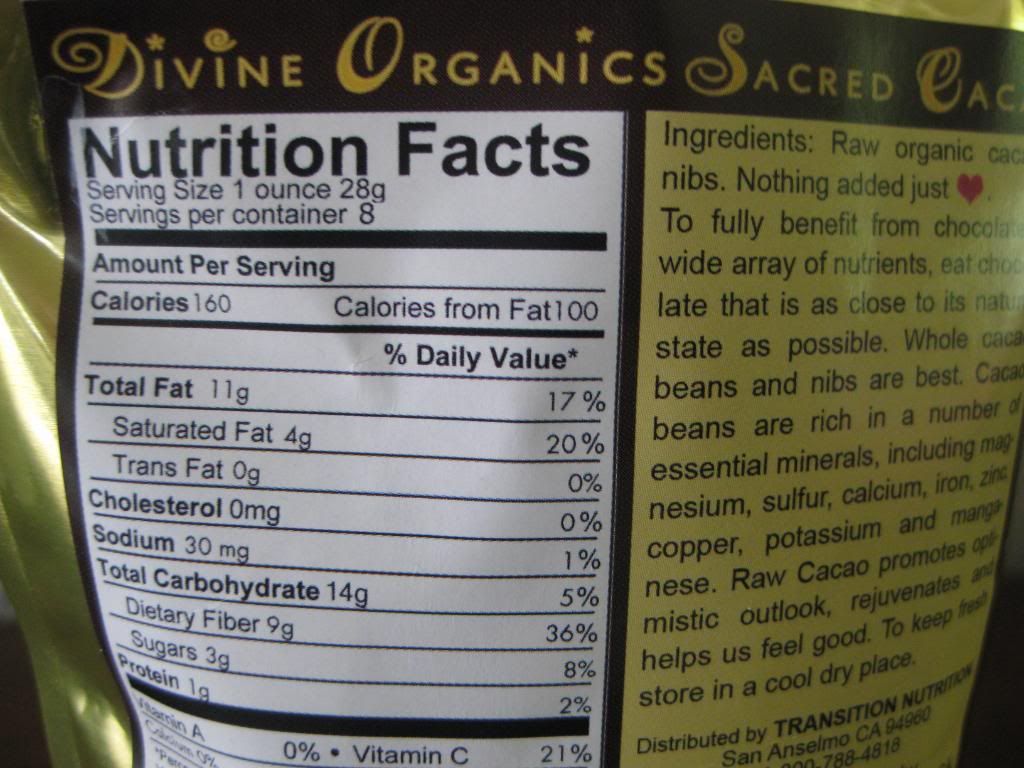 Leave Me A Comment and Let Me Know What's On Your Mind.    Do You get Spring Fever?
---