It is the right kind of weather to be making frozen soft serve yogurt! It is easy to make this at home with your food processor and some frozen fruit. As my bananas in the fruit bowl get too ripe for eating out of hand, I peel them and toss them into a freezer bag I keep in the freezer to use for smoothies or frozen soft serve yogurt. Today I used some frozen bananas and strawberries, Greek non fat yogurt and just a pinch of Stevia sweetener. In about 5 minutes you can enjoy a delicious dish of frozen yogurt.  The healthy part is that you can control the sweetness, the fat and the calories. Creamy, smooth and delicious!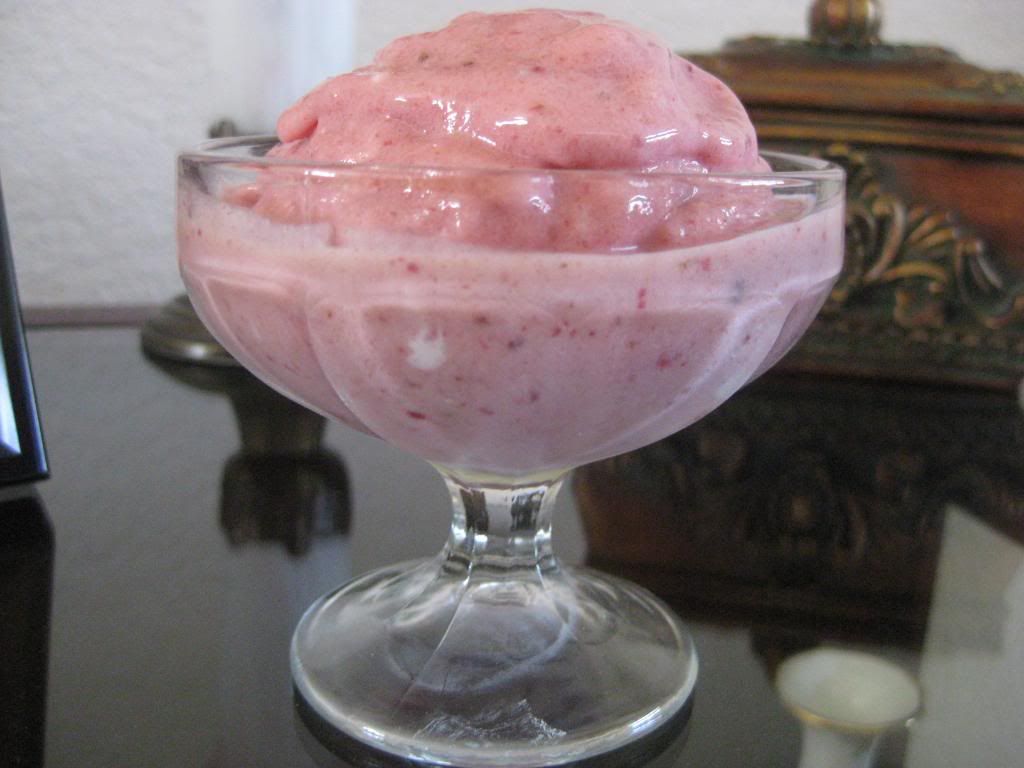 Start with frozen fruit, yogurt, sweetener of  your choice and a couple tablespoons of water, milk or Almond Milk.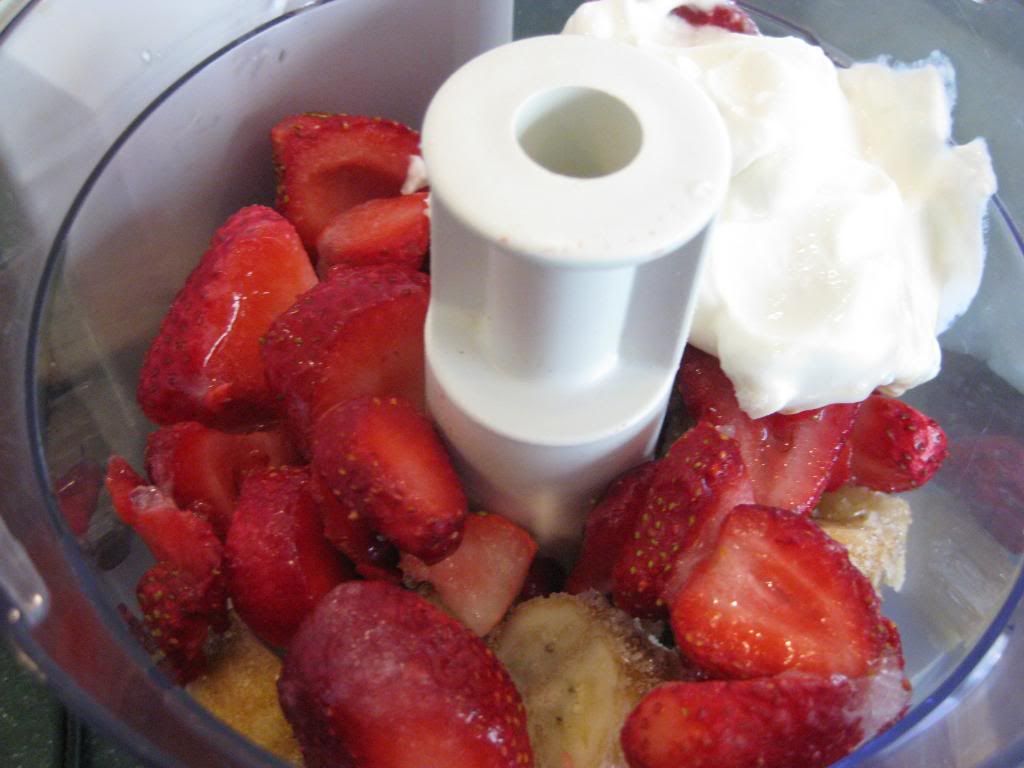 Start on pulse and every once in a while stop to scrape down the sides. Once the fruit is all incorporated I take it off pulse and set it to keep processing until smooth. This takes a few minutes in my old food processor.
Dish it up at once as it starts to melt pretty quickly. I put leftovers in freezer containers in single servings.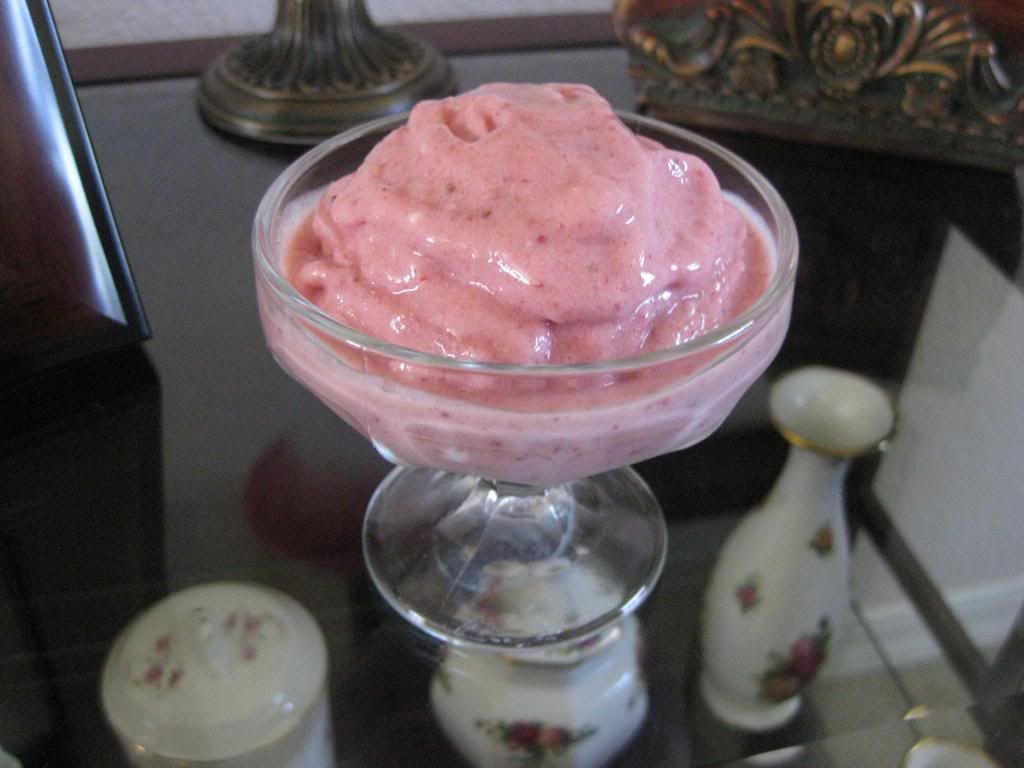 Strawberry Banana Soft Serve Yogurt
2 frozen bananas cut into 1 inch chunks
1 1/2 cups sliced frozen strawberries
1/2 cup plain nonfat Greek Yogurt or fruit flavored, vanilla, whatever you have on hand that goes with the fruit
2 tablespoons nonfat milk, Almond milk, juice or water
Stevia sweetener or your choice of sweetener such as Agave, honey or sugar to taste. Start with a small amount, a teaspoon or so and add more if needed. It all depends on how sweet your fruit is.
Place the liquid in the bowl of the food processor and then the yogurt and fruit (I had the yogurt on top for the purpose of the photo), turn the food processor to pulse so you can stop frequently in the beginning to scrape down the sides, once the fruit is well incorporated I turn the processor on and let it run for a few minutes until the mixture is smooth and creamy. Dish it up and serve at once! Makes about 3 servings or two huge ones depending on how hungry you are!
This is just a starting point for being creative with making your own frozen soft serve. I have used all strawberries but you need more sweetener if you do that because the bananas add a lot of sweetness. I have used low fat cottage cheese instead of the yogurt and you would never know it was cottage cheese as it blends completely smooth. You can add a small amount 1/4 – 1/2 teaspoon or less of extracts like vanilla or almond. Add  a scoop of protein powder to make it  have even more nutritional value.
Yield: 3 Servings
Nutritional Information
calculated using nonfat milk
Per Serving: 118 Calories; 1g Fat (4.5% calories from fat); 5g Protein; 26g Carbohydrate; 4g Dietary Fiber; trace Cholesterol; 21mg Sodium.
Old WWP 2
Post updated 3/24/11
It doesn't have to be homemade, share what your favorite healthy frozen treat is.
---