Happy Saturday. The sun is shining and it is going to be a beautiful day here in Northern CA! I added Google Friends to my side bar so feel free to sign up and be a follower!
Check out this giant bowl of Meyer lemons! My neighbor picked the last of the lemons from his tree and gave them to me! Katy is dreaming about the Lemon Poppy Seed bundt cake that I make. She ate almost the entire cake herself the last time I made it.I don't eat dessert too often and the guys here don't care too much for lemon flavored sweets. She will have to make it this time and share it with her friends as I have a full day ahead of me already.
Last night for dinner I made the Chipotle Sloppy Joes recipe that I tried when I was at Mom and Dad's. My family had not had them yet and 3 out of 4 of us liked them. Katy does not like spicy food and these are a bit spicy, even though I cut back on the Chipotle for her. I made regular oven fries as well as sweet potato fries. The sweet potato fries do not get crunchy like the white potato fries. I don't mind the soft texture because the flavor is slightly sweet and salty but savory enough to dip in ketchup. You can kick up the flavor a little more by adding some seasoned salt, cumin, cinnamon or chili powder. I left ours more on the plain side last night so they wouldn't be competing with the flavor of the sloppy joe's.
Sweet potatoes are a good pick nutritionally speaking. This root vegetable is an excellent source of vitamin A (in the form of beta-carotene), contains vitamin C and manganese, is a good source of copper, dietary fiber, vitamin B6, potassium and iron.  The sweet potato digests slowly, causing a gradual rise in blood sugar so you feel satisfied longer.
Sweet Potato Nutrition Facts
(for one medium size sweet potato)
Calories 130
Fat 0.39 g
Protein 2.15 g
Net Carbs 31.56 g
Dietary Fiber 3.9 g
Calcium 28.6 mg
Sodium 16.9 mg
Potassium 265.2 mg
Folate 18.2 mcg
Vitamin C 29.51 mg
Vitamin A 26081.9 IU
from the USDA
I used two sweet potatoes, scrubbed really well but I left the skin on. Cut in half length wise and then slice into fries. Toss with 1 teaspoon olive oil and  place on a foil lined pan sprayed with nonstick spray. Season with coarse salt and fresh ground pepper. One of the sweet potatoes had a variegated color scheme going on but it tasted normal! Bake in a preheated 425 degree oven for 20 minutes, turning once.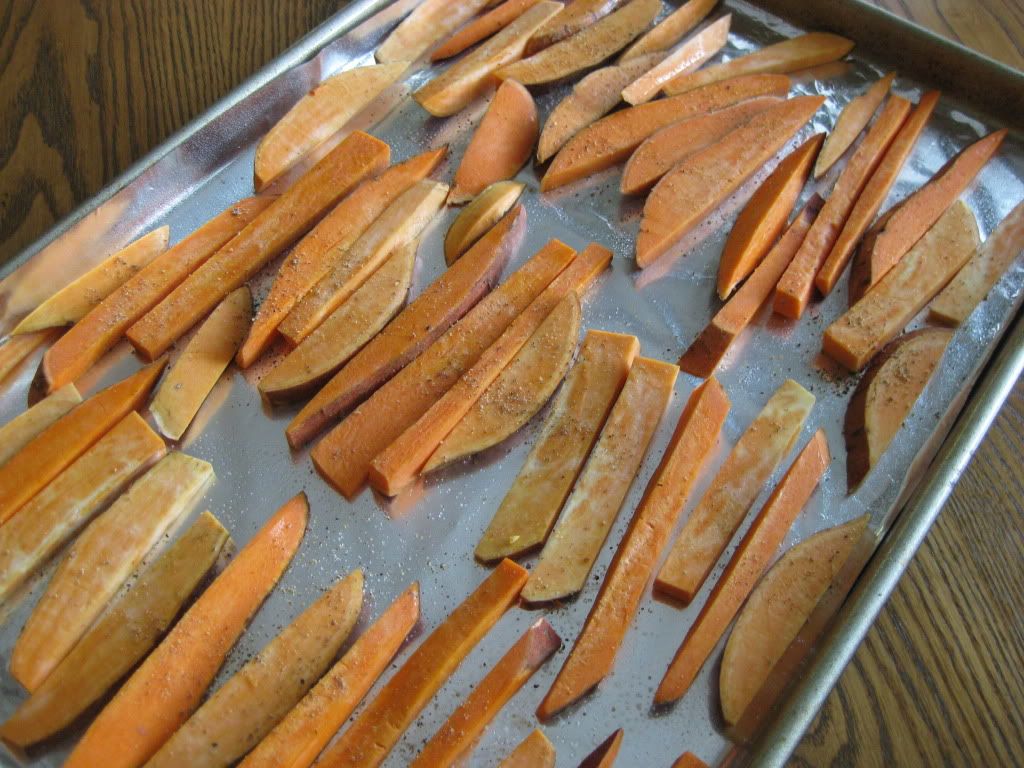 They turn out nice and brown and slightly crunchy on the edges, salty and oh so good!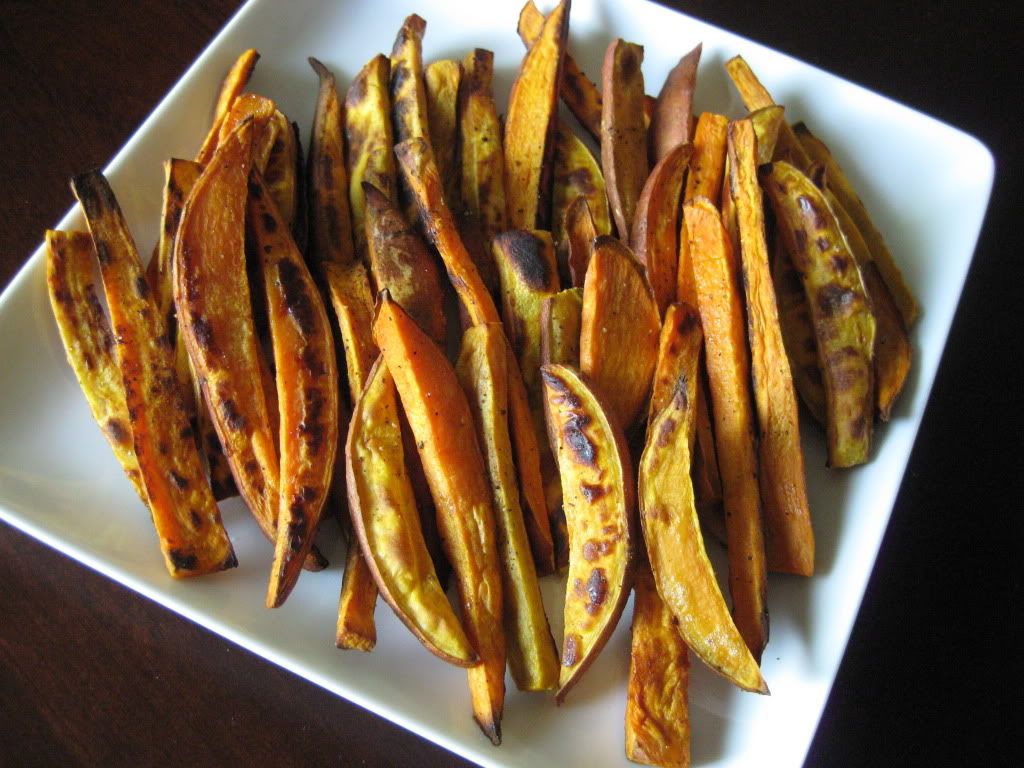 These fries went well with our Chipotle Sloppy Joe's with caramelized onions and a huge tossed salad with tomatoes, avocados, red peppers, cherry tomatoes and a light ranch dressing. I didn't get a picture of the salad but it was beautiful and filling.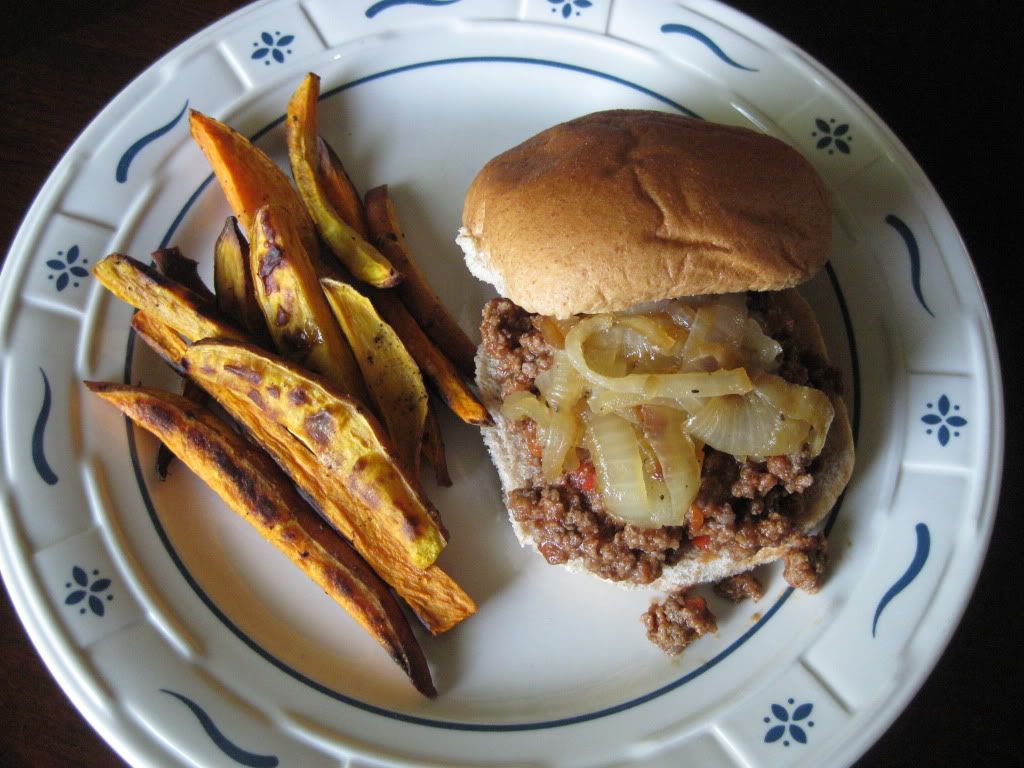 Sweet Potato Fries
2 sweet potatoes scrubbed with skins on (14 ounces total)
1 teaspoon olive oil
coarse salt
fresh ground black pepper
Preheat oven to 425 degrees. Line a baking sheet with foil and spray with nonstick spray. Cut sweet potatoes in half length wise and then slice into fries. Toss with olive oil and spread out in a single layer on prepared baking sheet. Season with coarse salt and fresh ground black pepper. Bake for 2o minutes or until lightly browned, turning once.
Yield: 2 Servings
Per Serving  : 170 Calories; 3g Fat (14.0% calories from fat); 2g Protein; 35g Carbohydrate; 4g Dietary Fiber; 0mg Cholesterol; 19mg Sodium.
Old WWP 3 / New WWPP 4
Yield: 4 Servings
Per Serving: 85 Calories; 1g Fat (14.0% calories from fat); 1g Protein; 17g Carbohydrate; 2g Dietary Fiber; 0mg Cholesterol; 9mg Sodium.
Old WWP 1 / New WWPP 2
Do you like spicy food?
---