I had a dental appointment yesterday for my Invisalign braces. I got the next 3 sets of aligners and had to have a button replaced that had fallen off! My progress is right on schedule and I am thrilled. My dentist emailed me a computer animation of my teeth and how they will move during the treatment and what the end result will look like! I am really looking forward to the end result but I have a year to go so I need to enjoy the journey. My son David said he can add the animation to the blog so as soon as he has some free time from college work I will be able to share that with you.
There is a big Trader Joe's near my dentist office so I stopped by there in the pouring rain to pick up a few things for dinner. In the meat case I spotted a half turkey breast and decided that would be our main dish. Fresh green beans and some little Dutch yellow potatoes also made it into my shopping cart. I had a good look around and ended up with four bags of groceries. The cashier made an interesting observation on how I had real food and ingredients to make meals instead of a lot of snacky junk food! She was right. I did look at some snack type items but decided not to go there. Chips, crackers and other salty crunchy foods are triggers for over eating for me so I am sticking with fruits and veggies right now. Have you ever heard of anyone over indulging on broccoli or pears? Me neither, so that is why I am staying with the fruits and veggies!
This was a new recipe for me but one I that had been in my to try pile for a while. I just had not seen a half, bone in turkey breast in the stores lately. Thyme is one of my favorite herbs to use with poultry or pork. I didn't have fresh so I used dried thyme, fresh grated lemon rind, fresh garlic and some salt and pepper all combined together to make a nice rub, well maybe more like a paste, that is placed under the skin directly on the meat. Turkey breast can be dry so you do want to leave the skin on while you roast it as it helps to keep the white meat moist. Each slice of turkey had a little bit of the thyme, garlic, lemon zest paste and the meat had a nice subtle lemon flavor to it. Moist, tender and delicious.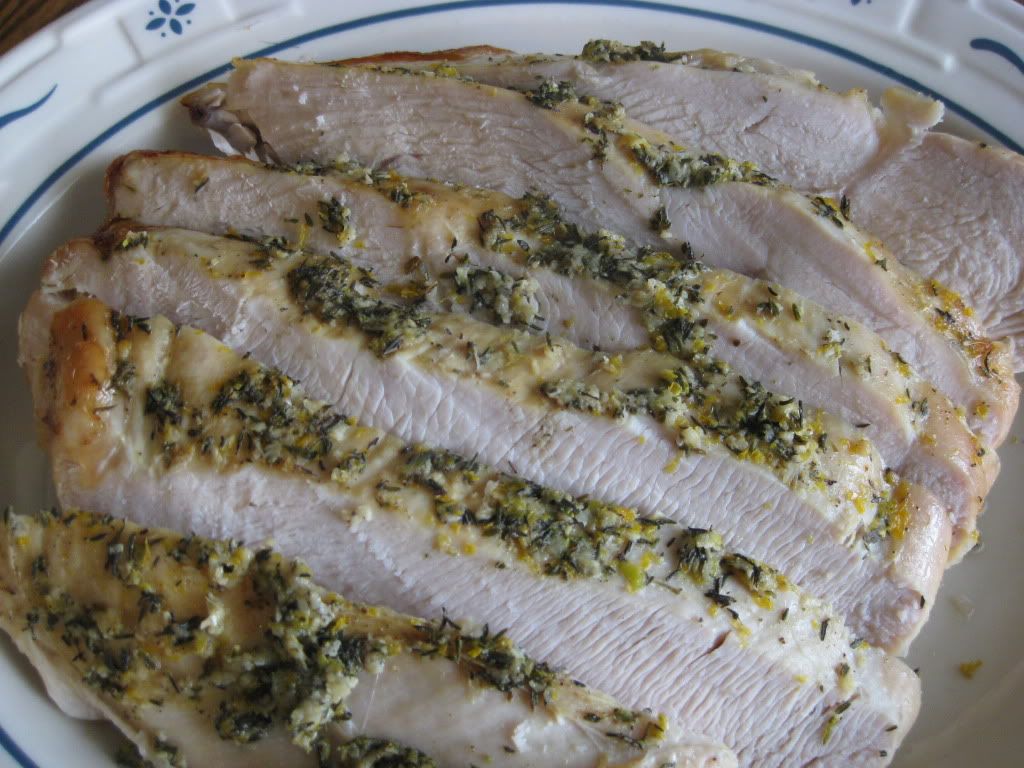 The kitchen was filled with the aroma of the garlic and thyme and as the aroma wafted out into the rest of the house it drew hubby Tom out of his office a couple of times to inquire when it was going to be ready! I also had some oven roasted potatoes and garlic in the oven so it was smelling pretty darn good in the house by the time everything was ready.
Since the turkey breast was going to be pretty special the green beans needed a little extra treatment as well. I toasted some hazelnuts that I had in my freezer added them to some softened butter-just a little mind you as it adds tons of flavor, some more of that grated lemon rind and some salt. Talk about a nice compliment to the rest of the dinner. If I was vegetarian I would make a meal of the green beans alone! Holy yum!
This meal fed all four of us with left overs for today! Yeah, you know how I love left overs. It was a low calorie, low fat feast yet it was full of wonderful flavors, textures and color. Satisfying to all of our senses and easy on the budget too. Eating healthy does not have to be boring or bland! Just look at how scrumptious it all was! You have to make this meal for your family. They will thank you for it and maybe even do the dishes! I can't promise they will, but maybe, just maybe they will.
Thyme-and-Garlic Roasted Turkey Breast
2 teaspoons minced fresh thyme or use 3/4 teaspoon dried
1 teaspoon grated lemon rind
1/4 teaspoon coarsely ground pepper
1/8 teaspoon salt
3 garlic cloves minced
1 (2 1/4-pound) turkey breast half
Cooking spray
Thyme sprigs (optional)
Preheat oven to 400°.
Combine first 5 ingredients in a small bowl. Loosen skin from turkey by inserting one hand, palm side down. Gently push hand beneath the skin and against the meat to loosen skin. Rub thyme mixture over turkey. Press skin to secure.
Place breast half, skin side up, on a broiler pan coated with cooking spray. Insert meat thermometer into meaty part of breast, making sure not to touch bone. Bake at 400° for 1 1/2 hours or until meat thermometer registers 180°.
*I roasted my turkey breast for about 50 minutes at 400 and then lowered the temp to 350 for the remainder of the time and that worked well for me as I was afraid that the meat would get too dry at 400 for such a long time. I checked the temperature a few times with a meat thermometer. When I took it out of the oven I tented it with foil while I finished making the green beans.
Let stand 10 minutes. Remove skin, and discard. Cut breast into thin slices; garnish with thyme sprigs, if desired.
Yield:  6 servings (serving size: 3 ounces)
CALORIES 118 (6% from fat); FAT 0.8g (sat 0.2g,mono 0.1g,poly 0.2g); IRON 1.4mg; CHOLESTEROL 71mg; CALCIUM 14mg; CARBOHYDRATE 0.5g; SODIUM 91mg; PROTEIN 25.6g; FIBER 0.1g
Old WWP 2 / New WWPP 3
Adapted from Cooking Light, JUNE 1996
Green Beans with Toasted Hazelnut-Lemon Butter
1 1/2 tablespoons butter, softened
3 tablespoons chopped hazelnuts, toasted
1 1/2 teaspoons grated lemon rind
2 1/4 teaspoons salt, divided
8 cups water
1 1/2 pounds green beans, trimmed
Combine butter, hazelnuts, rind, and 1/2 teaspoon salt in a small bowl; stir with a fork until well blended.
Bring 8 cups water and remaining 1 3/4 teaspoons salt to a boil in a large skillet. Add green beans; cook 3 minutes. Drain. Return pan to medium heat. Add beans and butter mixture; cook 3 minutes or until the butter mixture melts. Toss gently to coat.
Yield:  6 servings (serving size: 1 1/3 cups)
CALORIES 54 (52% from fat); FAT 3.1g (sat 0.8g,mono 1.9g,poly 0.3g); IRON 0.6mg; CHOLESTEROL 3mg; CALCIUM 51mg; CARBOHYDRATE 6.4g; SODIUM 400mg; PROTEIN 1.7g; FIBER 3.8g
Old WWP 1 / New WWPP 1
Adapted from Cooking Light, NOVEMBER 2006
I love green beans and I could eat them everyday. Sadly my family does not share my love of green beans. They like green beans but not everyday! I like most other green veggies and I cook plenty of them for variety.
What is your favorite green vegetable?
---