Have you heard that saying "Fail to plan, plan to fail?" Yesterday was a non planned day for me and the results were less than acceptable! I didn't think anyone was going to be home for dinner so I didn't plan anything to fix since there were some left overs in the refrigerator and the fixings for sandwiches. That was my first mistake. I did heat up some tomato soup and made a little sandwich using one of the Thomas Sandwich Thins and some cheese and a couple slices of turkey. It did not satisfy me and I still felt hungry. It wasn't enough food and it really didn't taste that good.
Instead of finding something more protein based I popped a bag of Jolly Time low fat microwave popcorn. Bad idea! I ate the whole bag and all of those carbs made me crave more food. UGH! With out thinking I headed back to the kitchen and I made myself a bowl of fresh berries with nonfat yogurt, Trader Joe's Morning Lite cereal, cinnamon and a sprinkle of Cacao Nibs. It looked so good that I took a picture of it.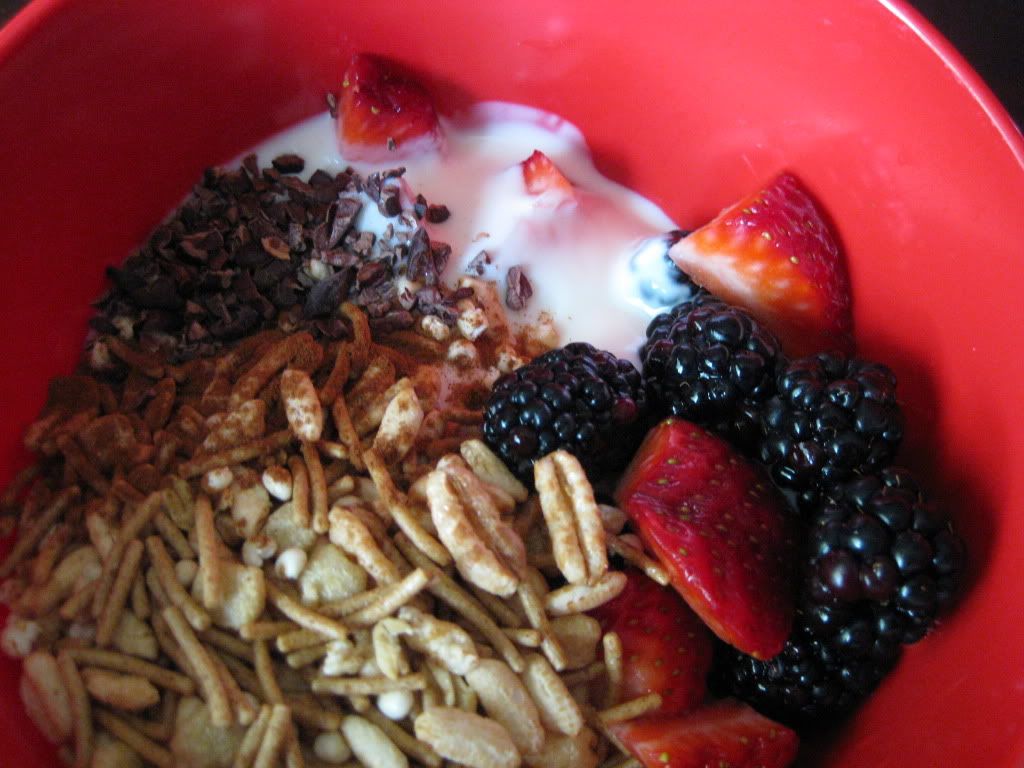 That should have been more than enough food but by then I was on auto pilot and ate a Kashi bar and a Weight Watcher frozen fudge bar!!!!! UGH! I didn't even enjoy any of it.
At this point, thankfully I came to my senses and asked myself what was going on with all of this eating? Was I hungry? NO! I was just in a munching mode as a result of not eating a balanced dinner and then consuming a bunch of carbs. I wrote everything down in my food journal and added up my WWp's and discovered that I was still within a reasonable amount of food for the day at 22 points. Okay it was not as much damage as I thought. I felt a little bit better that I had stopped the eating frenzy and decided to go do a weight resistance work out to burn off some of those calories and to break the cycle of eating. I worked out for the next 45 minutes and felt so much better. I went to bed feeling stuffed and woke up still feeling full. That is not a good feeling.
At least I had awareness and stopped a slip from turning into a slide. Today is a new day and it is going to be different. I will resume my usual meal planning so that dinner is balanced and satisfying to my palate.
How do you handle your meal planning or do you plan them out in advance?
---