I can't believe that this is my 100th post already! How have I come up with something to write about 100 times? Do I have enough to say that others will find interesting for another 100 posts? Blogger's do you every ask yourself those questions? Actually I have a back log of topics and recipes that I want to post about. I just sometimes wonder if they will appeal to anyone else. Blogging has turned out to be such a cathartic way to express myself and I will just keeping taking the plunge and posting what is on my mind. Thank you to everyone for reading the blog and posting comments.
The Internet here at the hotel seems to be working faster now so I am going to attempt to post some photos that I could not post earlier. I had a wonderful walk yesterday morning and I enjoyed the palm tree lined sidewalks everywhere I walked.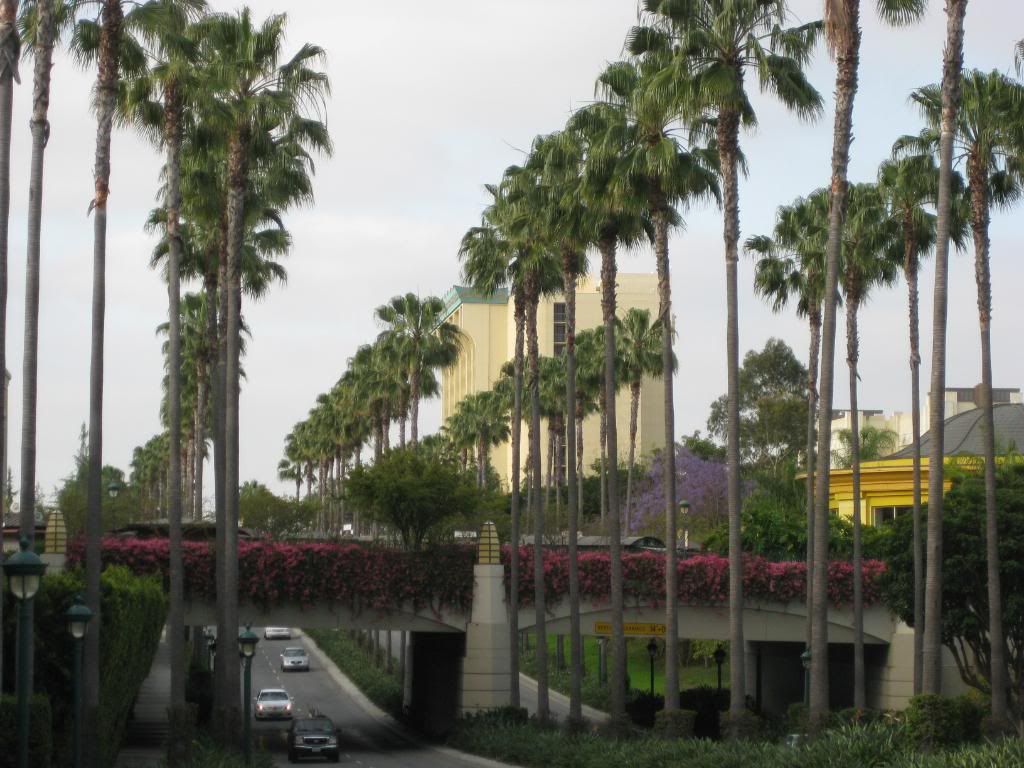 This photo was taken the first night we were here and went for a walk after dinner.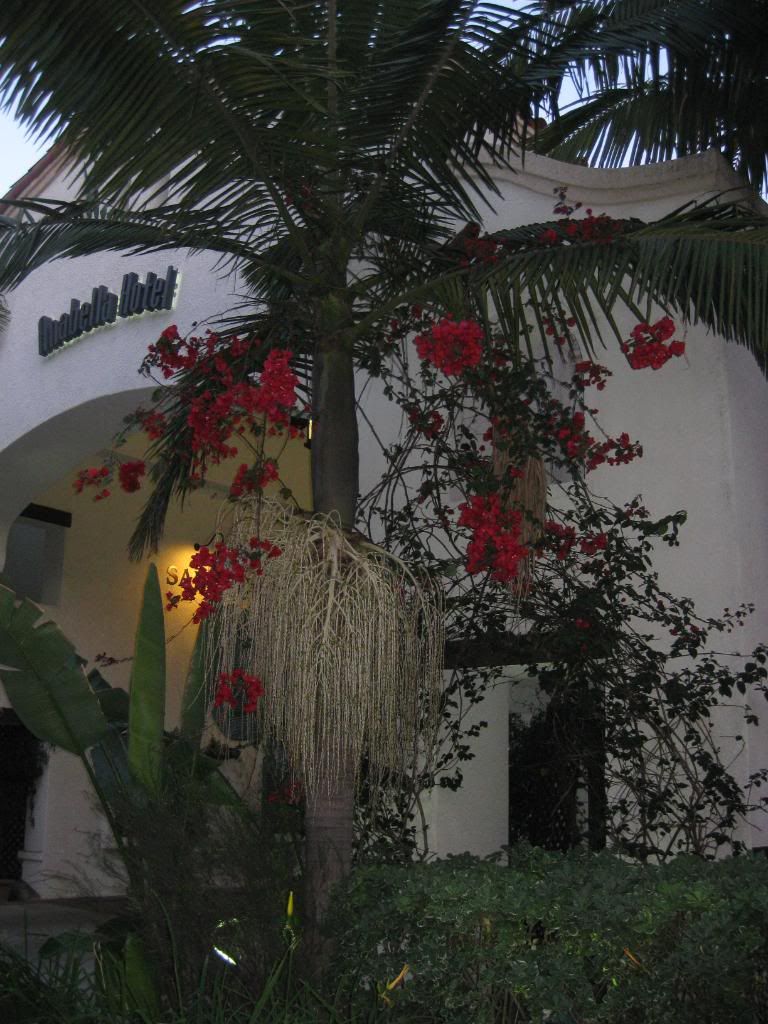 Friday I met Janine in person. She is one of my Internet friends who happens to live down here.We have both posted on the same message board for years and felt like we already knew each other pretty well. She came to the hotel and we went for a nice walk to Downtown Disney before having lunch at Mimi's. We had salmon and vegetables that tasted so good. The conversation flowed easy with her and we discovered that we have much more in common and are indeed kindred spirits. Janine was beautiful, bubbly, funny and so easy to spend time with. We found a Costco and enjoyed walking through and looking at dishes, cookbooks and of course food! Thanks for a fun day Janine! I love how the internet allows us to connect with people who we other wise would never have met.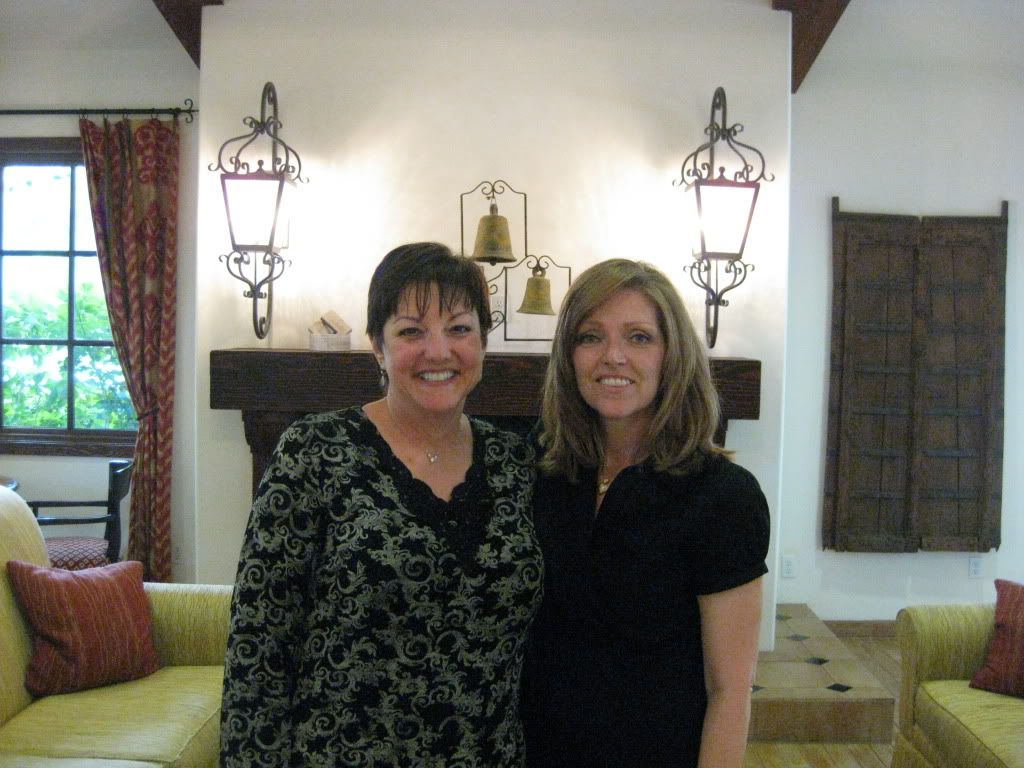 Janine was a good sport and helped me plow through a display of fresh fruit bowls to find one with a good expiration date that I could keep in the hotel room refrigerator. I miss fresh fruit when I travel and have to eat out every day.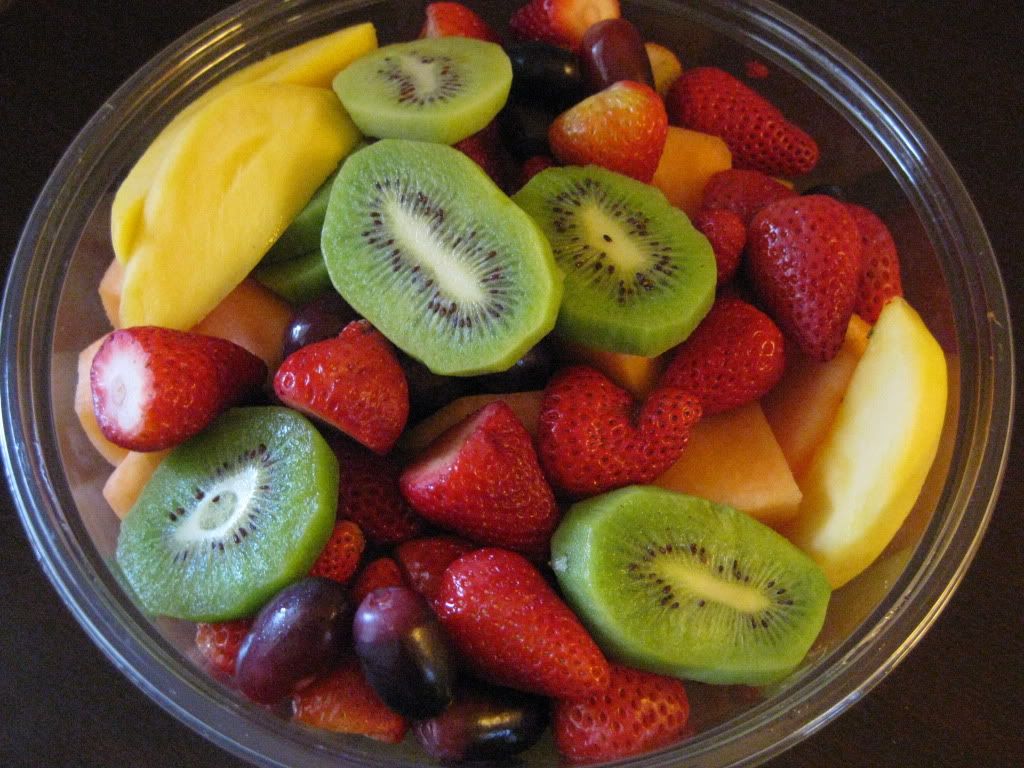 I also brought along some foods to have for breakfast and to snack on if needed since our meals here are not always on time.
Last night was a group dinner out and the food was outstanding. Tom had salmon and I had chicken with a parsnip puree. Miniature desserts were served with 3 on a plate. One of them was chocolate so I had part of that one and it was like a little mini chocolate cake just a bit bigger than a mini muffin – the perfect size. I might be eating a few more calories than I do at home but it all balances out because I am walking miles and miles every day here.
I went to the convention today and met some new people as well as reconnecting with some old business friends of hubby Tom's.  Hubby and I thought we were going to have lunch together but he kept getting busy and eventually we decided that I should leave and get something to eat myself. I was tired so I decided to walk back to the hotel and just have a bagel thin and fruit but when I got here they were just getting ready to clean my room. I was so ready to sit down after walking for the past 4 hours on the convention floor so I walked and got our car and decided to drive and find some lunch. I spotted a Subway and got a turkey on wheat and was quite happy with my choice. When I got back to the hotel I parked the car, made the hike to our second story room and discovered my room key wouldn't work so I had to hike it back to the lobby which is about a block away and get a new key made. I really just wanted to sit down and rest my feet! It is kind of funny now but I was not amused at the time! I am lounging on my hotel bed and enjoying the quiet while I blog. I figure I burned a bunch of extra calories today with all of my walking.
Tonight we  are having dinner with a business friend we have known since we were first married and living in the Midwest. That would be about 30 years ago!  It will be nice to catch up on his life and hear about his family. The convention is only open for half a day tomorrow and then we will be heading back home. After not cooking for a few days I am ready for a home cooked meal.
Have you made friends through the internet and then had the chance to meet them?
Walking, eating mindfully and enjoying the sights.
Tami
---