Going to the Farmer's Market makes me happy! The aroma of fresh herbs, flowers and the sight of colorful fresh fruits and veggies makes it a delight for all of the senses. Katy and I made it to the market before she had to head off to campus. We also managed to sneak in a quick trip into Whole Foods to get a few things. No time for looking around we had to stick to our list and by doing so we spent a lot less money!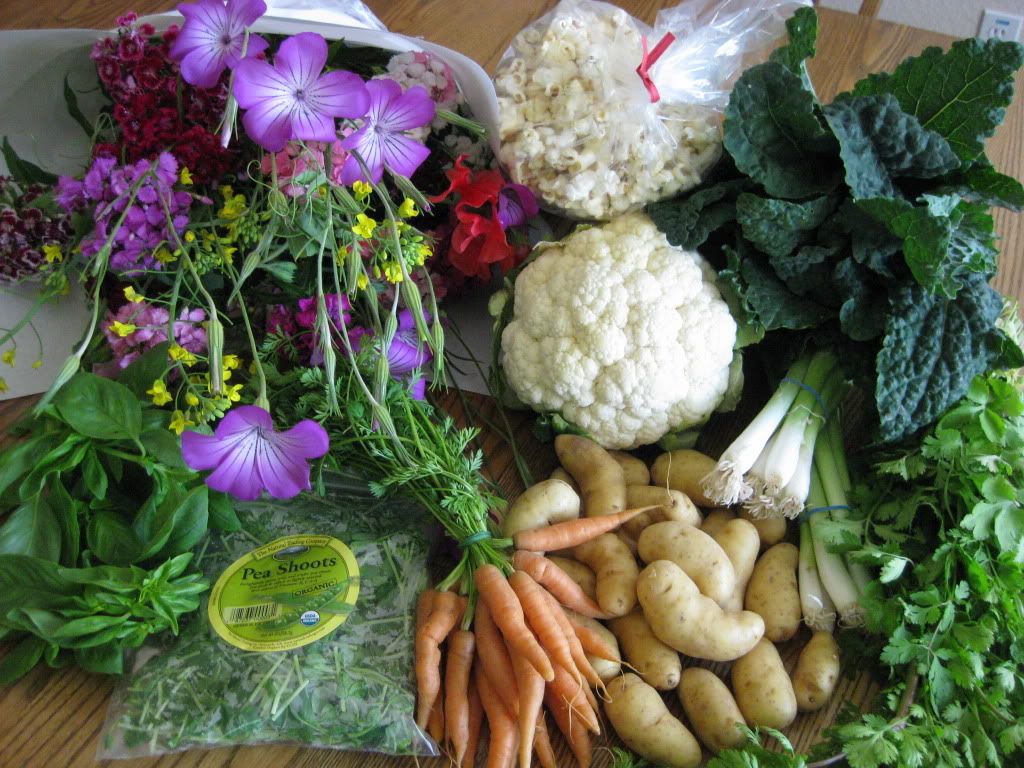 We bought me a lovely bouquet of flowers in honor of Mother's Day coming up! Katy got her organic kettle corn-if David is lucky she will share it with him. We picked out some good produce including basil, pea shoots, baby carrots, fingerling potatoes, cauliflower, green onions, kale and cilantro. The cilantro is so aromatic that you can smell it from 3 feet away. I am not kidding we could smell it as we approached the booth that was selling it! Tomorrow is May 5Th and that means Cinco De Mayo and around here it means Mexican Food! I will be making something using this incredible cilantro. Check out all of my Mexican recipes. They are all tried and true favorites.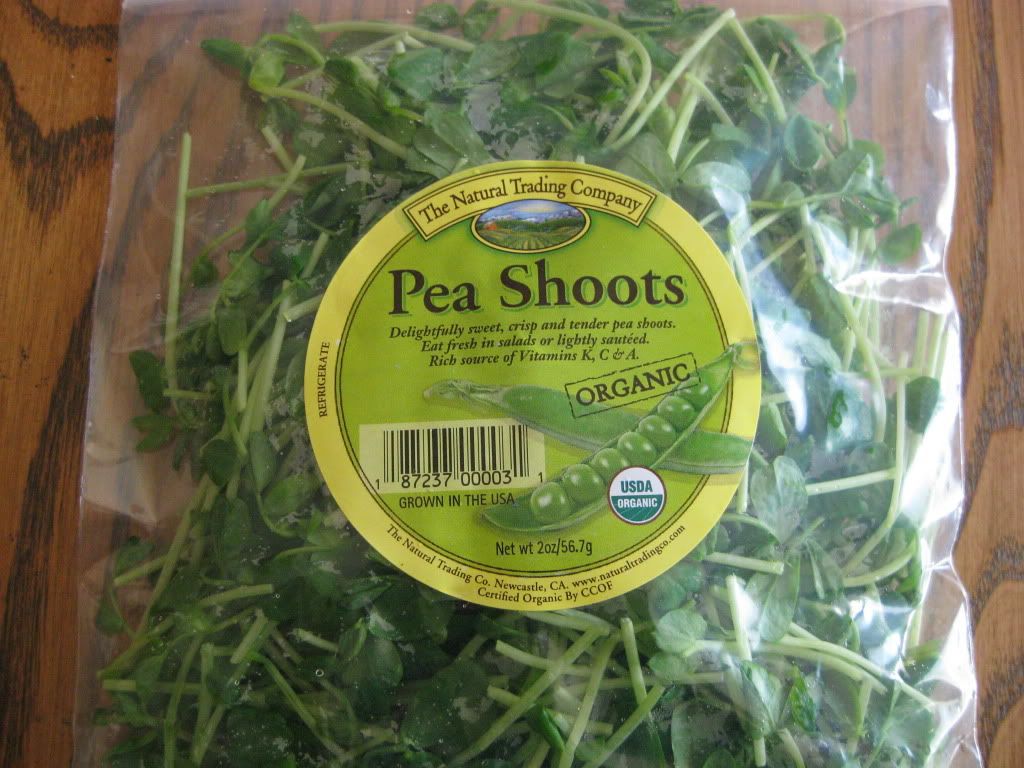 The pea shoots are something new to me. They taste so clean and fresh and just like peas! I think I will put them in a salad. Have you seen these before?
Chicken Fried Rice
Last night I decided to pull out an old favorite recipe that I had not made in months and that was my Chicken Fried Rice. Katy says it is the most authentic tasting Chinese dish I make. Big on flavor but a lot less fat than take out. I would agree with that. I have made this with short grain brown rice and the family likes it better with a white long grain Jasmine rice. The short grain brown rice just has too much "chew" to it. I am working on some other stir fry recipes but this one is perfect as is! I don't have the nutritional information figured out for it yet. Master cook software and I are not best friends yet and I got frustrated trying to plug this recipe in so I gave up on it for now.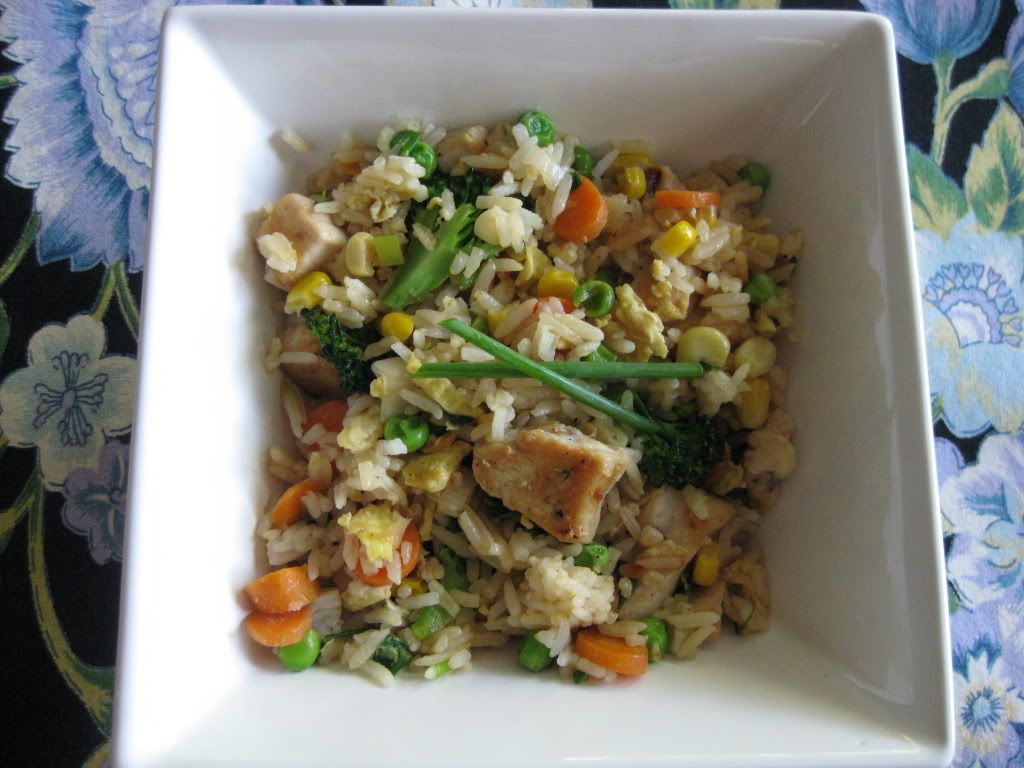 Chicken Fried Rice
¼ cup fat free chicken broth
2 Tablespoons low sodium soy sauce
1 teaspoon dark sesame oil
½ teaspoon salt
¼ teaspoon fresh ground black pepper
2 Tablespoons vegetable oil
2 large eggs, lightly beaten
2 cups chopped green onions including the green part
1 Tablespoon fresh ginger, grated (or you can use the stuff in the jar)
2-3 cloves of garlic, minced
12 ounces diced, cooked chicken breast ( you can use left over pork, chicken, beef or shrimp)
*5 cups cooked long grain rice, chilled (I make it a day ahead if possible)
6 ounces frozen peas, thawed
4 ounces frozen corn, thawed
**1 cup  small broccoli florets lightly steamed
**½ cup carrots slices or dices, cooked
Combine the first 5 ingredients in a measuring cup and stir with a whisk. Set aside.
Heat vegetable oil in a large non stick skillet or wok, over a medium heat. Add eggs and stir for about half a minute, the eggs will be slightly cooked, add onions and ginger; stir fry for 1 minute, add the garlic, rice, cooked chicken, peas, corn, carrots and broccoli, stir fry until heated through about 3-4 minutes. Add broth mixture, remove from heat, and stir well to combine.
**I cook the carrots in a covered dish in the microwave and the broccoli to the carrot dish for the last half minute so it gets slightly steamed.
*The cooked rice has to be chilled so that the grains don't stick together. You can make it earlier in the day as long as it has several hours to chill in the refrigerator.
Yield: 8 Servings
Nutritional Information
Per Serving (excluding unknown items): 327 Calories; 11g Fat (29.2% calories from fat); 16g Protein; 41g Carbohydrate; 3g Dietary Fiber; 81mg Cholesterol; 252mg Sodium.
Old WWP 7 / WWPP 9
Updated 3/24/11
Easy Egg Flower Soup
It is nice to serve the fried rice with some egg flower soup. If you have the time to make it from scratch that is great! I have found these little instant soup packets in the Asian food aisle of the grocery store and they are very good! As with all prepackaged foods it is heavy on the sodium so eater beware!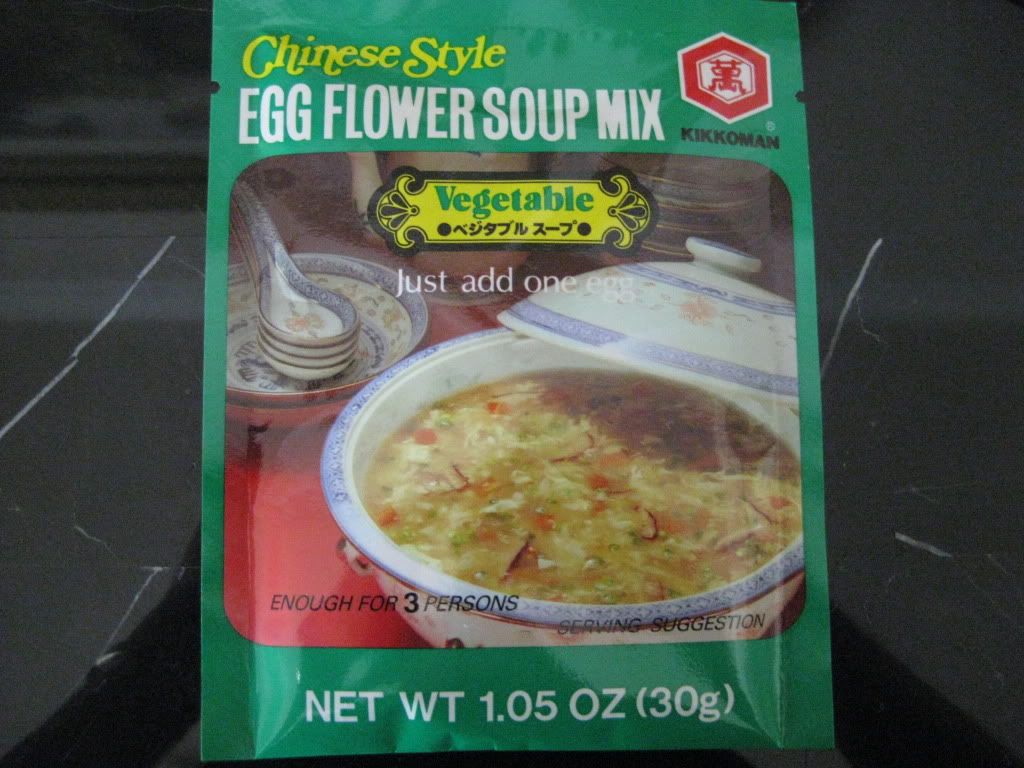 This was David's dinner last night. He said these dishes make him think he is in a nice restaurant. The chop sticks were just a prop.! Our exchange student from Japan gave those to us years ago. We never did master them. A fork is so much easier!
Here are my flowers. I wish you could smell how sweet and fragrant they are.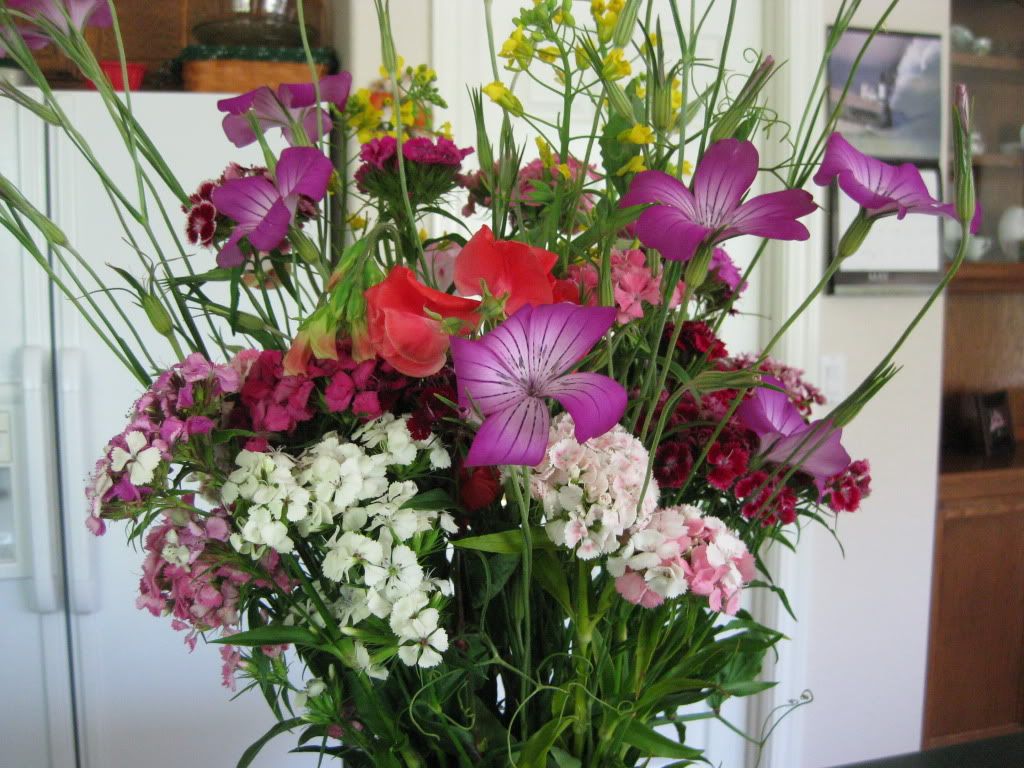 Taking time to smell the flowers and enjoy simple pleasures.
Tami
---