In the past two days I have been to Trader Joe's, the Organic Farmer's Market, Whole Foods, Sam's Club and Super Walmart. I wish I could get everything we like at one store, what a time saver that would be. At the end of today I felt like I had run a shopping marathon!  I spend at least three hours a week grocery shopping. Tuesdays are my Farmer's Market day and I look forward to it. Since I had already purchased a lot of organic produce at Trader Joe's I didn't need much, but I did get some awesome strawberries, leaf lettuce, raspberries and kale at the Farmer's market. These items are on the list of foods that are recommended to buy organic because of the high levels of pesticides found on the conventionally grown berries and greens. Just look at how beautiful they are, so rich in color and I wish you could smell the berries.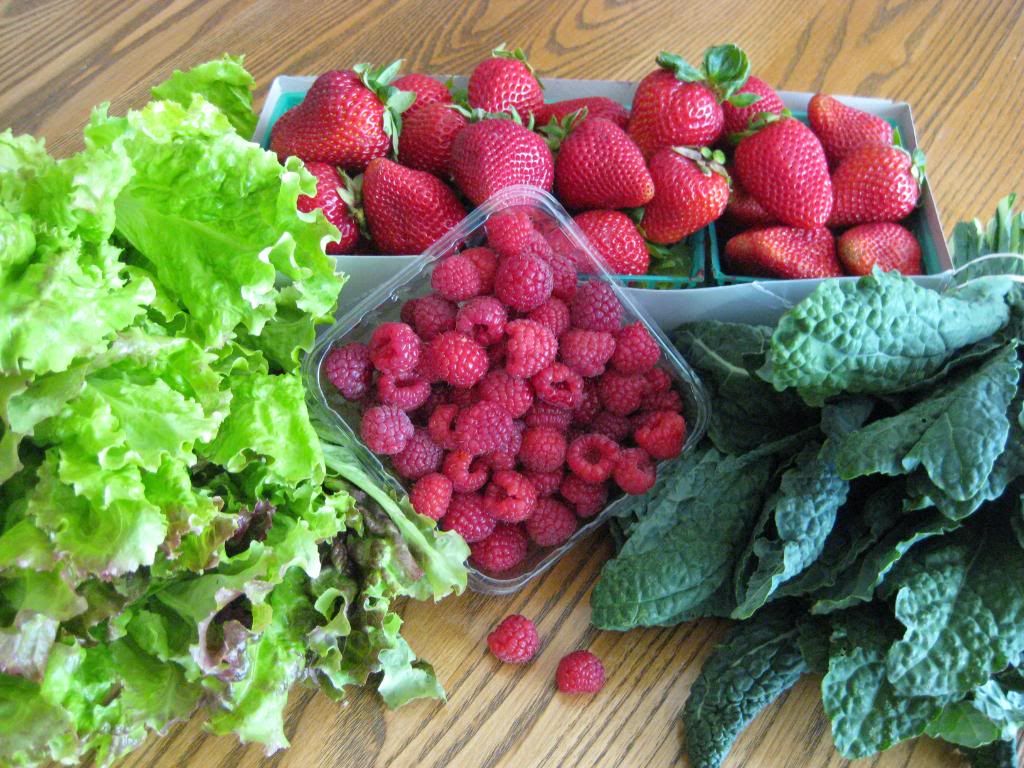 I also took the time today to look around in Whole Foods. I bought some old favorites as well as some new things to try. I will post product reviews as I use these items. There will be some good eats in my future!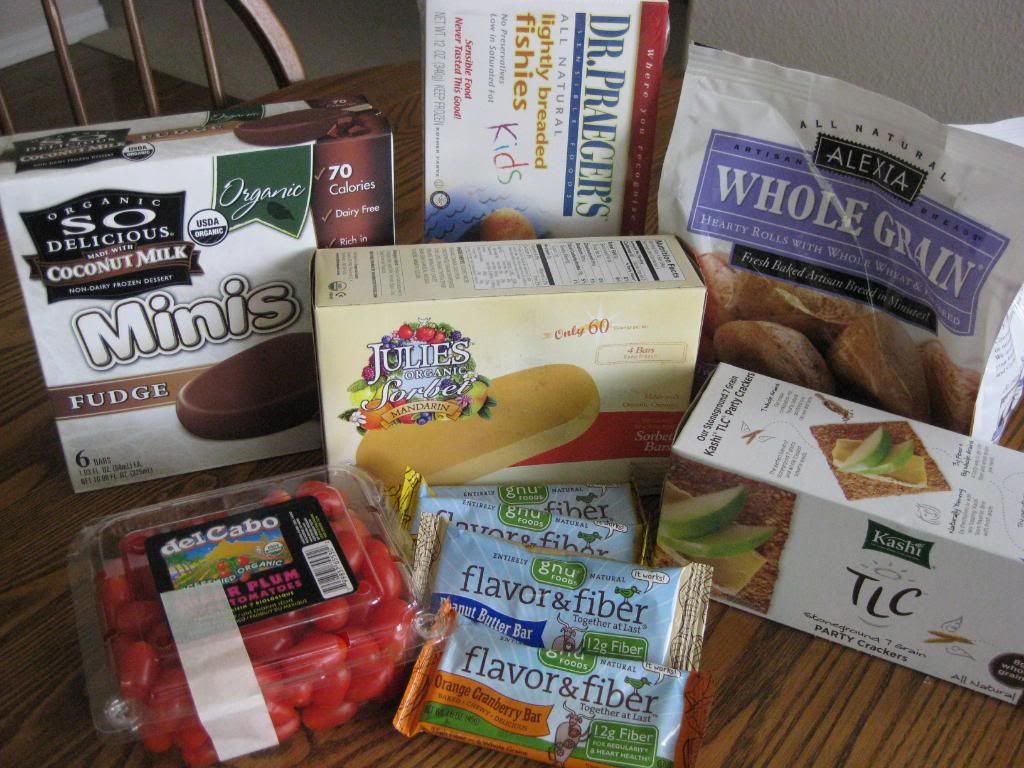 After all of this "hunting and gathering" I had no energy left for creative cooking. When I was at Trader Joe's I purchased some of their pre – made turkey patties and ground beef patties for hubby Tom to cook on the Weber grill. I prefer the turkey and hubby likes the beef.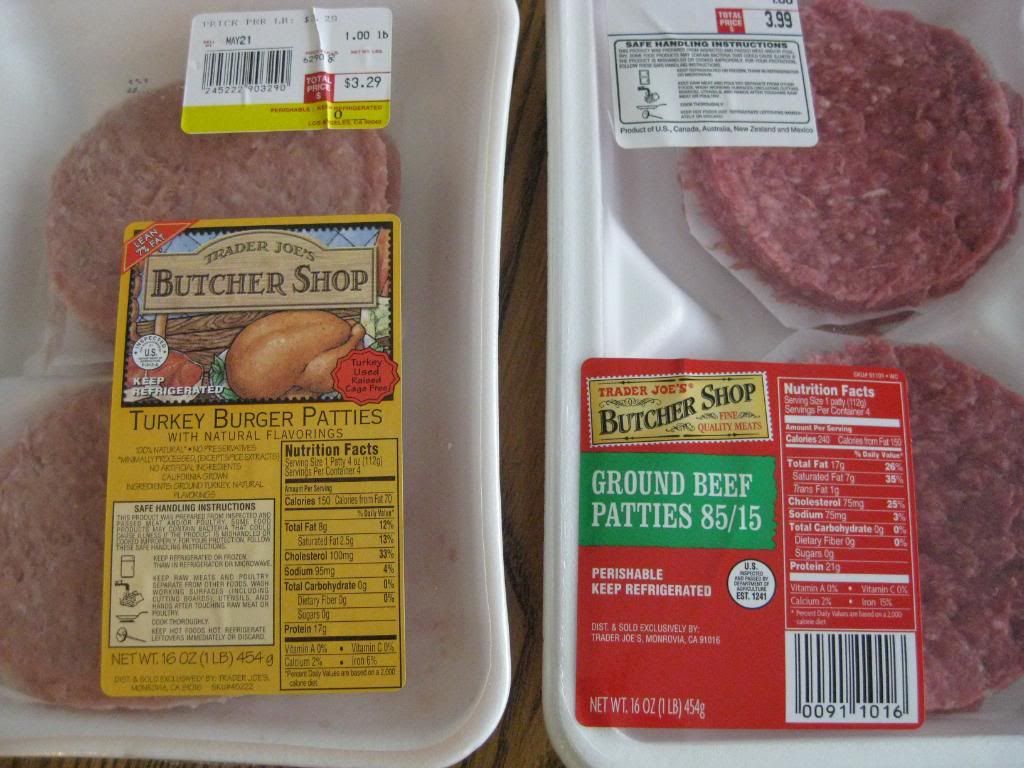 Tom seasoned the patties with Cavender's Greek Seasoning. We use this seasoning on beef, pork, chicken and fish. I buy it at the grocery store, Cost Plus or Walmart.
Caramelized onions and mushrooms took these burgers from good to outstanding! I have an easy method for the onions that turns out perfect every time. The caramelized onions are good on other sandwiches like pork, roast beef or chicken cutlets. Pictured is a turkey burger with some melted 2% cheddar cheese and those insanely delicious caramelized onions and mushrooms all nestled neatly on a sprouted bun. YUM!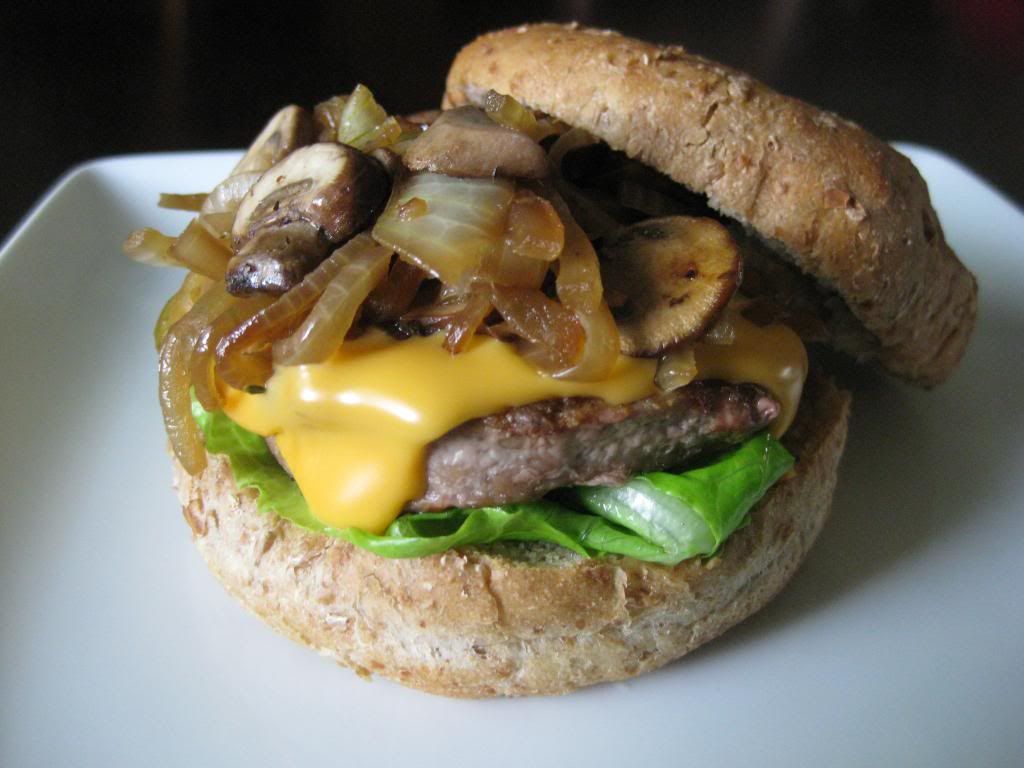 Peel a yellow onion and cut it in half, then slice it thinly. Get your non stick skillet preheated over a medium heat, add a teaspoon of olive oil,the thinly sliced onion, a little sprinkle of sugar, soy sauce, minced garlic, a dash of red pepper and dried thyme if desired and let them cook until golden about 20 -30 minutes. If desired after 15 minutes add about 4 ounces of sliced crimini mushrooms and let them cook along with the onions and absorb some of the wonderful flavors. That is all it takes to create an amazing topping for your next burger. I know I have said it before but eating healthy does not mean you have to eat boring bland food. I cook healthy, delicious meals for my family and we eat a wide variety of foods including our favorite ethnic dishes. Check out some of my recipes by using the categories section of the side bar to the right. If you cook the foods you like with a healthy twist you and your family will love every bite! If you are feeling satisfied with the foods you are eating it is much easier to stay true to a healthy life style.
Caramelized Onions & Mushrooms
1 medium yellow onion, peeled, cut in half and sliced thinly
1 teaspoon olive oil
1/2 teaspoon sugar
2 teaspoons low sodium soy sauce
1 clove garlic, minced
a little pinch of red pepper (1/8 tsp or less)
a little pinch of dried thyme (1/8th tsp) if desired, depends on what you are serving the mixture on.
4 ounces sliced crimini mushrooms or your favorite  mushroom variety
Heat oil in a non stick skillet over medium heat, add all ingredients except mushrooms, stirring occasionally, after 15 minutes add mushrooms and let the mixture cook until the onions are golden brown and the mushrooms are cooked.  Add some non stick olive oil spray if the pan starts to get to dry.
This was a quick and easy meal that we had on the table in 30 minutes from start to finish. While the onions and mushrooms sautéed I made a fresh garden salad with one of our favorite salad dressings, Cardini's Light Caesar. Nutritional information per 2 tablespoons; 80 calories, 7g fat.
How many different stores do you shop at for groceries?
Feeling gratitude for the variety of healthy, delicious foods available to fuel my body.
Tami
---