Happy Memorial Day everyone! Blessings to all the men and women who have served our country and their families for the sacrifices they have made. My father and my father in law served in the military and we fly our flag today in honor of them and all of their fellow soldiers.
We had a big bar-b-que on Saturday. I changed our menu a bit after daughter Katy requested my pork ribs. I already had a salmon dish planned so we just added some pork loin ribs and made it a huge feast. This is the easiest pork rib recipe and it results in the most tender and delicious ribs. It all starts in the oven with a sliced onion and a can of beer and then you finish off the tender ribs on the bar-b-que grill. YUM! This is not low fat or healthy but it is a once in a while delicious treat.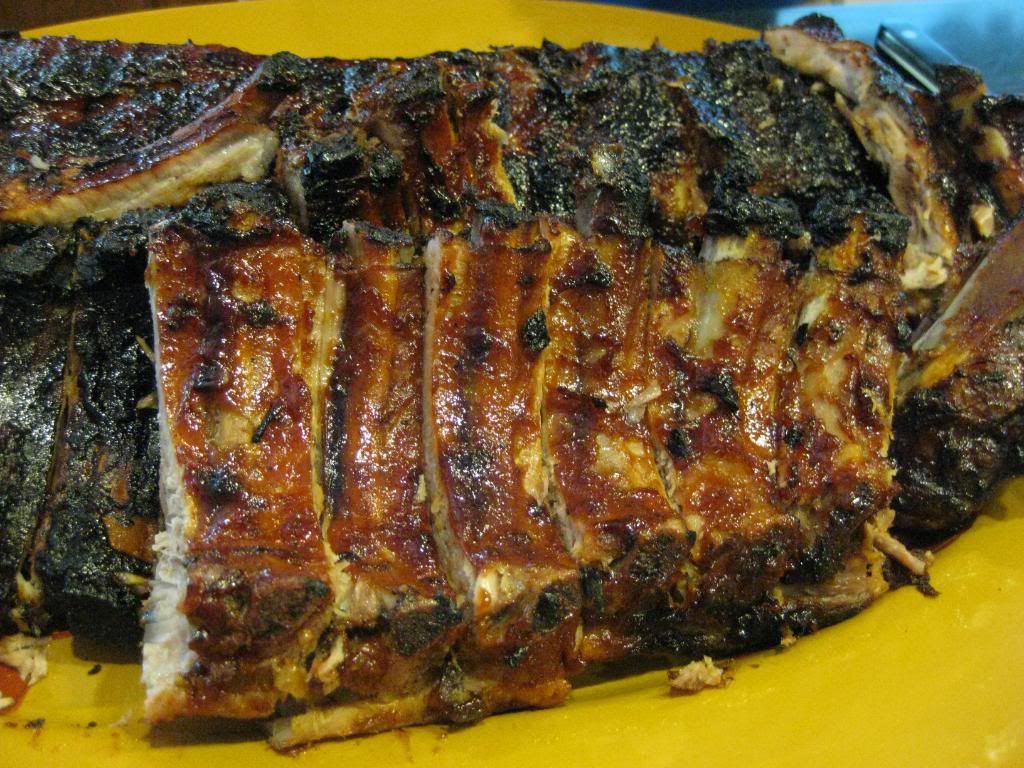 My favorite prepared barbecue sauce is Sweet Baby Ray's. Get two bottles so you can serve some extra barbecue sauce on the side. This stuff is lip smacking good! Maybe I should say finger licking good, ribs are messy, so have plenty of napkins on hand!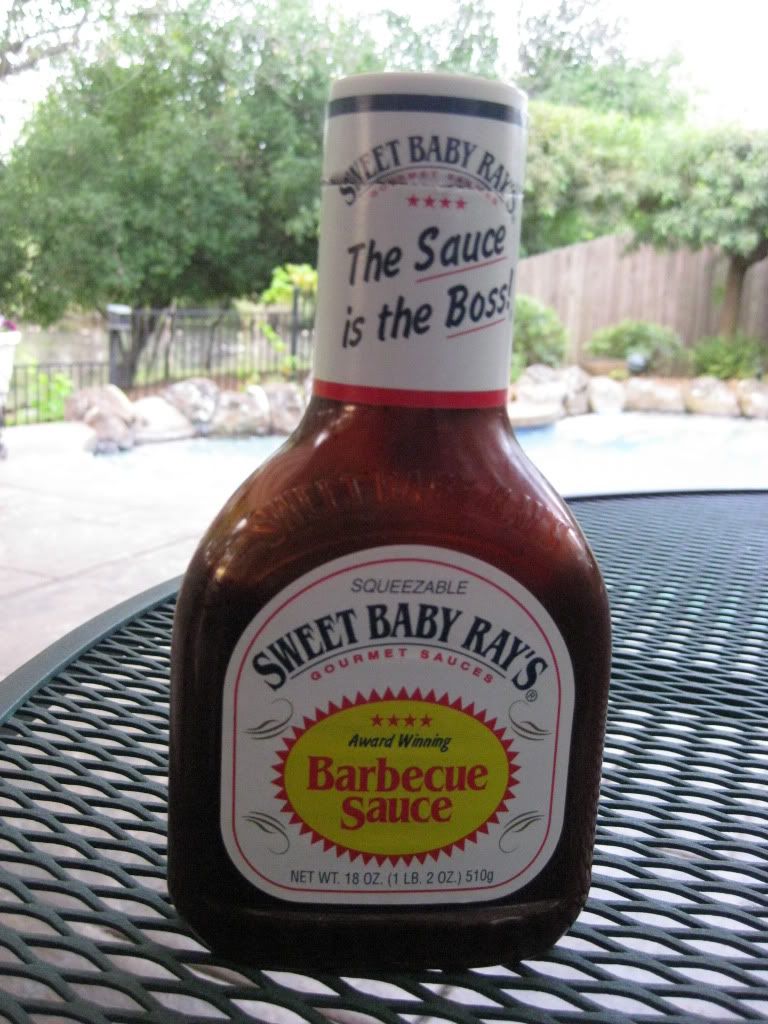 Fall Off The Bone Tender Ribs
2-3 racks of baby back ribs about 6 pounds
1 yellow onion sliced
1-12 ounce can of beer (non alcoholic beer works fine)
Sea salt and fresh ground black pepper
2 cups of your favorite barbecue sauce plus some extra for the table
Preheat oven to 325 degrees.
Remove the membrane from the back of the ribs by using a small knife, pry the tip of the knife between the membrane and the bone at the edge of the ribs once you have it lifted, grab it with a piece of paper towel and pull it off, it should come off in one big piece, discard it.
In a large roasting pan spread out the sliced onion, season the ribs with the sea salt and fresh ground black pepper,pour the beer over the top. Cover tightly with a piece of foil. Put in preheated oven for 2 hours.
Remove from oven, discard the onion and cooking liquid. Brush both sides of ribs with barbecue sauce, place meat side down on a preheated grill. Grill on both sides for 10 -15 minutes per side or until lightly charred, basting with barbecue sauce a couple times per side. Cut slabs into individual ribs and serve with more barbecue sauce.
Yield: 24 – 4 ounce servings approximately 2 ribs
Nutritional Information
(calculated based on 6 pounds of pork baby back ribs and Sweet Baby Ray's BBQ Sauce, how fatty the ribs are and what kind and how much sauce you use will affect the nutritional information.)
Per 4 ounces (approximately 2 ribs): 330 Calories; 22g Fat (61.2% calories from fat); 21g Protein; 10g Carbohydrate; trace Dietary Fiber; 52mg Cholesterol; 194mg Sodium.
Old WWP 8 / New WWPP 9
Recipe adapted from one found on a message board on the Cooking Light message board.
Recipe and post updated 3/25/11
This is my plate and yes I really did eat all of this plus one more rib not pictured!  Corn on the cob, oven roasted broccoli, oven roasted new potatoes with garlic, broccoli slaw and Honey Glazed Salmon.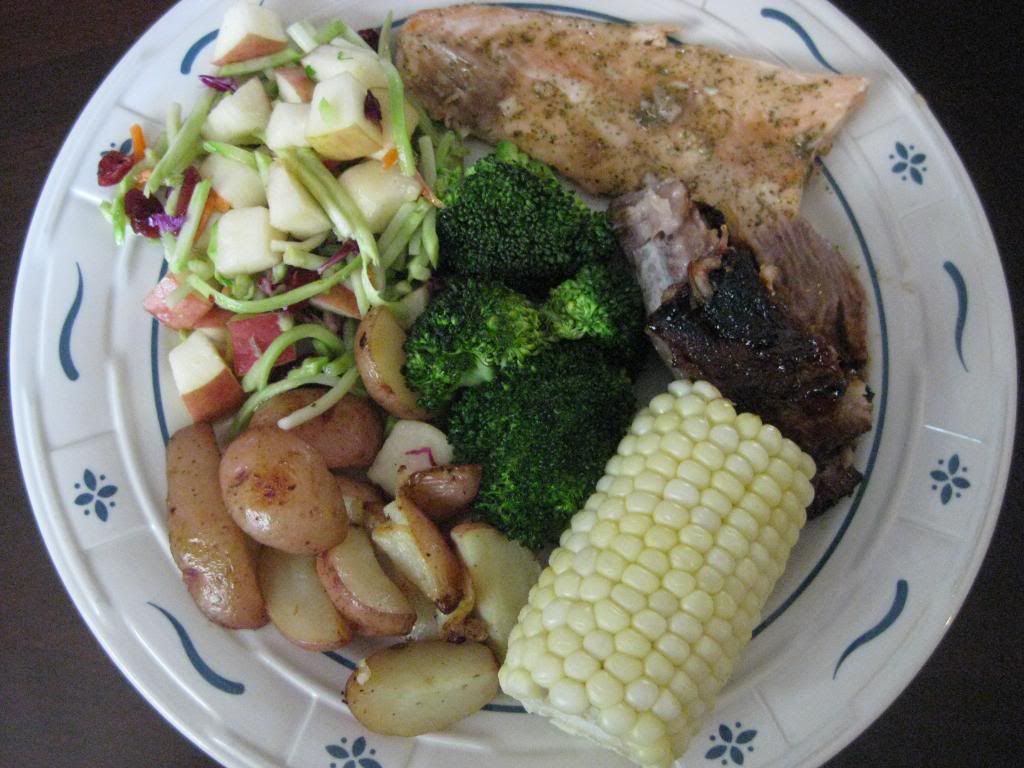 Apple broccoli slaw is one of my favorite side dish salads. It is so refreshing, with crispy broccoli slaw mix, crunchy apples, sweet dried cranberries and nutty sunflower seeds. The dressing is a combo of vinegar, brown sugar, and a small amount of oil. It is the perfect picnic salad since it does not contain any mayonnaise.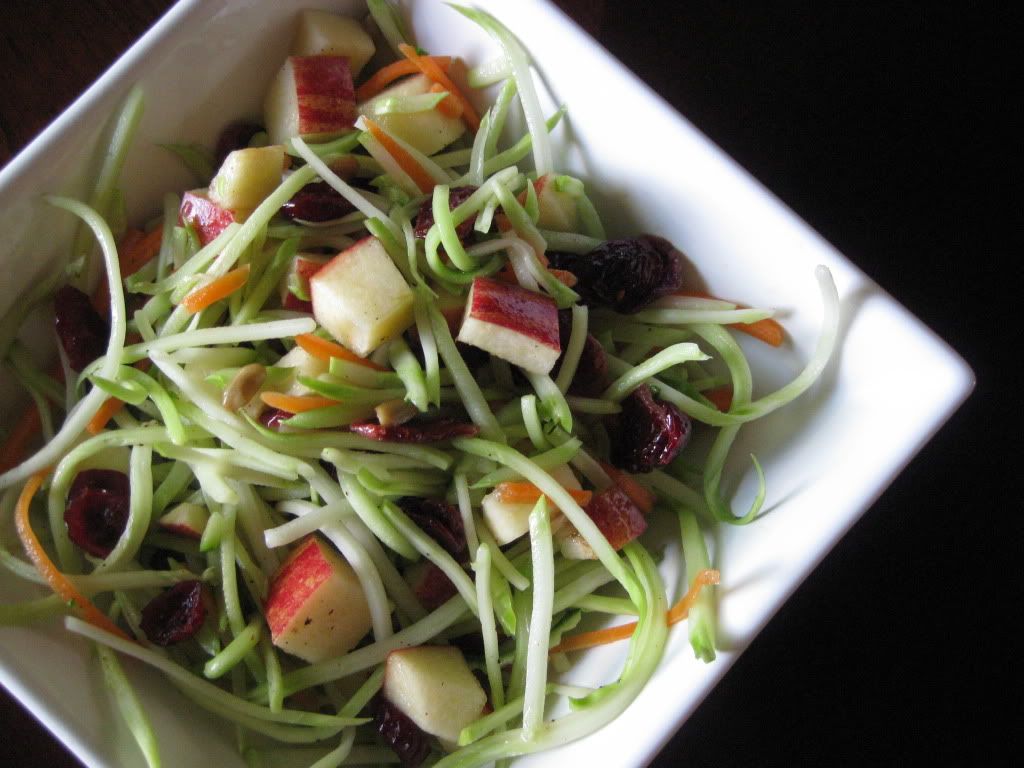 Apple Broccoli Slaw
Yield:  8 servings (serving size: 1 cup)
VINAIGRETTE:
1/3 cup packed brown sugar
1/3 cup cider vinegar
1 1/2 tablespoons vegetable oil
1/4 teaspoon salt
1/4 teaspoon freshly ground black pepper
SLAW:
2 1/2 cups chopped Pink Lady or other sweet apple
1 (12-ounce) package broccoli slaw
1 (3-ounce) package dried tart cherries or cranberries about 2/3 cup (I use less, about 1/3 cup)
2 tablespoons unsalted sunflower seed kernels
To prepare vinaigrette, combine first 5 ingredients in a small bowl, stirring well with a whisk.
To prepare slaw, combine apple, broccoli slaw, and dried cherries. Drizzle with vinaigrette; toss well to combine. Sprinkle with sunflower seeds; chill for up to 3 hours.
I like to use less brown sugar so I would suggest you start with about half and taste it, then add more if you need it.
CALORIES 125 (29% from fat); FAT 4g (sat 0.5g,mono 2.1g,poly 1.1g); IRON 0.9mg; CHOLESTEROL 0.0mg; CALCIUM 33mg; CARBOHYDRATE 24.9g; SODIUM 91mg; PROTEIN 2.1g; FIBER 2.7g
Old WWP 2 / New WWPP 4
Adapted from Cooking Light, OCTOBER 2002
---