I love Mondays! I know that a lot of people dread Mondays but I see them as a window into a new week of possibilities. This morning I had a beautiful walk outside on my favorite nature trail you can see photos of it here.
I have both crock pots going today. I use to only use my crock pot/slow cooker in the winter months but I have decided that I should use it during the summer to keep the kitchen cooler! Why did it take me so long to figure this out?
I have the easiest but most delicious Beef Stroganoff in one crock pot, you can see the recipe here. Italian Sausages are simmering in spaghetti sauce in the other and I will post that recipe later in the week. It smells heavenly in here right now. I will cook some Ronzoni Smart Taste extra wide noodles to go with the Stroganoff and some whole wheat pasta to accompany the sausages. YUM!
Our son David works at UPS as a loader for the delivery trucks and he comes home famished from all the physical work. He works from 5:00-9:00 AM (perfect for a college student) and he likes to have pasta at 9:15 AM when he gets home from his morning shift! I know it is weird to see him eating plates of pasta or burritos that early in the day but he has breakfast at 4:30 AM. I need to have leftovers for him to heat and eat and these two recipes make a lot of food and reheat quite nicely.
To recap a little from the weekend, I had to come up with an appetizer to take to a friends Sunday night. As I went through my recipes I came across this cheese spread called Jajick. My daughter's Assyrian friend gave it to us years ago out of her Grandmother's family cookbook. I have made it many times over the years and everyone loves it!
It is perfect on a hot day as it is cool and refreshing. The combination of green onions, fresh parsley, sweet basil, dried tarragon with fresh ground black pepper is mixed with cottage cheese that has been blended smooth with low fat cream cheese. Not a cottage cheese fan? No worries you will never know it is cottage cheese once it is blended. Serve it with plenty of fresh vegetables for dipping, baked pita chips or your favorite whole grain crackers. I didn't have to alter the original recipe as it called for low fat ingredients. A couple tablespoons goes a long way, so dip in and enjoy!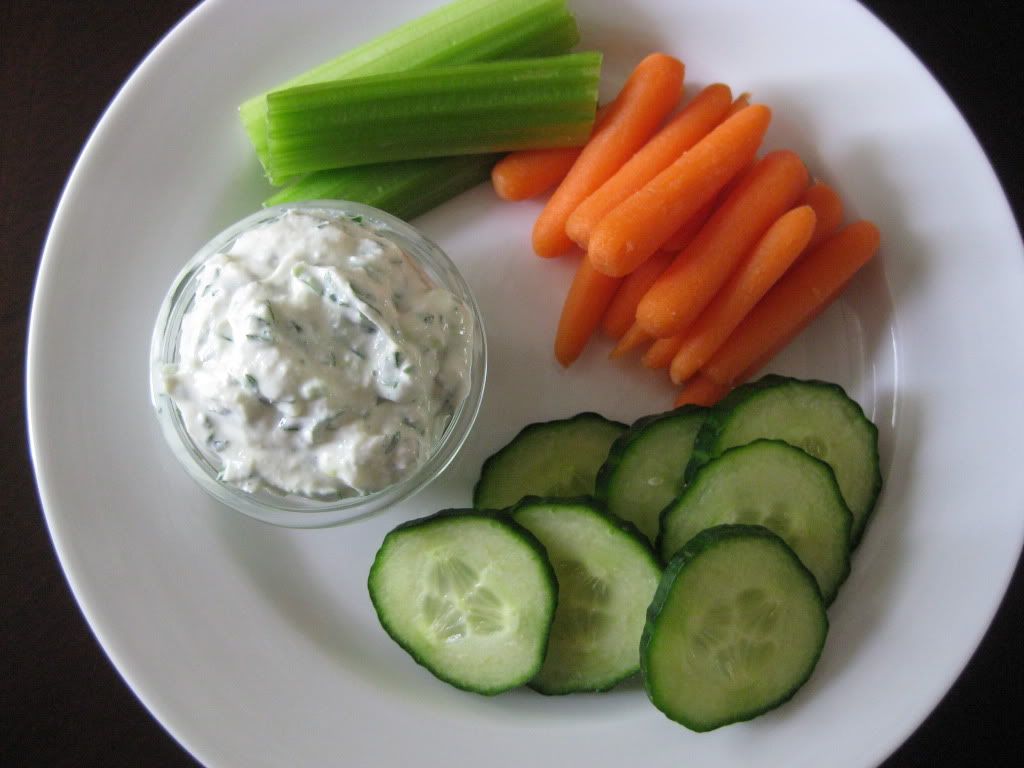 Jajick Cheese Spread
16 ounces low fat cottage cheese
8 ounces low fat cream cheese, softened at room temperature
1 bunch green onions, finely chopped
1/2 cup fresh Italian Parsley, chopped
1/2 cup Sweet Basil, chopped
1 teaspoon dried tarragon
1/2 teaspoon salt
1/2 teaspoon freshly ground black pepper
Place the  cottage cheese and cream cheese in the work bowl of a food processor or Blentec Blender and blend until creamy and smooth.
Add the rest of the ingredients and using the pulse function pulse until onions and herbs are thoroughly mixed in.
Put cheese spread into a serving dish, cover and chill for a couple of hours before serving.
Serve with vegetable dippers, baked pita chips, fresh pita cut into triangles or whole grain crackers.
Yield: 12 Servings
Nutritional Information
Per Serving: 85 Calories; 5g Fat (55.0% calories from fat); 7g Protein; 2g Carbohydrate; trace Dietary Fiber; 18mg Cholesterol; 320mg Sodium.
Old WWP 2 / New WWPP 2
Updated 3/25/11 to include nutritional information
Sorry I don't have the nutritional information on this recipe. Since I had my computer worked on I have not reinstalled the Master Cook soft ware and it had some issues so I am looking into other soft ware. I am wondering if any of you have a recipe/nutritional soft ware program that you like to use.
Katy and I went to Barnes and Noble and learned all about their electronic reader called the Nook. We think it would be awesome for her to take to Spain. Since she is an English/Spanish major books are her treasures. Do any of you have a Nook or a Kindle? If so, I would love to hear your reviews.
I have three questions for you.
Do you use a slow cooker/crock pot, if so, do you use it in the summer?
Do you use any soft ware for recipes/nutritional information?
Do you have a Nook or Kindle eReader, if so, do you like it?
Loving Mondays!
Tami
---