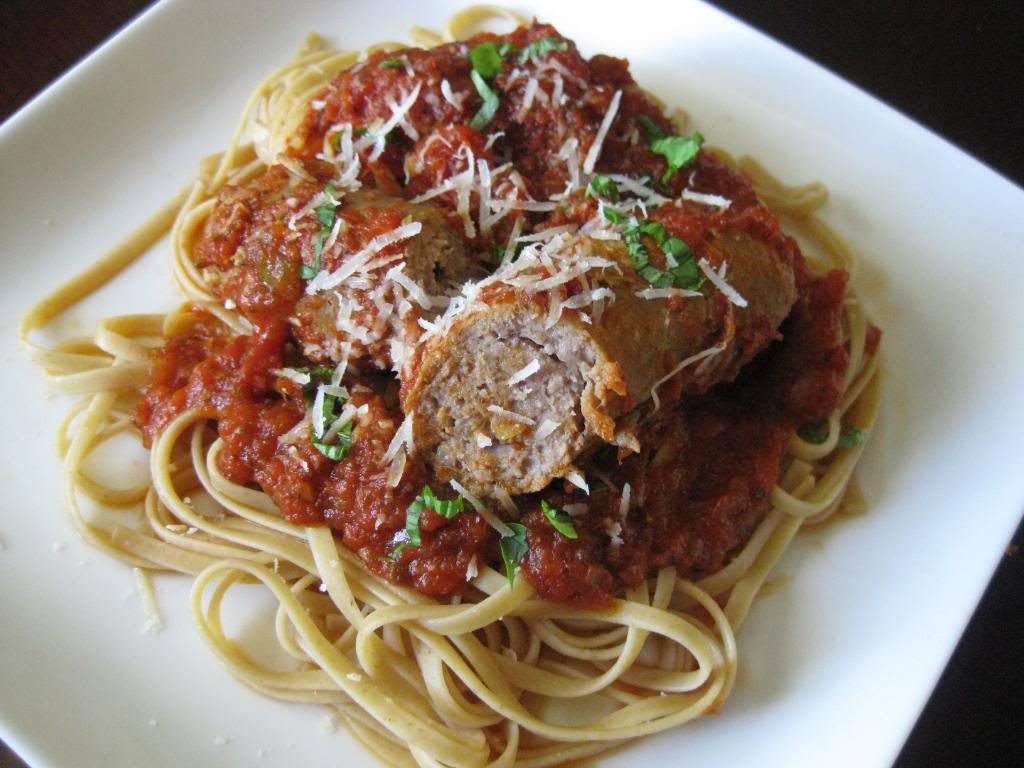 Something magical happens to the sausages when they simmer in the sauce.
Melt In Your Mouth Italian Sausages
2 pkgs Jennie O Turkey Store Italian Turkey Sausages, sweet or hot
48 ounces Spaghetti or Marinara sauce (Classico  Tomato & Basil)
6 ounces tomato sauce
2 tablespoons tomato paste
1 medium onion, diced
2-4 garlic cloves, minced
1 1/2 teaspoons Italian seasoning
Fresh basil, sliced for garnish if desired
Grated Parmesan cheese for garnish if desired
Place the sausages in a skillet with a couple cups of water. Simmer for 10 -12 minutes. While the sausages are simmering, pour the spaghetti or marinara sauce, tomato sauce, tomato paste and Italian seasoning in the crock pot.
When the sausages are done simmering, drain them and add them to the crock pot.
Dry out the skillet and then spray it with non stick olive oil spray, over a medium heat sauté the diced onion for 4-5 minutes, add the garlic and continue to sauté until the onions are soft, add to the crock pot mixture. Cover and cook on low for 5 – 6 hours.
Leave the sausages whole for serving on a hard roll with sauce and cheese, serve over pasta or slice the sausages add back into the sauce and serve over polenta. Garnish with fresh basil and Parmesan cheese.
However you decide to serve these they are sure to please. Feel free to cut the recipe in half if you have a smaller family.
Yield: 10 servings. Servings Size: 1 sausage link and 1/10 of the sauce.
Nutritional Information (Figured using the brands listed above and does not include the pasta)
Per Serving: 239 Calories; 11g Fat (41.9% calories from fat); 22g Protein; 13g Carbohydrate; 2g Dietary Fiber; 90mg Cholesterol; 1183mg Sodium.
Old WWP 5 / New WWPP 6
Adapted from a recipe posted on the Cooking Light message board.
---