Most of you are probably wondering what a Runza is. They are wonderful little bundles of soft bread dough filled with a mixture of ground beef, onion and shredded cabbage then baked until golden brown. Very popular in Nebraska.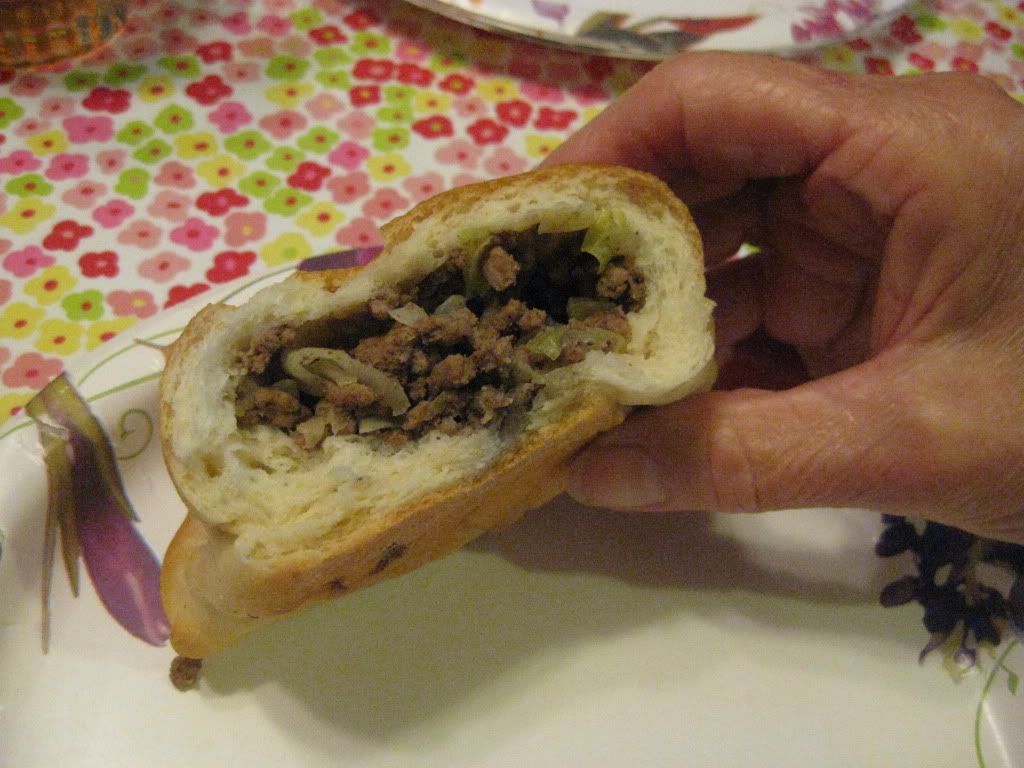 My mom has been making these for as long as I can remember. No one makes them better than she does!
JAN'S GERMAN RUNZAS
Bread Dough:
5-6 cups flour
2 pkgs dry yeast
1/2 cup sugar
1 1/2 cups hot water
1/2 cup soft margarine
2 eggs
Combine 2 cups flour, yeast and sugar in large bowl. Stir well to blend add margarine and the hot water. Beat with hand mixer at med speed 2 minutes, add eggs and 1 more cup flour.
Beat again at high speed for 1 minute. Gradually stir in enough flour to make a soft dough but not sticky. Turn on floured board and knead a few minutes. Turn into a greased bowl to let rise in a warm area for 45 minutes to 1 hour.
Filling:
1 head cabbage finely chopped
1 onion finely chopped
1 1/2 pounds ground beef
salt and pepper to taste
Cook filling ingredients all together until cabbage is soft and hamburger is no longer pink.Drain.
Divide dough into two. Roll out and cut out pieces in either squares or rectangles in the size of your choice. Fill the center with meat and cabbage mix. Bring corners of dough up to the center and pinch closed. Let raise about 30 – 45 minutes.
Bake in preheated 350 oven until brown 20 -25 minutes. When you take Runzas out of oven brush tops with melted butter or a little Crisco. Serve hot!
Note: This is the same dough recipe that mom uses for cinnamon rolls.
Optional: add some cheese on top of the filling before closing it up for a cheese Runza.
Yield: 15 Runzas   Serving Size: 1 Runza
Nutritional Information
Per Serving: 377 Calories; 8g Fat (26.0% calories from fat); 11g Protein; 43g Carbohydrate; 3g Dietary Fiber; 41mg Cholesterol; 117mg Sodium.
Old WWP 8 / New WWPP 7
---